Advances
The Update - November 29, 2016
To Sir or not To Sir
American publications largely eschew British titles when reporting on the arts. Alex Ross, reviewing the new Tristan und Isolde at the Met in the New Yorker, acknowledged Simon Rattle in the pit – not 'Sir Simon Rattle'. Even Opera, that indispensable British organ for operaphiles, founded by the queen's cousin, calls him 'Simon Rattle'. ABR dispenses with these anachronisms too, and marvels at the number of writers and artists (some quite radical) who accept these vestiges of the British Empire (Sir Michael Philip 'Mick' Jagger no less). Yet in Australia many arts publications continue to add knighthoods, etc. It doesn't help when MSO Chief Conductor Andrew Davis – encouraging us to switch off our mobile phones before concerts – introduces himself as 'Sir Andrew Davis'. It does sound ever so pompous ...
Opera Australia Season 2017
It's bewen a true Wagner-fest in Melbourne of late. Last night the first cycle of Der Ring des Nibelungen coming to an end. Opera Australia must be pleased with the public response to the Ring, and there are signs that the audiences are growing. Peter Rose has already reviewed the first three operas, and they are included in the Arts Update e-bulletin. His review of Götterdämmerung will follow. We also include his encomiastic review of TSO's concert version of Tristan und Isolde (November 19).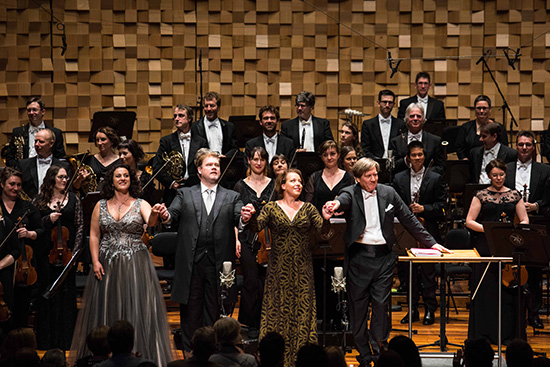 Monika Bohinec, Stuart Skelton, Nina Stemme, and conductor Marko Letonja in Tristan und Isolde (photograph by Alastair Bett, Tasmanian Symphony Orchestra)
Meanwhile, Opera Australia has announced its 2017 season, described by Artistic Director Lyndon Terracini as its 'most diverse and adventurous to date'. Highlights of the program include Jonas Kaufmann performing Wagner's Parsifal, Diego Torre in Cavalleria Rusticana and Pagliacci, and Nicole Car in Massenet's Thaïs. Danielle de Niese will return to Melbourne for a new production of The Merry Widow, and Greta Bradman will make her operatic début as Mimì in La bohème.
Nobuyuki Tsujii
The Sydney Symphony Orchestra has anounced that the Hélène Grimaud (who toured Australia, Europe, and China with the Australian Youth Orchestra) has cancelled her May 2017 performances due to personal reasons. Japanese pianist, Nobuyuki Tsujii will play in her stead. 'While we are disappointed Hélène Grimaud's fans won't have a chance to see her in 2017, we are thrilled that Tsujii accepted our offer to perform once again', commented SSO Managing Director, Rory Jeffes. Tsujii, who was born blind, wowed audiences during SSO's Beethoven Festival in October this year: 'His interpretation of Beethoven's Piano Concerto No 3 was one of the most admirable and inspiring things I have witnessed', said Murray Black in The Australian. Tsuji will play Chopin's Piano Concerto No.2 and Dvořák's Symphony No.8 on 19 and 20 May, and will be in recital on 22 May.
Giveaway
This month, thanks to Transmission Films ten new or renewing subscribers will receive double passes to A United Kingdom starring David Oyelowo and Rosamund Pike (in cinemas 26 December) and another ten will receive double passes to La La Land starring Emma Stone and Ryan Gosling (26 December) thanks to Entertainment One.
To be eligible for these giveaways you must be a current or new paid subscriber to the print edition of ABR or to ABR Online. To be in the running please email Grace Chang at This email address is being protected from spambots. You need JavaScript enabled to view it. with your full name and contact details. Preference is given to subscribers who have not received a giveaway in recent months.