Opera
Die Walküre (Opera Australia) ★★★★1/2
Die Walküre, for Arts Update, is the most successful work in Neil Armfield's production of Der Ring des Nibelungen, now well underway at Arts Centre Melbourne. And this is fitting, Die Walküre being, for some us, the greatest of operas, with a first act of singular perfection, some of the most beautiful passages Wagner ever wrote, and five compelling individual principal roles.
Musically, it could not be more different from Das Rheingold. Here, the mood shifts from ennui to menace to foreboding, then back again. Little happens on stage, and there are long passages without any singing, but there are no longueurs, and the hours pass quickly. By now Wagner has thoroughly mastered the enactment and transformation of emotions through purely orchestral means.
Melbourne has hosted a few Walküres in the modern era. Charles Mackerras conducted the first of them – a concert version – in the Melbourne Town Hall, in 1981. The cast included Nance Grant, Lauris Elms, Robert Gard, Donald Shanks, and Raymond Myers. Arts Update has written elsewhere about that famous performance, which introduced Rita Hunter (Brünnhilde) to Australians. Then came the Cillario/Challender Walküre, which we saw in Sydney and Melbourne, a richly peopled affair sung, variously, by Hunter, Elms, Bruce Martin, Alberto Remedios, Margreta Elkins, Marilyn Richardson, Leonie Rysanek et al. This current Opera Australia revival is a worthy successor to those earlier productions.
Each of Armfield's operas is discrete, self-contained. It sets him apart from most directors of the Ring, including several productions that Arts Update has seen, including Harry Kupfer in Berlin (1996/97); Robert Carsen in Cologne (2004); Francesca Zambello in San Francisco (2011), which Ian Dickson reviewed for Arts Update when it moved to Washington, DC in 2016. Those cycles, regardless of their quality or impact, worked as unities in ways that Armfield's does not.
Here, in Act I, after the Busby Berkeley rainbow bridge that ends Das Rheingold, we have a naturalistic hut for Hunding and Sieglinde, though we miss the huge ash tree from which Siegmund will extract the transformative sword. The revolve is back, effectively. The costumes are deliberately plain and largely monochrome. Act II introduces a tall rotating spiral ramp surrounding the familiar taxidermic animals. Brünnhilde, Wotan, and Fricka enter from the top of the ramp and use it to good dramatic effect, especially during Brünnhilde's brilliant entrance in Act II ('Hojotoho! Hojotoho!') and, later, when Brünnhilde and Fricka – deeply wary – have to pass each other. Act III, after the ascent of the ramp following Siegmund's slaying, is much starker. The vast stage is bare again, as in Rheingold. This can be testing for the singers.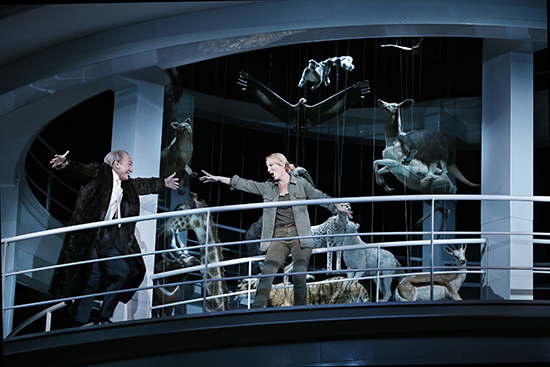 James Johnson as Wotan and Lise Lindstrom as Brünnhilde in Opera Australia's Die Walküre (photograph by Jeff Busby)
Overall, this Walküre is better sung and better acted than its 2013 predecessor. Stuart Skelton – Siegmund in 2013, as in 2004 (Adelaide) – is a loss to any Walküre, but Australian tenor Bradley Daley makes a fine impression in his stead. Daley has done much singing in Britain and Europe. Arts Update liked his gleaming high notes in Nixon in China (Mao) and Der Fliegende Holländer (Erik). Eerily like his twin sister, Sieglinde, Daley was compelling in their long scene after Hunding's minatory departure. Daley did not risk physical harm or vulgar effect by overstretching 'Walse! Walse', and his 'Winterstürme' was outstanding. In Act II he was at his best in that greatest of scenes, the Todesverkündigung, when Brünnhilde, reluctantly obeying Wotan, announces Siegmund's imminent death and his journey to Valhalla.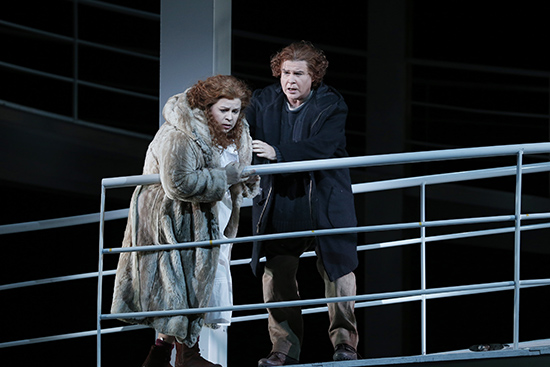 Amber Wagner as Sieglinde and Bradley Daley as Siegmund in Opera Australia's Die Walküre (photograph by Jeff Busby)
Daley's opposite, the young American singer Amber Wagner (heard here only once before, in an Andrew Davis/MSO Verdi Requiem, in 2013) is sensational as Sieglinde – right from the outset too: no sullen domestic mooching about as Sieglinde awaits Hunding's return, only to be surprised by the arrival of a stranger, her long-lost brother. Wagner and Daley capture the weirdness of it (within moments, Sieglinde implores Siegmund, 'Quick! show me your wounds'), but also the tenderness, the humanity, that culminates in their first tacit moment of recognition.
With Amber Wagner, we immediately think of Jessye Norman – those powerful chest notes. The top is ringing and very secure. At times there is a wildness to her singing, à la Leonie Rysanek (a celebrated Sieglinde), but she is always tuneful. Like the best singing actors, Wagner takes risks. She is a superb thespian – impossible to ignore on the stage. Vocal highlights were many, including an extraordinary 'Der Männer Sippe', followed by 'Du bist der Lenz'. After Siegmund's murder in Act II, Sieglinde rose to soaring heights in 'O hehrstes Wunder!', before fleeing to prepare for the birth of Siegfried, 'hero' of the next opera. Amber Wagner is a revelation: let us hope it is not too long before we hear her again.
The other performances were consistently good. Lise Lindstrom, as Brünnhilde, was a fine replacement for Susan Bullock (2013). Young, blonde, slender, she was a perfect Valkyrie, and her singing, right from that searing entrance, was accurate and powerful. A responsive, communicative actor, she understands the benefits of containment. Her stillness throughout the Todesverkündigung – and the subtle visual shocks she registers as Siegmund defies her, and dooms her – complemented this incomparable music.
Armfield exploits the marked age difference between Lindstrom and James Johnson (Wotan) to great effect. Rarely has the rapport between father and daughter – loving confidants – been conveyed so stirringly. In Act III, after Brünnhilde's disgrace, Wotan's farewell to his daughter (to some of Wagner's greatest music) was almost unbearably moving.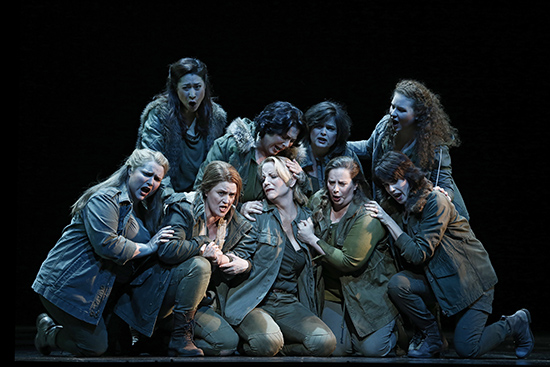 The Valkyries in Opera Australia's Die Walküre (photograph by Jeff Busby)
James Johnson, after a tentative start on Monday night, sang with gravity and elegance. His is no longer a big voice, but he marshals it artfully. Wotan's huge monologue in Act II was eloquently shaped. Johnson was heard at his best in the blessing to the absent, condemned Siegmund: 'What deeply revolts me, I bequeath to you, / the empty glory of divinity: / greedily feed your hate on it!'
Jacqueline Dark, as Fricka, most alarming of stepmothers, was superlative, and Jud Arthur (Hunding) sang with great force and presence. The eight Valkyries who open Act III were vivid and rich-voiced additions, although their entrance on high swings was awkward because of the mandatory harness. This requirement also proved distracting during the buckling and ascent of the fallen heroes.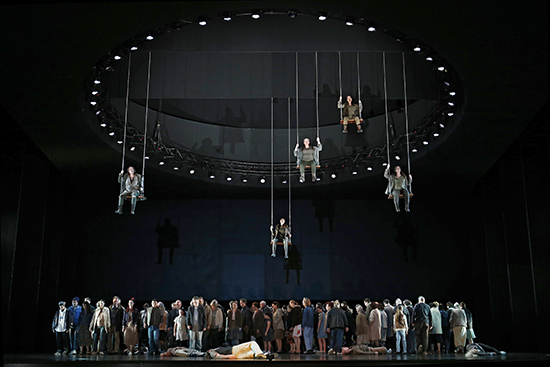 Opera Australia's Die Walküre (photograph by Jeff Busby)
The demands on the large orchestra are phenomenal, but here the Melbourne Ring Orchestra was in tremendous form. The thrilling prelude unfolded with real urgency and momentum, and throughout the evening Pietari Inkinen drew keen, accurate playing, with some bright, emphatic work from the brass section.
Die Walküre is always a long night in the theatre, but this one acquired an epic quality because of mechanical faults that extended the two intervals to a total of more than three hours. The performance didn't finish until midnight, but hardly anyone left and no one went to sleep, only Brünnhilde. The absorbed audience gave the singers and the orchestra a long ovation.
Wagnerite or not, don't miss the final two performances of this outstanding production.
Die Walküre, by Richard Wagner, is directed by Neil Armfield and presented by Opera Australia. It will be repeated on 2 and 12 December during the second and third cycles of Der Ring des Nibelungen, in the State Theatre, Arts Centre Melbourne. Performance attended: 23 November 2016.
Arts Update is generously supported by The Ian Potter Foundation.