Opera
Das Rheingold (Opera Australia) ★★★
Der Ring des Nibelungen returns to Melbourne three years after its première here. Those three cycles sold out quickly; these ones haven't, understandably, but the State Theatre seemed pretty full on opening night. Some alterations have been made, but the production is largely intact. Several local singers retain their principal roles, but we have a new Siegmund, Wotan, Loge, Sieglinde, and Brünnhilde, all but the first from overseas. Neil Armfield – busy man that he is, working on his Adelaide Festival and now directing a new Magic Flute in Chicago – returns as the director.
It opens, of course, with Das Rheingold, Wagner's 'preliminary evening'. This opera is different from everything that follows, different in style and tone. Michael Tanner has written, 'It is, for one thing, action-packed in a way no other of his works is.' Das Rheingold had its première in Munich, in 1869; the first full cycle followed in 1876, at Bayreuth. The opera, much shorter than the others, has its aficionados. Arts Update recalls one conversation with Peter Porter and Roger Covell in Melbourne twenty years ago; both of these keen operamanes nominated it as their favourite Ring opera.
Convention has it that the Ring is about the conflict between love and power. In Act II of Die Walküre, Wotan – the scarred and sorrowing god – tells his daughter Brünnhilde, 'When the joy of young love departed from me, my spirit longed for power.' Needing money to ransom Freia (abducted by the giants Fafner and Fasolt), Wotan determines to wrest the gold and the Ring from the lecherous Alberich, who has already stolen it from the Rhinemaidens in the first scene. But how to do this? 'Durch Raub!' replies Loge, the great ironist and iconoclast of the piece. By theft!
In his notes, Neil Armfield writes, 'In absolute terms the pursuit of wealth requires the denial of love. Wagner wrote the Ring in the thick of the clamour and smoke of the Industrial Revolution. In the Ring he was creating a great poem about the future of civilisation. He could see the ferocious growth of capital changing the world forever. He could see the natural world being torn apart, the wars fought, the families divided in what has proved to be an apparently endless process of expansion; turning natural resources into wealth and then manipulating wealth to create more wealth.'
This may sound modish, even Pikettian, but Wagner – despite the archaisms of his libretti, not to mention his wardrobe – is ever modern, ever renewable. These taxidermic animals and slumping gods bespeak general inanition just around the corner.
Problems remain with the first and last scenes. The opera begins with the famous and sustained low E flat from the Rhine – one of the greatest of preludes (done beautifully in Adelaide in 1998, pitch-black – no Exit sign visible – and sans ovation for Maestro Jeffrey Tate). But why all these supernumeraries in bathers? There are dozens of them, shapely or unshapely. They mooch about, staring. What do they signify? Here it may be germane to quote Armfield again: 'In this production we have been at pains to render a world which connects to our own, but in which the magic of transformation so fundamental to the Ring is understood in terms of the playful frames and gestures of the theatre.'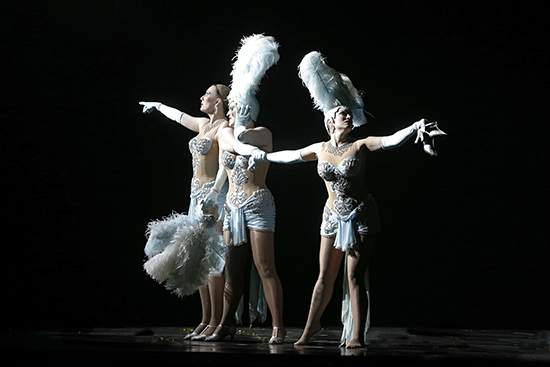 The Rhinemaidens in Opera Australia's Das Rheingold (photograph by Jeff Busby)
The Rhinemaidens – Woglinde (Lorina Gore), Wellgunde (Jane Ede), and Flosshilde (Dominica Matthews) – sing beautifully. When Alberich appears, sex-starved but ultimately content with gold, they tease him mercilessly – insult upon insult – with what Michael Tanner rightly calls 'the unconscious cruelty of children'. Orchestrally brilliant though it is, this is a morally repellent scene.
Warwick Fyfe returns as Alberich. He sings powerfully, and his performance is even more inspired than the one he gave, at short notice, in 2013. He is always acting, flinching, leering, and there are some neat touches, such as when, like a boy in a playground, he skips around the stage in delight during his scene with Wotan and Loge, there to steal the Tarnhelm. Fyfe owned the stage and deserved his loud ovation.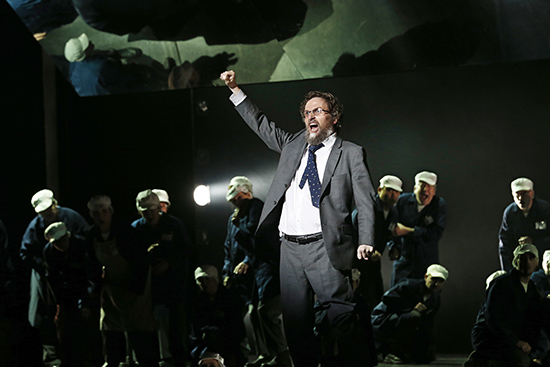 Warwick Fyfe as Alberich in Opera Australia's Das Rheingold (photograph by Jeff Busby)
But why, in that first scene, must costumier Alice Babidge strip Fyfe to his jocks? Don't we have imaginations? Why not give him Hawaiian bathers at least? The same applies to Liane Keegan, a substantial woman who is dressed in a pale sleeveless nightie. It's a wonder singers put up with this. Yet we now know that Stefan Vinke – returning as Siegfried in the last two operas – declined to be undressed before Siegfried's Funeral March. He told Matthew Westwood of The Australian, 'People are coming to hear me sing, not to see me nude on stage.'
Notwithstanding, Liane Keegan is a commanding Erda, as she was in Adelaide twice. Her scene with Wotan, whom she urges to relinquish the Ring, was one of the most affecting of the night.
American bass-baritone James Johnson, who first sang the role in Paris in 1988, is the new Wotan. Although he looks the part and acts well, he was not in good voice on opening night. There was a distinct lack of volume. Perhaps he was holding back; Wotan has much singing to do over the next three weeks.
There are two fine comic performances here, from Andreas Conrad as Loge, and Graeme McFarlane as Mime. Jacqueline Dark is excellent as the ever-exasperated Fricka. Michael Honeyman, despite his silly toy pistol-cum-hammer, was a good Donner, especially during his testing music at the end, when Donner summons his misty hordes ('He da! He da! Hedo').
Pietari Inkinen, another late recruit in 2013, returns to conduct. He is an accomplished conductor, and the long single-act opera passed without mishap, but this reading lacked authentic Wagnerian majesty and oomph.
In a Conductor's Note in the program, Inkinen writes: 'What a fascinating challenge it is to perform Wagner's music in a country unburdened by the cultural habits that have become attached to this great work.' Inkinen goes on to suggest, 'Australia does not have a long performance history when it comes to the Ring.' Well, works by Wagner were performed seventy times in 1900, both in Melbourne and Sydney. Seven years later, George Musgrove staged the Australian première of Die Walküre. In 1913 the British Quinlan company staged a Ring (sung in English); it played in Melbourne and Sydney, and would have returned but for the ensuing war. Ring operas were performed extensively throughout the 1980s and 1990s, before the Ring was done in its entirety in Adelaide (1998 and 2004). (There is an illuminating history of 'The Ring in Australia' by Peter Bassett.)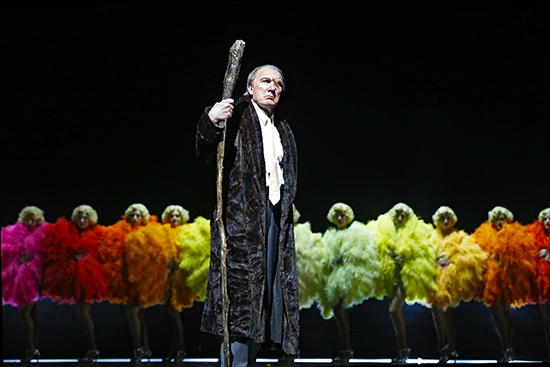 James Johnson as Wotan in Opera Australia's Das Rheingold (photograph by Jeff Busby)
At the end of the final scene, as the gods prepare to cross the rainbow bridge, the showgirls appear, distractingly. In the stalls, heads nod and toes are tapped; some people even sway. But is this what Wagner intended for this noble and ambiguously triumphant music, as the spiteful gods are sucked towards their mortgaged dream castle? It is difficult to attend to the music amid such exhibitionism. One sits there admiring the beauty of the colours, the precision of the formations, the preternatural excellence of the dancers' legs, while music of matchless grandeur plays in the background. Something is lost here, something more de luxe than feathers.
---
Das Rheingold, by Richard Wagner, is directed by Neil Armfield and presented by Opera Australia. It will be repeated on 30 November and 9 December during the second and third cycles of Der Ring des Nibelungen, in the State Theatre, Arts Centre Melbourne. Performance attended: 21 November 2016.
Arts Update is generously supported by The Ian Potter Foundation.