Opera
Freeze Frame Opera Launch ★★★★
Opera is dead, scaremongers have been saying for years. Yet Perth is witnessing an operatic renaissance, and recently a company was launched, the third new one in six years. The emergence of these organic, grassroots organisations is all the more remarkable given the devastation inflicted on small-to-medium arts sector by government funding cuts in May 2016.
These new companies are distinctive for their flexibility, open-mindedness, and their ability – despite Perth's post-boom economic downturn – to attract a diverse, enthusiastic audience. But how has it happened? Is it due to the quality of the singers, the compact art scene, a nose for where to find money, or the WA entrepreneurial spirit?
The launch of Freeze Frame Opera involved all of the above. Each of the four performances of Opera at the Movies sold out. Audience members collected their free popcorn on arrival at Pakenham Street Art Space (a converted Fremantle warehouse). Children on beanbags formed the front row around a stage built from a combivan, a staircase, and an upright piano. The van was perfect for the first item on the program, the iconic scene from Priscilla Queen of the Desert featuring Verdi's 'Follie! ... Sempre libera' belted out from the top of a bus. The drag queen was enacted by performance artist Lady Diamond (Simon Morrison-Baldwin), in silver spandex. Emma Pearson sang the aria while excerpts from the film were projected onto a screen. Lady Diamond then assumed the role of narrator and the evening continued with various movies providing a launching pad for different arias.
This may sound like kitsch cross-over, but in fact it was transformative. Harriet O'Shannessy, a Perth soprano who wants to make opera accessible and affordable, was the visionary behind it. Her concept is simple: place the audience in an interesting venue where they can hear the raw power of the human voice up close. O'Shannessy had cast singers who were youthful but experienced, with world-class voices. All of the soloists eclipsed the film projection through the sheer power and artistry of their voices.
The first of the new independent opera companies to form was OperaBox in 2011, also founded by a soprano looking for opportunities to perform. After some early amateurish productions, Jenna Robertson found her footing with the Australian première of Donizetti's Anna Bolena in 2015 and an edgy, hilarious production of Strauss's Ariadne auf Naxos in September 2016 which established OperaBox as a company that was serious about presenting operatic rarities at a professional level.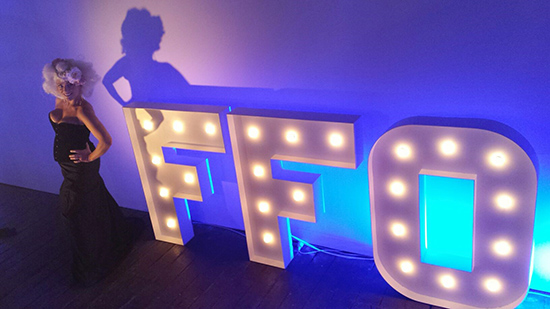 Harriet O'Shannessy, founder of Freeze Frame Opera (photograph by Eva Fernandez)
Lost & Found Opera, founded by Thomas de Mallet Burgess and Chris van Tuinen in 2011, sets lost operas in unusual venues and aims to produce work that extends the boundaries of operatic form and language. While many companies around the world have been trying to find new audiences, Lost & Found has discovered that spaces can come with their own audiences. The company's six productions since its launch in 2013 have been presented in hotel bedrooms, former mental asylums, kitchens, and art galleries. The found space requires the operas to be reinterpreted, redefining the dynamics and the emotional reception of the work. The venue for a performance of Bizet's Don Procopio earlier this year was an Italian Club; the chorus enlisted a group of nonne from a nearby retirement village. They brought their knitting and shared the stage alongside singers of the calibre of Michael Lewis. The opera was changed for, and by, its audience.
Not by chance, Lost & Found launched the company with a production in a hotel room of Poulenc's La voix humaine, a chamber opera about the advent of the communication revolution generated by the telephone. Poulenc considered the soprano soloist in his opera to be a co-contributor. His opera marked the transformation of relationships and also the transformation of art generated by the emerging communication styles of the twentieth century.
In the twenty-first century, the traditional power base and stratification of nineteenth-century opera houses is becoming less viable. In Perth, different approaches to communicating opera are recreating the art form and new audiences are discovering that can be entertaining and transporting.
Even the state opera company, a large and sometimes unwieldy organisation, is showing signs of change with artistic director Brad Cohen's emphasis on local stories and local artists. In 2016 the West Australian Opera performed The Riders, based on Tim Winton's novel. In 2017 the company will celebrate its fiftieth anniversary with a season of exclusively Australian singers, a key recommendation of the National Opera Review released in October 2016. With so much change and adaptation, this is clearly an exciting time for opera in Western Australia.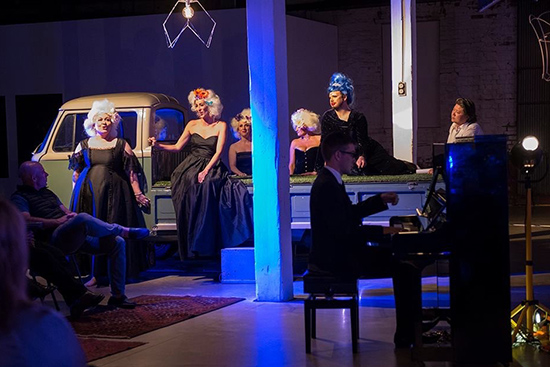 Ileana Rinaldi, Emma Pettemerides, Emma Pearson, Harriet O'Shannessy, Simon Morrison-Baldwin, and Jun Zhang (photograph by Eva Fernandez)
Lost & Found and OperaBox are sustained by government grants, the Australian Cultural Fund, and private donations. Freeze Frame Opera even resorted to a good old-fashioned raffle at their launch to raise fund for its 2017 al fresco production of La Bohème. The performance itself was an excellent advertisement. The divas, with their white wigs and black gowns, quickly broke any divide between stage and audience; barefoot and singing, they wandered through the crowd, anchored by piano accompanist Aidan Boase. Mezzo soprano Ileana Rinaldi's darkly edged Habanera could be felt viscerally (Carmen's aria has been used in movies like Bad Santa, Up, Trainspotting, and Meet the Parents). Rinaldi was joined by Emma Pettemerides and the audience hummed along to the Flower Duet from Delibes' Lakme (with footage from True Romance) and the Barcarolle from Offenbach's The Tale of Hoffmann (Life Is Beautiful). Tenor Jun Zhang delivered a no-holds-barred Nessun Dorma from Puccini's Turandot (with excerpts from The Sum of All Fears). O'Shannessy's rich spinto was put to good use in her solo 'La mamma morta' from Giordano's Andrea Chenier, heard in the movie Philadelphia. Emma Pearson's gilded soprano was particularly beguiling in Verdi's 'Amami, Alfredo' from La traviata, which is what the prisoners in Shawshank heard over a PA system in Frank Darabont's classic film.
'I have no idea what those two ladies were singing about,' remarked Lady Diamond, 'but for the briefest of moments every last man in Shawshank felt free.' It was a fitting reminder, couched in a clever program, of the transformative power of opera, communicated in whatever medium is available at the time.
Freeze Frame Opera launched its 2016–17 season with Freeze Frame Opera: At the movies on 17 November 2016 at the PS Art Space in Fremantle.
Arts Update is generously supported by The Ian Potter Foundation.