Advances
The Update - November 15, 2016
Wagner's Ring
Richard Wagner's Der Ring des Nibelungen (Opera Australia) opens on Monday, 21 November – the first of three full cycles. Neil Armfield's production was first seen in Melbourne in 2013. Pietari Inkinen, who led the Ring in 2013, is once again conducting. Many of the Australian singers reappear in the same roles, but there are some significant – and auspicious – new principals from overseas, including Amber Wagner as Sieglinde, Lise Lindstrom as Brünnhilde, James Johnson as Wotan, and Andreas Conrad as Loge. Arts Update, currently attending the dress rehearsals, will review each of the four operas during the first cycle.
Good seats are still available – some of them, happily, at half the usual price, thanks to the 'generosity of an anonymous donor', according to Opera Australia. C Reserve tickets formerly priced at $299 now cost $149.
Mona Brand Award
Playwright Joanna Murray-Smith is the winner of the inaugural Mona Brand Award for Women Stage and Screen Writers, made possible by a bequest to the NSW State Library Foundation from Australian playwright Mona Brand (also known as Alexis Fox). Many of Murray-Smith's fifteen play have been performed here and overseas. Her recent work includes the comedy opera miniseries, The Divorce, which screened on ABC TV in 2015. She receives $30,000 in prize money. The Mona Brand Emerging Writer Award (worth $10,000) went to actor Jada Alberts for her play Brothers Wreck.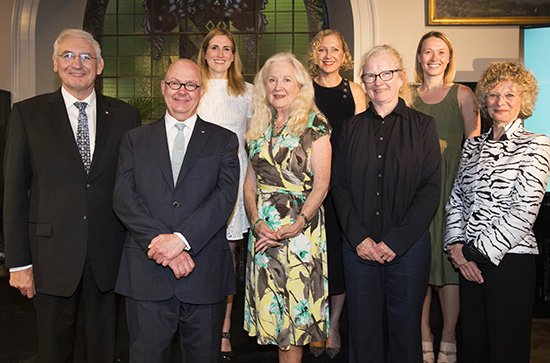 From left to right: George Souris, Kim Williams, Billie Pleffer, Margaret MacFarlane (neice of Mona Brand), Joanna Murray-Smith, Charlie Herbert (Jada Alberts' agent), and Lucy Milne (photograph courtesy of State Library of NSW)

The Award's patron, actor, and director Robyn Nevin noted, 'This significant prize money might make a huge difference to the lives of these particular women ... the discipline is significant, the struggle is significant, and money matters!'
Joanna Murray-Smith's adaptation of Ingmar Bergman's celebrated television series/film Scenes from a Marriage, starring Marta Dusseldorp and Ben Winspear, will be a highlight of Queensland Theatre's 2017 season.
Sydney Writers' Festival's new Artistic Director
Michaela McGuire will leave her current role as the co-CEO of Melbourne's Emerging Writers' Festival to take up the a position as the new Artistic Director of the Sydney Writers' Festival, which celebrates its twentieth year in 2017. McGuire, a journalist and author, co-founded the Women of Letters salon in 2010.
'I hope to program a celebration that befits the organisation's reputation as a world-renowned literary festival, and also introduce a new generation of audiences to the smart, eclectic, passionate, and surprising voices that inspire the national conversation', said McGuire. The Sydney Writers' Festival will run from 22–28 May 2017.
Piers Lane
Celebrated pianist Piers Lane will be stepping down as Artistic Director of the Australian Festival of Chamber Music after eleven years, following the 2017 season. Festival Chair, Sandra Yates, said: 'Piers has been a part of the AFCM family for such a long time that it is inevitably sad to say goodbye ... we part with mutual regard, and the confident expectation that we will welcome Piers back as a performer many times in the years to come.'
Kathryn Scott will succeed Lane as Artistic Director of ACFM in 2018. On Ms Scott's appointment, Mr Lane said excitedly: 'I'm thrilled that Kathy Stott will succeed me – there isn't a more suitable artistic director on the planet! She is a truly great musician and person and has all the qualities and contacts to take the festival to new heights.'
Giveaway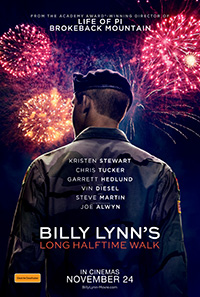 Billy Lynn's Long Halftime Walk (Sony Pictures © 2016 CTMG. All Rights Reserved)This month, thanks to Sony Pictures, ten new or renewing subscribers will receive double passes to Billy Lynn's Long Halftime Walk based on the 2012 novel by Ben Fountain (in participating cinemas November 24).
To be eligible for this giveaway you must be a current or new paid subscriber to the print edition of ABR or to ABR Online. To be in the running please email Grace Chang at This email address is being protected from spambots. You need JavaScript enabled to view it. with your full name and contact details. Preference is given to subscribers who have not received a giveaway in recent months.