Music
A Survey of Classical Music Boxed Sets (Universal Music)
Part of the enduring attraction of CDs, is that the format is still the nonpareil of repertoire and artistry for dedicated collectors. The boxed set, which is of course not a new idea (think of Karajan's 1960s set of Beethoven symphonies for Deutsche Grammophon), is ideally suited to CD, not just for technical convenience and historical importance, but for what you might call display purposes. Original-jacket reproduction, although shrunken from the long-playing format, brings a welcome nostalgic edge. Then there is the even greater convenience of timing, and the welcome ability of labels to add bonus tracks to transform an original forty-five-minute LP to an eighty-minute CD.
This has been a bumper year for boxed sets, and the trend, I'm glad to say, continues apace. For example, Universal Classics has just released the daddy of them all – Mozart's complete works, on 200 CDs. More of that anon.
In the meanwhile, here is a comprehensive survey of recent boxed sets that have kept my CD player busy and my ears enthralled.
Decca Sound: 55 Great Vocal Recitals, 55 CD set (★★★★)
Following in the tradition of Decca's compilations from its vast analogue and digital catalogue comes this magnificent fifty-five-CD set of singers who have recorded for the label over the years. It ranges from the early 1950s, with the great French soprano Suzanne Danco (peerless in her native repertoire, especially Massenet and Charpentier, but equally memorable in the lieder of Richard Strauss and as Purcell's Dido) through to the 2010s and the likes of Jonas Kaufmann and Joseph Calleja, who nobly and ably keep the spirit of song alive. In between come some of the finest artists of their, or any other, age. These include Peter Pears (included is that unforgettable 1963 Winterreise, with Benjamin Britten's incomparably poetic accompaniment), Carlo Bergonzi, the prince of tenors, Joan Sutherland and Marilyn Horne, Brigitte Fassbaender (her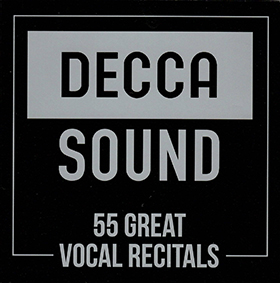 sublime disc of Liszt lieder, with Jean-Yves Thibaudet), Birgit Nilsson, Teresa Berganza, and Luciano Pavarotti, from the early 1960s. There are also such unjustly forgotten giants as the German bass Paul Schöffler (a marvellous Hans Sachs) and the wonderful Italian soprano Virginia Zeani. There is also a tantalisingly poignant reminder of singers who, like the Greek soprano Elena Souliotis, seemed poised for greatness, only to have it elude them. One of my favourite discs is from the English soprano Josephine Barstow, one of the truly extraordinary singer-actresses: her final scene from Salome is Strauss's anti-heroine to the life, and death. My one tiny cavil is a lament for the complete lack of texts and translations, which could perhaps have been included on a fifty-sixth disc. However, this omission should not detract from what is an outstanding survey of twentieth- and twenty-first-century vocal performers.
Fritz Wunderlich: Complete Deutsche Grammophon studio recordings. 32-CD set (★★★★)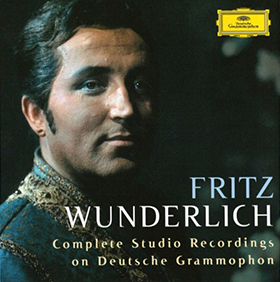 Even if the German lyric tenor Fritz Wunderlich (1930–66) had stuck to his pseudonym, Werner Braun (used in his early recordings for Philips, as he was still signed to another label), there is no doubt he would have been a household name. It's lucky, though, he could revert to his real name, one you could almost set to music. This year marks the fiftieth anniversary of Wunderlich's untimely death. In September 1966, he fell down a flight of stairs at friend's hunting lodge and hit his head on a stone floor. In commemoration, Deutsche Grammophon has released not only Wunderlich's complete recordings for the label, mostly made over an unbelievably short three-year period, but his earlier ones for Philips, Decca, and Polydor. The latter consists of five popular albums: sehr Gemütlich, indeed. The bulk of the CDs, though, prove not only Wunderlich's glorious technique and his unmistakable lucid, honeyed voice which put him among the greatest lyric tenors, but his wide repertoire. As one hears, Monteverdi, J.S. Bach (including a St Matthew Passion, with Peter Pears as the Evangelist), Handel, Gluck, Bellini, and Verdi were all sung with brilliance and precise phrasing; but so, too, were Alban Berg (Wozzeck, in which Wunderlich sang the tiny role of Andres), Lortzing (Marquis von Chateauneuf, another minuscule role), and a tantalising Lensky, in extracts, in German, from Tchaikovsky's Eugene Onegin, with Fischer-Dieskau in the title role. Peerless, though, was Wunderlich's Tamino, in Mozart's Die Zauberflöte, in the magical 1964 recording with the Berlin Philharmonic conducted by Karl Böhm. Lieder by Schubert (including Die Schöne Müllerin), Schumann (Dichterliebe), and Beethoven, round off this inexhaustibly satisfying set.
Pinchas Zukerman: Complete recordings on Deutsche Grammophon and Philips. 22-CD set (★★★)
It doesn't seem that long ago that Pinky (as he is universally known) Zukerman and four young contemporaries – pianist Daniel Barenboim, the late cellist Jacqueline du Pré, violinist Itzhak Perlman, and double-bassist, rather than conductor, Zubin Mehta – recorded Schubert's Trout Quintet. The Israeli-born Zukerman, now in his late sixties, is as busy as ever, still heeding the advice of his mentor, Isaac Stern, to 'be a sponge ... take it all in'. Abundant evidence of Zukerman's artistry is to be found in many of these twenty-two CDs, representing his recordings for DG and Philips over many years. Although I have always preferred Zukerman the violinist – violist, too – to his conducting, there can be no denying his virtuosity in, say, the Brandenburg Concertos, which he directs from the violin. There are substantial joys. For example, a cycle of the Brahms violin and viola sonatas with Barenboim, the Schubert Piano Trios, with Vladimir Ashkenazy and Lynn Harrell. There are also familiar works by Haydn, Beethoven, Mendelssohn, and Brahms, to less familiar ones by Prokofiev, Saint-Saëns, and Richard Strauss. Naturally, The Four Seasons has a look-in (with all-star soloists Zukerman, Stern, Mintz, and Perlman – which sounds like a Tel Aviv architectural firm) as does that eternal flutterer, The Lark Ascending. There is also Through Roses, a music-drama composed by Zukerman's frequent accompanist, Marc Neikrug – a work they once performed in Melbourne and which I thought I'd never have a chance to hear again. Oddly, Mozart is curiously under-represented: just the Sinfonia Concertante and the rarely heard Concertone for two violins and orchestra, and a routine cycle of the four Horn Concertos, with soloist Hermann Baumann and Zukerman directing the St Paul Chamber Orchestra.
Julius Katchen: The Complete Decca Recordings. 35-CD set (★★★★)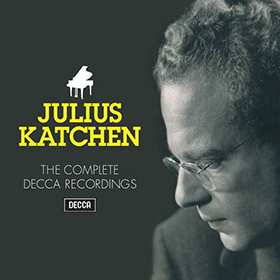 At the age of eleven, 'Buddy' Katchen made his New York concert début, wearing what The New York Times critic described as 'traditional prodigy costume ... low-necked white shirt, knee-length trousers and black shoes and socks'. The young virtuoso, better known as Julius Katchen, went on to enjoy a celebrated career, mostly in Europe, cut short by tragic circumstances when he succumbed to cancer at the age of forty-two. To honour what would have been Katchen's ninetieth birthday, Decca has reissued his complete recordings for the label. They survey a remarkable career and a large repertoire that embraced not only Mozart, Beethoven, and especially Brahms (Katchen was an exemplary Brahmsian), but works by American composers George Gershwin and Ned Rorem, and Britten's rarely heard Diversions for piano (left hand) and orchestra. There is a captivating performance of Saint-Saëns' Carnival of the Animals, narrated by the great Beatrice Lillie, with Katchen joined by another fine US pianist, Gary Graffman. Especially treasurable are Katchen's pellucid performances of Ravel's Piano Concerto in G and D, for the left hand, with the London Symphony conducted by Istvan Kertész. The latter work, along with a magnetic performance of Prokofiev's Third Piano Concerto, was, alas, Katchen's final recording session, in November 1968. The bonus here (as pointed out in Cyrus Meher-Homji's excellent notes to the set) was there was a whole session to spare, so Katchen and forces recorded Gershwin's Rhapsody in Blue. That, along with an earlier version, lushly conducted by Mantovani, is included.
Arturo Benedetti Michelangeli: The complete Deutsche Grammophon recordings. 10-CD set. (★★★★)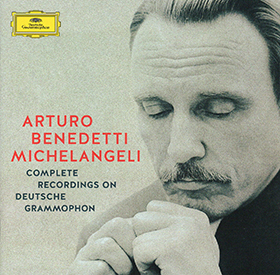 In 1940, when the twenty-year-old Italian pianist Arturo Benedetti Michelangeli won the Geneva Competition, the jury chairman, Alfred Cortot, said, 'In this boy there is some Liszt and Paderewski'. Certainly, Michelangeli, who died in 1996, was an extraordinary technician, sometimes dazzlingly so. What else would one expect from a person who flew fighter planes during the war, was an occasional racing-car driver, and loved reading Mickey Mouse comics? But Michelangeli was also a man of mystery and notable eccentricity. He was famous – make that notorious – for cancelling performances and recordings. A proposed cycle of Beethoven concertos with Carlos Kleiber was abandoned almost before it began, and Michelangeli once walked out mid-recital because someone had let fresh air into the hall, thereby, to his mind, affecting the tuning of the piano.
This fine set displays ABM (as he was colloquially called, possibly well out of earshot) and the relatively small repertoire he recorded for DG. This includes four of the Beethoven concertos and a sonata; a Brahms Ballade; Chopin works; four Mozart concertos; and works by Scarlatti, Schubert, and Schumann. Michelangeli's unrivalled clarity and beauteous tone (sometimes almost too cold) made him a master. He is perhaps at his finest in Debussy. Both books of Préludes are included, along with Images and Children's Corner.
The Originals: Legendary recordings from the Deutsche Grammophon catalogue. 50 CD set. (★★★★)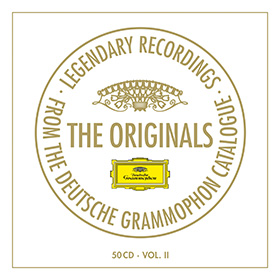 It is hard to believe that it's almost twenty-two years since the first twenty-five Originals were released. Originals being remastered reissues on CD of some of the label's most notable recordings from the then not-so-recently-distant days of LPs.
Now comes a second set, of fifty CDs, of Original bests, including two complete operas: Rigoletto conducted by that great Verdian Carlo Maria Giulini, dating from the mid-1980s; and, from the early 1970s, Carlos Kleiber's landmark Dresden recording of Weber's Der Freischütz. For these performances alone, the set is worth the investment. But other wonders abound: Karajan's marvellous recording of Mahler's Sixth Symphony, coupled with Kindertotenlieder and the Rückert-Lieder, with the incomparable Christa Ludwig investing the songs with heart and soul. It is good, too, to hear Karajan in less familiar repertoire, for him, such as Schoenberg's Verklärte Nacht and Pelleas and Melisande, or Honegger symphonies and Stravinsky.
The set also contains valuable reissues featuring Eugen Jochum, whose Brucknerian strengths shine through in his legendary recording of the three Masses. If this were not enough, there's also Jochum's early-1950s cycle of the Brahms symphonies, with the Berlin Philharmonic: noble performances in which the music always comes first.
Among the plethora of soloists, I particularly celebrate the noble finesse of the great Nathan Milstein, whose 1974 recording of JS Bach's Partitas for Solo Violin remains a landmark recording.
Decca Sound: 55 Great Vocal Recitals, 55 CD set. International release 6 May 2016. 0289 478 9679 1.
Fritz Wunderlich: Complete Deutsche Grammophon studio recordings. 32-CD set. International release 9 September 2016. 0289 479 6438 4.
Pinchas Zukerman: Complete recordings on Deutsche Grammophon and Philips. 22-CD set. International release 1 July 2016. 0289 479 5983 0
Julius Katchen: The Complete Decca Recordings. 35-CD set. International release 2 September 2016. 0289 4830356 4.
Arturo Benedetti Michelangeli: The complete Deutsche Grammophon recordings. 10-CD set. International release 2 September 2016. 0289 479 6277 9.
The Originals: Legendary recordings from the Deutsche Grammophon catalogue. 50-CD set. International release 15 September 2016. 0289 479 3449 3.
Arts Update is generously supported by The Ian Potter Foundation.