Music
2016 Wangaratta Festival of Jazz and Blues
Ahead of this year's Wangaratta Festival of Jazz and Blues, Artistic Director Adrian Jackson acknowledged that while he had not intended to develop any specific theme for this year's program, one had unwittingly emerged: the significant contribution of female musicians to jazz in this country. Thankfully, this was anything but a rallying cry for affirmative action: the composers and instrumentalists Jackson programmed to appear – among them Sandy Evans, Andrea Keller, Tamara Murphy, Fran Swinn, Shannon Barnett – are indeed among the most exciting jazz musicians currently at work in Australia.
It has become something of a tradition to open the Festival with a Friday evening performance by the Monash Art Ensemble. Recent years saw the Ensemble collaborating with renowned international musicians, including Italian trumpeter Enrico Rava (2014) and American trumpeter Dave Douglas (2015). Yet, even when measured against these lofty standards, this year's performance of Paul Grabowsky's Nyilipidgi was a special treat. The large-scale composition builds on Grabowsky's previous collaborations with the Young Wägiluk Group – which can be heard on the Crossing Roper Bar recordings – that began in 2004 when he first visited the community of Ngukurr on the Roper River in South East Arnhem Land. Nyilipidgi is a twelve-part suite for the Ensemble featuring the vocals, clapsticks, and didjeridu of Daniel Ngukurr Boy Wilfred and David Yipininy Wilfred. A complex and challenging work, it elaborates Grabowsky's belief, derived from his experience playing with musicians from Ngukurr, that we share 'the interconnectedness of all things'. This was an emotionally charged performance that fused modern dissonance with ancient tradition, all the while telling powerful stories, in part acted out by the ceremonial musicians. In a career filled with highlights, Nyilipidgi can be considered a key composition in Grabowsky's work to date.
Wangaratta's Holy Trinity Cathedral, with its spacious architecture and beautiful surrounds, provided the perfect venue for a number of intimate concerts throughout the Festival. The Luke Howard Trio, with their unique brand of jazz and minimalism, gave a spellbinding performance on Saturday afternoon, offering their unique brand of jazz and minimalism. Starting off with simple melodic phrases, Howard uses overtones to incrementally layer the music, creating a hypnotic effect; and while his music owes a debt to the work of composers like Philip Glass and Max Richter, it is his capacity to meld these repetitious motifs with improvisation that makes this music truly compelling. Howard was also featured, along with guitarist Fran Swinn, in bassist Tamara Murphy's bold new venture, Spirograph Studies. This quartet dedicates itself to playing a dense textual music that relies on collective improvisations, or what Murphy calls 'gromp music', rather than traditional soloing.
The Cathedral was the ideal setting for the Sunday duo performance by saxophonist Adam Simmons and bassist Nick Tsiavos, performing their recent recording Sixteen Alleluias in its entirety. For this deeply spiritual music, directly inspired by Byzantine iconography, Tsiavos showed off his incredible bowing technique, generating deep and resonant drones on his upright bass, over which Simmons's soprano sax floated and danced.
The death of two Australian jazz icons, Bernie McGann (2013) and Allan Browne (2015), was memorialised in several performances during the Festival. Sydney saxophonist Sandy Evans performed her commissioned suite for Bernie McGann, featuring players who had played extensively with him: trumpeter Warwick Adler, alto saxophonist Andrew Robson, bassist Brendan Clarke, and drummer Andrew Dickeson. Taking its title 'Long, Loose, Taste, Groove' from a cryptic phrase she came across in one of McGann's practice notebooks, Evans's fifty-minute suite, which referenced McGann's music as well as his life, wonderfully captured the spirit of this Australian jazz pioneer.
Andrea Keller's Transients is a series of trios she formed in early 2016 to play music directly inspired by the philosophy and legacy of her early mentor Allan Browne. The trios are mostly made up of musicians who worked with Browne, and their collective approach pays tribute to his spontaneous and improvised approach to life and music. Keller led two of the Transients trios on separate days: Transients I, featuring saxophonist Julien Wilson and bassist Sam Anning; and Transients IV, featuring trumpeter Eugene Ball and bassist Tamara Murphy. Both performances were remarkable for the way in which these trios crafted their own unique voice, emphasising an intense communication and carefully nuanced interplay. Keller's compositional skills were to the fore, particularly with her magnificent piece 'All the Colours Grey', first recorded with Browne on the Travellers album (2015), and her moving homage to the late English pianist John Taylor, 'Grateful, Hopeful, Joyful'. This latter piece was reprised, in a different format, on the Sunday evening when Keller took the piano chair as part of the performance by the Melbourne Women's International Jazz Festival quintet.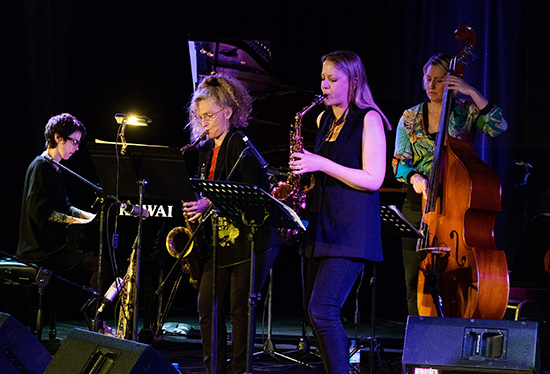 Members of the Melbourne Women's International Jazz Festival quintet at the 2016 Wangaratta Festival of Jazz and Blues (photograph by Roger Mitchell/ausjazz.net)
Aside from Keller, this year's Festival was notable for its strong contingent of Australian pianists. Barney McAll performed a one-hour concert of solo music in the Holy Trinity Cathedral on Saturday, and resurfaced in the WPAC Theatre the following day with his maverick outfit ASIO (Australian Symbiotic Improvisers Orbit). Pianist Joe O'Connor, recipient of the 2013 National Jazz Award, performed with his trio, and separately delivered a spirited reading of his 2016 PBS Young Elder of Jazz commission, the six-part suite Confrontations, featuring trumpeter Scott Tinkler. While Confrontations is a dense and challenging piece, as much Messiaen as Monk, it nevertheless attests to O'Connor's remarkable growth as a composer in just a few brief years.
When Perth pianist Tal Cohen was forced to withdraw from the Festival at short notice, Paul Grabowsky stepped into his place to perform a remarkable set of duos with saxophonist Jamie Oehlers. The two musicians were able to draw upon several previous collaborations, in particular their recording Burden of Memory (2015). A genuine highlight of their set was an untitled improvisation, equivalent to playing without a net, inspired by the music they created in Lost and Found, an earlier trio dedicated to playing spontaneous music. Grabowsky and Oehlers ended with their beautiful rendition of the Billy Strayhorn classic 'Lush Life'.
There were noticeably fewer international acts in this year's program. Chilean-born saxophonist Melissa Aldana showed off her impressive technique, which saw her win the 2013 Thelonious Monk International Jazz Competition, the first female to do so. Irish bassist Ronan Guilfoyle performed twice with his trio, and also with an augmented ensemble featuring Australian musicians Andrea Keller, Scott Tinkler, and Jamie Oehlers. This Sextet performed his recent composition, as yet unrecorded, 'A Shy-Going Boy', based upon the life of his grandfather Joe Guilfoyle, who took part in the 1916 Rising and later served on Michael Collins's Intelligence staff. The eight-part suite, which brought to mind an imaginary film score, was interspersed with audio recordings of Joe's reminiscences and readings from his unfinished memoirs. It was a moving performance that recalled Lloyd's Swanton's similarly ambitious Ambon, performed at last year's Festival.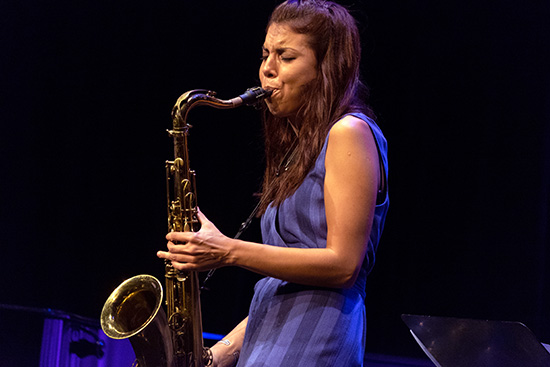 Melissa Aldana at the 2016 Wangaratta Festival of Jazz and Blues (photograph by Roger Mitchell/ausjazz.net)
Australian trombonist Shannon Barnett, who has been based in Cologne since 2014, brought her German Quartet to the Festival – in many ways a triumphant homecoming performance. The Quartet's several concerts showed off her development, both as a player and composer. With a beautiful wide-open tone, her solos were full of imaginative phrasings, and her band, in particular saxophonist Stefan Karl Schmid, played with furious energy and precision throughout.
The National Jazz Awards, held annually at the Festival since 1990, have played a pivotal role in developing and nurturing the next generation of jazz artists. This year's featured instrument was saxophone, and the award was taken out by Mike Rivett, who originally hails from Cairns. It is no surprise that a number of previous winners featured at the Festival – Barney McAll, Julien Wilson, Scott Tinkler, Brendan Clarke, Sam Anning, and Joe O'Connor – and we can undoubtedly expect to see Rivett on the program at a future Festival.
Jazz's capacity to meld with other cultural traditions was convincingly demonstrated during Sandy Evans's performance, featuring her current trio, along with guest tabla player Bobby Singh. Fusing jazz and Indian music – not quite one or the other, as Sandy noted – the concert featured music from her recent album Kapture (2015), dedicated to Ahmed Kathrada, the South African activist imprisoned with Nelson Mandela for more than twenty-five years. Improvising over the drone of a recorded sitar, Sandy Evans literally wailed on soprano sax, propelled along by the immense energy of bassist Brett Hirst and drummer Toby Hall, whose combined job it was to navigate the complex rhythmic patterns at the heart of these pieces.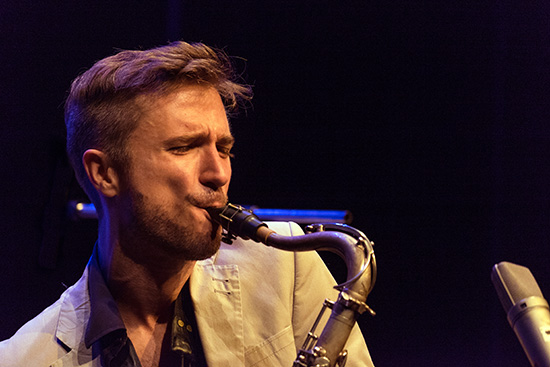 National Jazz Award winner Mike Rivett at the 2016 Wangaratta Festival of Jazz and Blues (photograph by Roger Mitchell/ausjazz.net)
Musically, this was one of the most impressive Wangaratta Festivals of recent years. It was a shame, then, to see that visitor numbers were down. Drastic cuts in government funding had clearly impacted on the number of international acts scheduled; and things weren't helped when heavy rains and localised flooding led to a last-minute shuffling of outdoor venues. Wangaratta has always held a special place among regional music festivals; it has contributed markedly to the artistry of jazz in this country, and has exposed performers and composers alike to larger audiences than they could otherwise expect. It can only be hoped that renewed funding will see things back on an even keel next year, allowing the Festival to reassume its rightful place as one of the pre-eminent events in the country's musical calendar.
The Wangaratta Festival of Jazz and Blues took place in a range of venues from 28–30 October 2016.
Arts Update is generously supported by The Ian Potter Foundation.