Opera
Anna Bolena (Melbourne Opera) ★★★★
Melbourne Opera, in recent years, has established a reputation for enabling keen opera goers (especially bel cantists) to experience rarely performed works. Remarkably or not, this new production marks the first Australian professional production of Gaetano Donizetti's Anna Bolena, which was premièred in 1830. The opera was widely performed over the next three decades but then languished until 1957, when it was triumphantly revived by Maria Callas and Luchino Visconti, at La Scala. (Of this legendary performance we only have an imperfect live recording, but it is still thrilling to hear)
Melbourne Opera's Anna Bolena is the second part of a traversal of the Tudor Queens trilogy. It follows a successful Maria Stuarda in 2015, and will be followed by Roberto Devereux in 2017.
The story of the Anne Boleyn and her despotic husband, Henry VIII, is one of enduring interest. The opera is concerned with the last three months of Anne's life. It covers her gradual understanding of the burden of Henry's neglect and disdain, and the unfolding of his liaison with Jane Seymour, the queen's chief lady in waiting.
Felice Romani, the most renowned Italian librettist of the first half of the nineteenth century, focused the dramatic arc of the opera on Anna and Jane. Henry, without an aria of his own, is a malign presence in the background; he is the puppet master, pulling the strings of ambitious courtiers to suit his ends – ridding himself of one imperious queen and installing a new, hopefully fertile consort.
Donizetti's scoring calls for instruments in a lower key to give a mournful, subdued effect. Arioso or melodic recitative is used to advance the action with orchestral introductions to scenes. Ensembles heighten the feeling of doom that is about to befall the poor queen.
Maestro Richard Divall has provided Melbourne Opera with a revised score and an idiomatic, singable English translation. The opera's three leading roles require great vocal flexibility. Anna, Jane, and Lord Richard Percy must have the trills and the high notes – lots of them – as well as tremendous stamina. Each of them covers a huge vocal range while also being called upon to convey great emotion. The vocal rigours of the title role, one of the most demanding in the bel canto repertoire, explain why many sopranos are reluctant to tackle it more than once. (Callas sang it just twelve times, over two seasons, yet some consider it her finest achievement at La Scala.)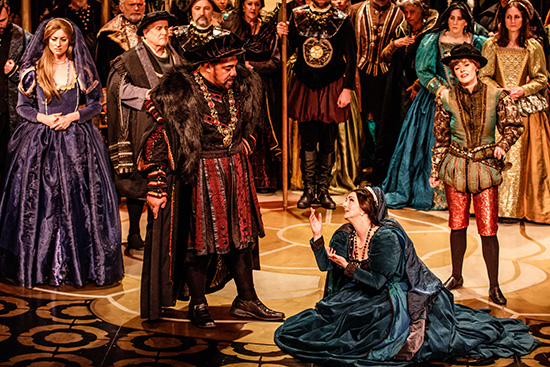 Eddie Muliaumaseali'i as Henry VIII and Elena Xanthoudakis as Anne Boleyn in Melbourne Opera's Anna Bolena (photograph by Robin Hall)
The star of Melbourne Opera's Anna Bolena is Elena Xanthoudakis, last seen as Mary Stuart in 2015. Xanthoudakis has a fine soprano voice and is blessed with superlative technique and acting ability. What a performance this is! Whenever Xanthoudakis was on stage, the audience was riveted by Anne's plight. The Act II mad scene that ends the opera, with its Home Sweet Home reminiscence, was especially poignant.
Sally Wilson replaced an indisposed Sally-Anne Russell as Jane Seymour. After a tentative start, Wilson used her attractive stage presence as an effective foil to both Anna and Henry. In the biting Act II confrontation between Anne and Jane, Wilson settled into the role and gave us some of the most arresting singing of the night.
Boyd Owen, as Percy, successfully negotiated his difficult arias and duets. He conveyed Percy's indecision as to whether to be protective of furious with his former lover. His lyric tenor voice effectively conveyed Percy's dilemmas.
The opera's subsidiary roles were sung by an impressive cast of singers, illustrating the company's depth of talent. Dimity Shepherd in the travesti role of Mark Smeaton, the queen's musician, was noteworthy. Shepherd's strong, agile mezzo soprano and delicate acting were a highlight. I see a future Jane Seymour here. Philip Calcagno as Lord Rochefort, Anne's brother (accused of incest and destined for the block with her), employed a lively stage presence and penetrating baritone.
Eddie Muliaumaseali'i has a bass voice of considerable volume and depth. In Act II his physical presence and the costuming evoked the Henry Tudor of Holbein's portraits.
Indeed, the whole of the Act II showed the company in top form; whereas Act I, perhaps due to first-night diffidence, seemed less exciting. The women's chorus throughout the second act was wonderful, with their sad yet consoling voices directed at the distraught queen.
The orchestra conducted by Greg Hocking provided rhythm and colour. Hocking allowed the brass and woodwind to contribute to the sombre mood of the opera.
Suzanne Chaundy utilised the simple set designs and lighting convincingly; they gave the drama clarity and force. Christine Logan Bell's set and Lucy Birkinshaw's unobtrusive lighting made the most of the Athenaeum's tiny stage. The costumes by Lauren Ritchie were appropriate in colour and style, with the focus on Elena Xanthoudakis.
Anna Bolena derives from important historical events and is itself a vehicle for the evolution of nineteenth-century opera. It is the precursor not only of Donizetti's more famous works, such as Lucrezia Borgia and Lucia di Lammermoor, but also influenced Giuseppi Verdi's operatic development. Melbourne Opera is to be congratulated for mounting such an interesting version of this work. Little wonder that the Athenaeum's opening-night audience responded so enthusiastically.
Anna Bolena, composed by Gaetano Donizetti and directed by Suzanne Chaundy for Melbourne Opera, continues at the Athenaeum Theatre, Melbourne on November 5 and 9, then moves to Monash University on November 12. Performance attended: 2 November 2016.
Arts Update is generously supported by The Ian Potter Foundation.