Advances
The Update - November 3, 2016
Queensland Theatre Season 2017
Queensland Theatre's 2017 season kicks off with several productions that explore themes of politics, race, religion, romance, film, and business. Already the program's diversity has generated much interest. According to Artistic Director Sam Strong, 'some performances have already sold out'.
One highlight is Joanna Murray-Smith's adaptation of Ingmar Bergman's celebrated television series/film Scenes from a Marriage. The new production will star 'real-life power couple Marta Dusseldorp and Ben Winspear'.
Two new initiatives are intended to support developing artists. '8 weeks in a theatre' gives a company or artist an eight-week residency in the Diane Cilento Studio to create a production, plus a '$10,000 cash contribution and 100 per cent of their Net Box Office (after fees), marketing, publicity and technical support'. Queensland Theatre has also announced an 'Artist season ticket', which gives ninety Queensland artists access to all 2017 season plays for only $90.
Adelaide Festival 2017
Highlights of next year's Adelaide Festival include Prokofiev's Peter and the Wolf narrated by Miriam Margoyles, and Rufus Wainwright in concert, both accompanied by the Adelaide Symphony Orchestra. Thomas Ostermeier explores the 'evil inner impulses' of Richard III, Barry Kosky returns to the Adelaide Festival with the lavish, 'blazingly alive' high drama spectacle, Saul, and Neil Armfield's Sydney Theatre Company takes on Andrew Bovell's stage adaptation of The Secret River, based on Kate Grenville's 2005 novel.
Moran Art Prizes
The winner of this year's Doug Moran National Portrait Prize is Megan Seres for Scarlett as Colonial Girl. The portrait depicts the artist's daughter Scarlett, who was cast as the convict Mary Wade in a school play about Colonial Australia. As the judges Anne Wallace, Greta Moran, and Doug Hall note, the portrait 'reflects not only the close relationship of the two, and an awareness of the vulnerability of the young, but also conveys the forbearance required of convict women and the gravity of their situation'. Seres receives $150,000 in prize money.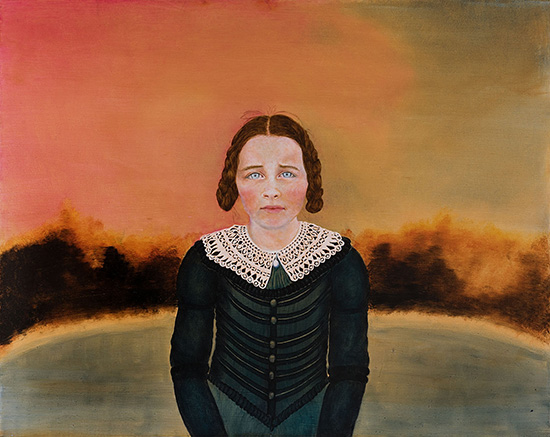 Scarlett as Colonial Girl by Megan Seres
The Moran Contemporary Photographic prize goes to Johannes Reinhart's Mermaid Show, an image of Michelle Smith as 'Tuna Girl' taken at the Fringe World Festival in Perth this year. Prize judge Jon Jones described the shot as 'a standout image that was intriguing and thought provoking, with an almost painterly quality'. Reinhart receives $50,000 in prize money.
These works, and those of the thirty finalists of both prizes, are now showing at Juniper Hall until February 2017.
ABR podcast
In the latest ABR Podcast, Peter Rose talks to Colin Golvan QC – a lawyer specialising in intellectual property – about new threats to Australian creativity, chiefly the proposed removal of restrictions on parallel importation, as recommended by the Productivity Commission. You can listen to this recording by visiting our ABR Podcast page.
Colin Golvan's article 'The god of cheaper prices' appears in the November Arts issue of Australian Book Review.
Art Issue – 10 November
ABR will celebrate the launch of our bumper Arts issue with a special event at the Monash University Museum of Art (Caulfield) at 6pm on 10 November. Find out what the likes of Jacki Weaver, Leo Schofield and Robyn Archer rated as the outstanding arts productions of the year. At this event we will also introduce our new ABR Laureate, who will join inaugural ABR Laureate David Malouf (2014). Please see our 'Events' page for more information. This is a free event but bookings are requested to This email address is being protected from spambots. You need JavaScript enabled to view it.
Anna Bolena in Melbourne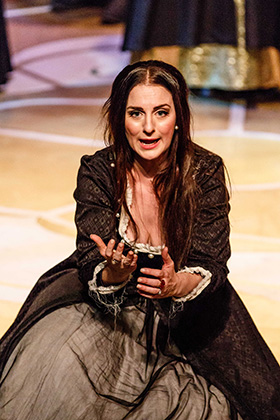 Elena Xanthoudakis as Anne Boleyn (photograph by Robin Hall)Hats off to Melbourne Opera for presenting Donizetti's Anna Bolena. It only took 186 years for this celebrated opera to reach Australia – longer than the reign of the five Tudor monarchs. Maria Callas and Luchoni Visconti famously revived it in 1957, at La Scala. Like Callas, Australian soprano Elena Xanthoudakis is in blazing form as Henry VIII's second queen. Sally Wilson matches her as Jane Seymour, Anne's rival and successor. There are two more performances at the Athenaeum Theatre (November 5 and 9), and one at Monash University (November 12).
Craig Hassall
Opera Australia's CEO Craig Hassall has announced his resignation after three years at the helm to take up a position as Chief Executive at London's Royal Albert Hall in 2017. Chairman David Mortimer praised Mr Hassall's contribution, and acknowledged that he has left the busy opera company and its patrons and supporters with a promising 2017 season to look forward to, despite challenges including the extended closure of the Joan Sutherland Theatre at the Sydney Opera House. 'I remain impressed at the company's ability to develop and define a twenty-first century Opera Company. I look forward to continuing to work with [Artistic Director] Lyndon [Terracini] and David Mortimer on this vision before I head to London in 2017', said Mr Haskall.
Giveaways
This month, thanks to Entertainment One, ten new or renewing subscribers will receive double passes to The Light Between Oceans based on the novel by M.L. Stedman (in cinemas November 3). We also have ten double passes to I, Daniel Blake directed by Ken Loach (Transmission Films, November 17).
To be eligible for these giveaways you must be a current or new paid subscriber to the print edition of ABR or to ABR Online. To be in the running please email Grace Chang at This email address is being protected from spambots. You need JavaScript enabled to view it. with your full name and contact details. Preference is given to subscribers who have not received a giveaway in recent months.