Dance
Anastasia (Royal Ballet) ★★★
Kenneth MacMillan's Anastasia is one of several full-length dramas he created on his return to the Royal Ballet in 1971, after directing the Deutsche Oper Ballet in Berlin. It is a hybrid work, incorporating as its third act a famous one-act Anastasia that MacMillan created in Berlin in 1967. A shy man who suffered debilitating stage fright, MacMillan was an outsider by nature. His empathy for such characters as Romeo and Juliet, and the poet Des Grieux and Manon, delivered some of the most glorious love duets of his career. He was attracted, too, to the story of Anna Anderson, a mentally ill woman who believed herself to be the Romanov Grand Duchess Anastasia, the only member of Tsar Nicholas's family rumoured to have survived their assassination by Bolshevik operatives in July 1918.
Deborah MacMillan, the choreographer's widow, has said he hoped that Anderson was Anastasia, but as Frances Welch writes in an illuminating program note, Anderson was a Polish peasant and would-be actor, who spoke no Russian, and was too old and too small to be Anastasia. She was rescued after throwing herself into a Berlin canal in early 1920. Her silence sent her to an asylum where another patient wrongly identified her as the young duchess. Anderson quickly became the public property of the populist press and medical journals, where reactions to her condition ranged from sympathy to scorn and exploitation.
MacMillan's 1967 Anastasia is a very different vehicle from the two 1971 acts MacMillan created to provide the background to the Bolshevik Revolution and the cloistered, precious life of the Romanovs. Unlike these, which are set to Tchaikovsky's first and third symphonies, the original ballet opens with a confronting electronic fanfare composed by the Technical University of West Berlin. This is followed by Bohuslav Martinů's expressionist Fantaisies symphoniques, which Giannandrea Poesio, quoted in David Nice's music note, describes as an 'autobiographical work grappling with "ghosts" as well as "joyful images"'. It is both a majestic and reflective score, a drama that does more than support the choreography; it fuels the dancer's imagination and visceral energy to fulfil MacMillan's vision.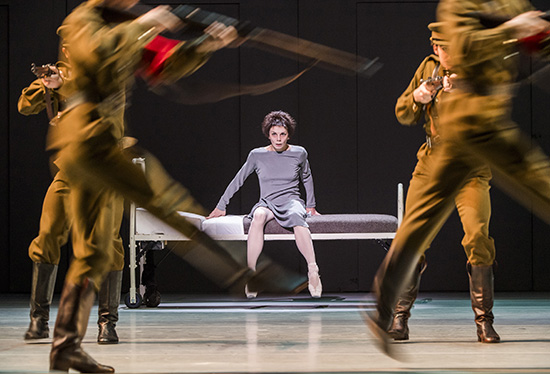 Natalia Osipova as Anna Anderson in The Royal Ballet's Anastasia (photograph by Tristram Kenton)
Anna, sometimes as Anastasia, is on stage throughout this drama which draws on German Expressionist movement. The setting is a stripped stage with a few props, principally a metal bed; the dancers are a passing parade of imperial personages, doctors, and nurses. Fleeting, often horrifying images of life relived or projected on a wall, distress her, not least when soldiers circle the stage in a threatening airborne march. Deeper crises send her flailing widely on the spot, or striding out, arms thrown apart, almost splitting her torso before shrinking, wasted, back into herself. Flicking, prancing gestures suggest happiness, but little lasts. Hand gestures, fluttering like a dove's fanned tail, imply insight, only to be wiped away by some corrosive violence, often to herself. Even her husband's (Edward Watson) tenderness has little efficacy, and only at the ballet's end does she find some resolution, poised on her bed as it circles the stage like a swan.
Royal Ballet principal Natalia Osipova, danced the title role at this season's opening with the greatest passion and emotion imaginable. Much taller than the role creator, Lynn Seymour, MacMillan's original Juliet, Osipova inhabited both Anderson and Anastasia with the utmost conviction, proving yet again how readily one protagonist, and a one-act ballet, can encapsulate a world.
In comparison to such clearly articulated drama, the first two acts fall seriously short. Composed of conventional set pieces, repetitive patterns, and grand processions, there are few highlights of real interest. And narrative episodes seem so sketchy or disjointed from each other that they rarely accumulate enough dramatic heft to stir the audience. Nor do Tchaikovsky's attractive, early symphonies deliver the subtlety required because they cannot easily be straitjacketed into a danced story.
Act One depicts a family picnic on the imperial yacht. It is 1914. The troubles afflicting the family are on show: Alexandra's (Christina Arestis) obsession with the mystic Rasputin (Thiago Soares) who intervenes insidiously in the family's lives; Nicholas and Anastasia's dislike, even fear, of the priest; the haemophilic Alexis, the small sole male heir, whom Rasputin heals after a fall. A touching duet between Alexandra and the playful Anastasia is one of the act's high points. Rather perfunctorily, a letter for the Tsar announces the beginning of another war. Expressions of alarm and dismay bring the act to a close.
Act Two opens on a sumptuous ballroom, where courtiers in elaborate Russian costumes dance energetically but with little charm before the tsar's former lover, ballerina Mathilde Kchessinska (Marianela Núñez) and her partner (Federico Bonelli), entertain the guests with a grand pas de deux. Another highlight is a duet for Alexandra and Nicholas, expanded by the guest artists, then Anastasia and an officer she has become fond of (Watson), but the breach of the palace with rebels, gunfire, and flames is rushed and barely convincing. Such prosaic work, however challenging, cannot compete with the integrity of the original, which deserves presentation in its own right, perhaps when an appropriate MacMillan anniversary comes along.
The production of Anastasia by Kenneth MacMillan has been realised for the Royal Ballet by Deborah MacMillan. The production runs at the Royal Opera House, London, until 12 November. Performance attended: 26 October 2016. Live screenings can be seen at several Palace Cinemas in Australia from 2 to 7 December.
Arts Update is generously supported by The Ian Potter Foundation.