Music
La Belle et la Bête, The Triplets of Belleville, and David Bowie: Nothing has changed (Melbourne Festival)
In the notes accompanying this year's Melbourne Festival, artistic director Jonathan Holloway stated that his diverse program was designed to 'puncture the creative borders between artforms'. The concept of artistic cross-fertilisation is hardly new, nor does it always result in something worth experiencing (think most comic book film adaptations), but three notable Melbourne Festival presentations injected new life into classic, quirky, and much-loved works by pairing them with world-class live musical ensembles and orchestras.
Composer Philip Glass's foray into film and music gave rise to an opera triptych in the 1990s, dedicated to three films by Jean Cocteau: Orphée (1949), La Belle et la Bête (1946), and Les Enfants Terribles (1950). La Belle et la Bête, based on the classic fairy tale by Jean-Marie Leprince de Beaumont, was shown in all its gorgeous black-and-white glory to a full house at the Melbourne Recital Centre (★★★★1/2).
The Philip Glass Ensemble (minus Glass himself) provided the film with a mesmerising live soundtrack. The sopranos, Hai-Ting Chinn (Belle) and Marie Mascari (Belle's sisters), and the baritones, Gregory Purnhagen (La Bête, Prince Ardent, and Avenant) and Peter Stewart (Belle's father and Ludovic), sang the film's dialogue with such synchronism that their presence was often forgotten.
Cocteau's cinematography had a dynamism that was ahead of its time. Gliding shots, slow motion, rack focusing, and reverse footage were combined with a slew of practical effects and props to produce a dreamlike tableau. Tears turned to diamonds as they ran down Belle's cheek. Smoking statues silently observed characters wandering through the castle. A string of pearls was summoned to La Bête's paw at his command. Disembodied arms protruded from walls, clutching candelabra. Leaves fell like snowflakes inside a vine-covered pavilion as a statue of the Roman goddess Diana, slowly came to life and took aim at the intruding Avenant with her magical bow.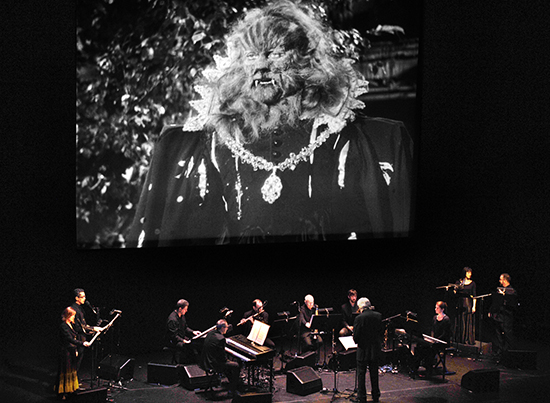 La Belle et la Bête (1946), accompanied by the Philip Glass Ensemble at the 2016 Melbourne Festival (photograph by Robbie Jack)
The film's quaintness often drew giggles from the audience, especially at the macho posturing of Avenant (Jean Marais), the histrionics of the female characters, and the maudlin Bête (also played by Marais), who, by today's standards of monstrous movie villains, was about as fearsome as the Cowardly Lion from The Wizard of Oz. The film's most amusing moment came at the end when Belle cheekily confessed to the clueless Prince Ardent to having loved both Avenant and La Bête. The fop could only reply, 'You're a strange girl, Belle', to much laughter from the audience, before spiriting her away and into the clouds.
The animated films of Sylvain Chomet are a characteristic blend of Gallic humour, grotesqueness, and gorgeous visuals, interleaved with moments of poignancy that are conveyed through minimal dialogue and an evocative soundtrack. Chomet's The Triplets of Belleville (2003) is lauded for its lively score by Benoît Charest, with its cocktail of big-band swing, 1930s jazz, and street parade cacophony.
Charest brought his Le Terrible Orchestre de Belleville ensemble to the Melbourne Festival for a live musical accompaniment to the film (★★★★★). The Triplets of Belleville tells the story of a young boy, Champion, who is placed in the care of his grandmother, Madame Souza, following the death of his parents. In an attempt to cheer him up, she buys him a tricycle, to which the chubby lad takes like a fish to water. As he grows, he morphs into a lanky cycling thoroughbred. When Champion is kidnapped by the French mafia while competing at the Tour de France, Zousa and Champion's pet dog Bruno give chase. Eventually they end up in the sprawling, New-York-like city of Belleville where they are taken in by three eccentric, ageing divas, the eponymous Triplets, who accompany them on their mission to rescue the boy.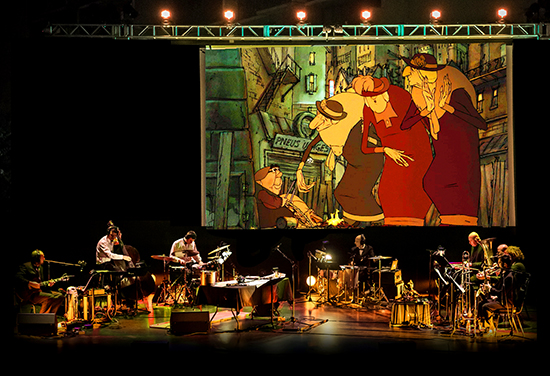 The Triplets of Belleville (2003) accompanied by Le Terrible Orchestre de Belleville at the 2016 Melbourne Festival (image courtesy of Melbourne Festival)
Those who hadn't seen the film were faced with a dilemma: to watch the film itself, dazzling and rife with visual subtleties, or watch the antics of Charest's troupe. Le Terrible Orchestre de Belleville is far from a buttoned-down ensemble. They played an assortment of instruments, some of which were unconventional: the spokes of a bicycle wheel, kitchen utensils, a vacuum cleaner, fridge shelves, even a newspaper are 'played' in sync with Madame Souza and the Triplets. They clicked their fingers, stomped their feet, and twirled in unison, laughing and patting each other on the backs; their sense of fun was infectious. The faultless performance was capped off with a rip-roaring final reprise of the film's award winning theme 'Belleville Rendez-Vous', to the delight of the audience.
The festival's tribute concert David Bowie: Nothing has changed (★★★) was approached with some trepidation. In the nine months since the singer's death, Bowie has been eulogised countless times, scores of tribute concerts have been held worldwide, and his hit songs have been overplayed amid mass outpourings of grief. Fortunately, the presence of Melbourne Symphony Orchestra combined with the energy and passion displayed by the show's roster of seasoned Australian artists prevented the evening from descending into banal karaoke.
Deborah Conway and iOTA were the standout performers. Conway, ever the cool, consummate pro, performed a striking rendition of 'Starman' in which the stage lighting plunged the audience in a field of stars when the song's chorus kicked in, uplifted by the MSO's soaring strings. The eccentric iOTA, who, incidentally, was seen sporting a red onesie and wielding a flame-belching guitar in the spectacular film Mad Max: Fury Road (2015), was the crowd favourite. His 'Space Oddity' and 'Ashes to Ashes' were sung with gusto; 'Life on Mars' with such passion that each chorus drew hearty applause.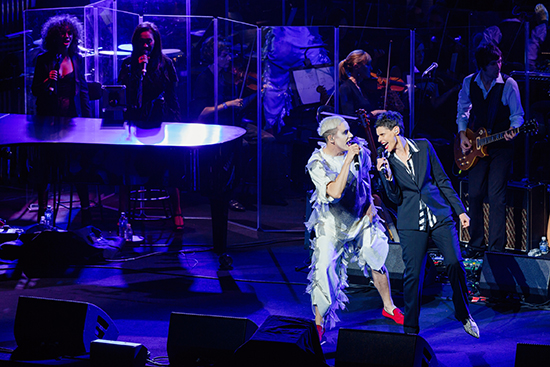 iOTA and Deborah Conway perform a duet for David Bowie: Nothing Has Changed (photograph by Robert Catto)
Steve Kilbey's vocal stylings as the frontman for The Church were undoubtedly influenced by Bowie's deep-voiced post-1980s drawl. He was well suited to the menacingly seductive 'China Girl', but failed to connect with backing vocalist Robyn Loau in a duet that was hampered by an all-too-apparent lack of chemistry.
Adalita and Tim Rogers (the You Am I frontman) injected the show with a roguish, glam-rock sensibility, but Rogers couldn't resist chewing the scenery. His 'seductive' writhing to Bowie's poignant swansong 'Lazarus' – though it was sung well – was a bit on the nose. In those rare cringeworthy moments, the sight of MSO and its conductor Vanessa Scammell standing above it all, provided a welcome relief for the eyes. The night, and indeed the festival itself, could be summarised thus: everything is better with a live orchestra or ensemble.
The Melbourne Festival ran from 6–23 October 2016. La Belle et la Bête was attended on 7 October, and The Triplets of Belleville was attended on 14 October, both at the Melbourne Recital Centre. David Bowie: Nothing has changed was attended on 15 October at the Hamer Hall, Melbourne Arts Centre.
Arts Update is generously supported by The Ian Potter Foundation.