Opera
La Bohème ★★★1/2 and Don Giovanni ★★★★ (Metropolitan Opera)
Franco Zeffirelli's production of Puccini's La Bohème (★★★1/2) has been delighting audiences (and enriching the company) since its première in 1981. Many of the world's greatest singers have appeared in it:- since the first cast, which included Teresa Stratas, José Carreras, Renata Scotto, and James Morris (still with the company today). Even now, Met audiences applaud when the curtain rises in Act Two revealing the Café Momus and the Latin Quarter of Paris, with almost 250 choristers and extras.
Arts Update was keen to hear the young Ukrainian tenor Dmytro Popov. Zeffirelli does lyric tenors few favours by setting Rodolfo and Marcello's garret high and towards the back of the stage, but the shell-like garret enabled Popov to project his handsome voice with considerable focus and power, and the Met – unlike so many modern theatres of this amplitude – famously supports and enhances good voices, rather than muffling them. Popov sang even more beautifully as the night went on: an auspicious début with the company, one that was broadcast across America too – surely the first of many appearances at the Met.
All the men were good, especially Ryan Speedo Green in the small role of Calline. Green, a young bass-baritone who overcame a difficult childhood which included a spell in juvenile detention, was conspicuous throughout (nimble too during the rooftop mock-swordplay). He made much of his short, affecting aria when the philosopher farewells his coat to raise money for the dying Mimì.
This role was sung feelingly by Ailyn Pérez. Susanna Phillips, as Musetta, ever the tentatrice, was overly vampish in the Café Momus scene, but the fourth act, when Mimì limpidly expires, often exposes Musetta's true quality, and here the tall Phillips was eloquent despite not having much to do or sing.
Carlo Rizzi, the conductor, brought out all the lyricism and ping in this famous score, and the chorus, including the children, were superb. Given the response, Zeffirelli's production could yet run for another decade.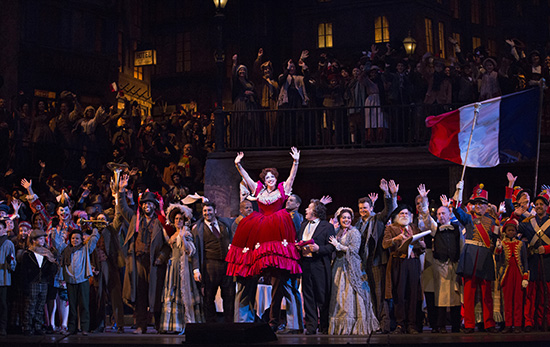 The cast of Metropolitan Opera's La Bohème (photograph by Marty Sohl/Metropolitan Opera)
When it was premièred in 2011, Michael Grandage's production of Don Giovanni (★★★★) was unpopular with critics, Arts Update among them. It was hard to warm to Christopher Oram's gloomy set – a row of three-storey façades in Seville, oppressively near the pit, shutters mostly closed. The effect was lugubrious. The current revival is more inviting and enjoyable. Louisa Miller, the revival director, has animated the drama, which felt listless in 2011. The lighting is better, accentuating the women's superb costumes. The acting was keener too, with close attention to detail, as when Leporello swats a fly in his sleep at the beginning of the opera, and in the shiver of courage Masetto elicits from this timid followers when he threatens to kill Don Giovanni.
It helps having a first-rate cast – not the case in 2011. In addition, the singers know how to act, especially the Don, sung by Simon Keenlyside, returning to the stage after a vocal crisis. The British singer clearly thrives in this role. At times his nonchalance was almost a feature in itself. During the Champagne Aria he seemed intent on setting a new world record for brevity, briefly stranding Maestro Fabio Luisi. Nimble, bandy-lagged, and cocksure, Keenlyside commanded the stage with his endless mockery, duplicity, and physical comedy. His best singing came in the Serenade. The voice seems unchanged – resonant and sure. Keenlyside's acting at the end was worth of an adept Method actor. Only the swapping of costumes and identities at the start of Act Two strained credibility, because of the marked difference in height between Keenlyside and Adam Plachetka (Leporello), accentuated by the un-nocturnal lighting.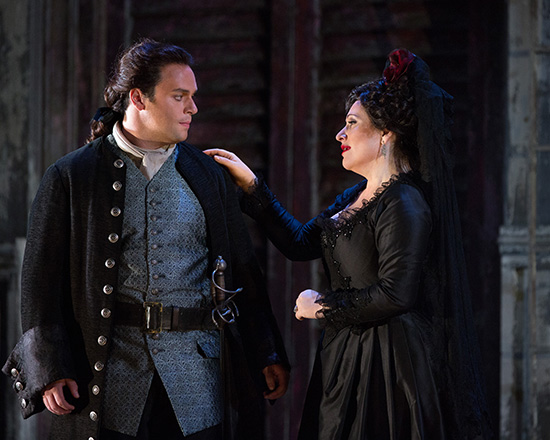 Paul Appleby as Don Ottavio and Hibla Gerzmava as Donna Anna in the Metropolitan Opera's Don Giovanni. (photograph by Marty Sohl/Metropolitan Opera)
Of the other men, Paul Appleby stood out – the best-sung and most interestingly acted Don Ottavio Arts Update has seen. There was nothing insipid about this spurned suitor. Neither of Don Ottavio's arias was cut, as they so often are. 'Dalla sua pace' was taken slowly, with a bravely muted, prayer-like accompaniment from the orchestra. Appleby flourished in the daunting coloratura of 'Il mio tesoro' and ended both arias with considerable volume, to loud applause.
Adam Plachetka was a resonant and malleable Leporello. The audience liked his Catalogue Aria so much they gave him two ovations, one in the middle.
All three women were impressive. Donna Anna, ever hurt and regally frigid, may be a crashing bore, as Callas dubbed her, but Hibla Gerzmava was imposing in the role. Like her compatriot Anna Netrebko, Gerzmava has a huge voice (which she might have reined in during the ensembles). Gerzmava may lack Netrebko's inimitable lustre, but 'Non mi dir', one of Mozart's finest creations, was particularly well sung.
Serena Malfi – resembling a young Kiri Te Kanawa – was tentative at first, but by the second act the sumptuousness of her lower register, as of the top, was fully apparent, and she alone could match Gerzmava's volume. Malin Byström (Zerlina) was superb throughout, and her second act aria was very fine.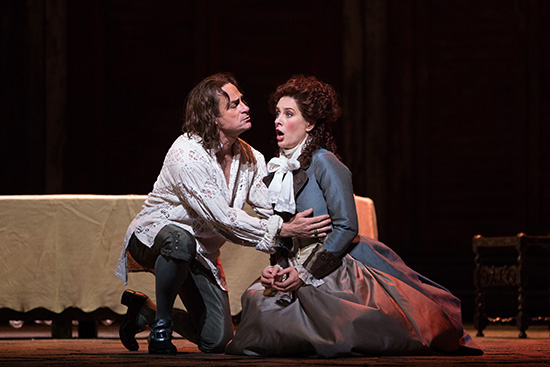 Simon Keenlyside and Malin Bystrom in the Metropolitan Opera's Don Giovanni. (photograph by Marty Sohl/Metropolitan Opera)
Just twelve hours after playing Tristan und Isolde for the second time, the Metropolitan Orchestra was on magnificent form – never blurring or hurrying, capable of serious detail and ping, yet symphonic when it needed to be. It was a privilege to hear this mighty orchestra thrice in quick succession.
Don Giovanni will be screened in the Met's Live in HD program.
The Metropolitan Opera's La Bohème, conducted by Carlo Rizzi, will run from 28 September 2016 to 14 January 2017, and Don Giovanni, conducted by Fabio Luisi and Plácido Domingo, will run from 27 September to 11 May.
Arts Update is generously supported by The Ian Potter Foundation.