Dance
Nijinsky (Australian Ballet) ★★★★★
No twentieth-century male ballet dancer has sparked as much adulation and scholarly investigation as Vaslav Nijinsky. Graduating from the Imperial Ballet School in St Petersburg at eighteen, this sexually ambiguous, rather remote man, became the darling of Russia's principal ballerinas. By twenty he was the love object and protégé of Sergei Diaghilev, the alchemist who concocted the Ballets Russes. Within months of the company's birth, the public called Nijinsky a god, because of the way he could suspend himself in the air.
John Neumeier's ballet Nijinsky, created for the Hamburg Ballet in 2000, opened The Australian Ballet's spring season last week. It is no ordinary ballet, but a kaleidoscopic vision of Nijinsky's memories and hallucinations (and myriad drawings of eyes and circles), which he recorded in a diary over just six weeks in 1919. Inspired by Tolstoy's religious writings, Nijinsky claimed he was God, exposed his sexual history, and wept over fears of being locked up. Even his wife, Romola de Pulszky, who had stalked him and whom he married impulsively in 1913, scared him. Sacked by Diaghilev, and unable to manage a new company of his own, he collapsed showing signs of schizophrenia in 1916.
That Neumeier could corral such a life into a compelling ballet is remarkable. The genius of his conception, an amalgam of Nijinsky's memories and hallucinations, lies in his choice to anchor the two acts to emblematic opposites of Russian symphonic writing. For the dancing life he chose three movements of Nikolai Rimsky-Korsakov's voluptuous Schéhérazade (1888), which proved to be an ideal setting for all the diverse ballets Nijinsky performed. Intriguingly, Neumeier interrupts Schéhérazade with the hypnotic third movement of Shostakovich's Sonata for Viola and Piano (1975) to illustrate the layers and tensions of Nijinsky's ambivalent private life with Diaghilev.
For Nijinsky's married life and subsequent chaos Neumeier unerringly chose Shostakovich's Symphony No. 11: 'The Year of 1905' (1957). It harrowingly and inexorably leads to Nijinsky's increasing terror of incarceration, war, and displacement, fuelled by his memories of the 'Bloody Sunday' slaughter of massed, unarmed protesters by the tsar's soldiers, in which he was badly hurt.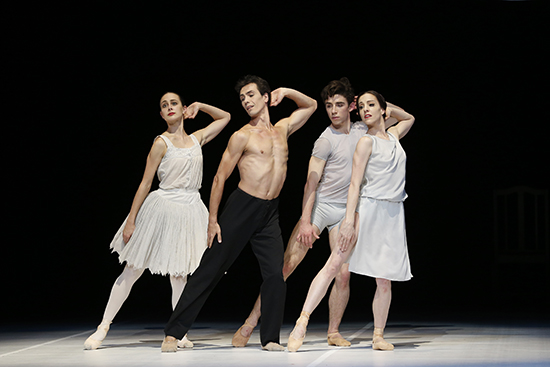 Dimity Azoury, Alexandre Riabko, François-Eloi Lavignac, and Leanne Stojmenov in The Australian Ballet's Nijinsky (photograph by Jeff Busby)
Choreographically, Neumeier weaves balletic, modernist, and expressionist idioms seamlessly throughout Nijinsky to build a timeless ethos. Emphasis on groupings reveals a genealogy of lives linked to Nijinsky's. Duets grow into trios as relationships become complex, erotic, or dangerous, and snapshot groupings divide private and public lives. A violent, manic dance by Nijinksy's brain-damaged brother Stanislav embodies his worst fears for himself.
The most glamorous parts of the ballet are given to the roles that made the public fall in love with Nijinsky, dressed in inspired costumes by Benois and Bakst to reveal his capacity for chameleon-like transformation. The most harrowing parts command the viewer's compassion, but it is the dancer's sincerity and authenticity that makes for a powerful experience.
Alexandre Riabko, a principal of Hamburg Ballet who has danced Vaslav over many years, is a fine example of how an artist grows inside a role. Riabko is a rare, charismatic dancer whose every impulse and emotion can be immediately read. 'Speaking' with his new bride he smiles, a flash of light on a stream that instantly fades to sorrow.
Australian Ballet principal Amy Harris was his Romola, another long, emotionally and physically challenging role – coquette, bride, enemy, nurse, and victim, her body pushed, rolled, and thrown away, forced to return to drag Vaslav through the cold on a child's sled. Harris revealed depths of dramatic presence and form rarely called for in the company's recent repertoire, and earned herself a generous ovation.
Harris sustained her power at the second performance opposite the Australian Ballet's exceptional principal, Kevin Jackson. A fine classicist, and a natural Romantic, he has clearly invested deeply in Vaslav. Jackson's Vaslav is strong, darker than Riabko's, less unhinged, but overwhelmingly sad.
Another principal, Adam Bull, played Diaghilev at both performances, a tall, slender figure, controlling all around him with a penetrating stare. Bull's innate restraint eased an unreserved flow of homoeroticism into the ballet without fanfare. His fury at losing Vaslav to Romola – flinging the 'traitor' to the floor – was shocking. Much worse, but brilliant, was François-Eloi Lavignac's ferocious intensity in Stanislav's dance to the death.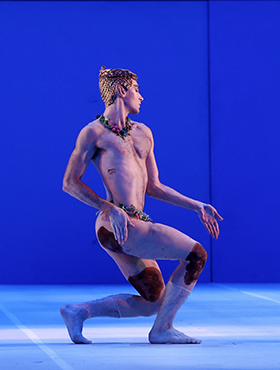 Cristiano Martino as the Faun in The Australian Ballet's Nijinsky (photograph by Jeff Busby)Among Nijinsky's legendary roles Chengwu Guo and Brett Chynoweth delivered superb rose spirits (from Le Spectre de la rose). Cristiano Martino's Golden Slave (Schéhérazade) and masturbating faun (L'après-midi d'un faune) almost reeked of Mediterranean languor. On Thursday, Jarryd Madden's paler physique delivered a strong, evocative image, like a heat-shimmering Glyn Philpot watercolour.
The Australian Ballet as an ensemble has surpassed itself in Nijinsky, with standing ovations to prove it. Orchestra Victoria under the baton of Nicolette Fraillon has rarely played better. Nijinsky has provided the kind of challenge dancers, musicians, and audiences crave. Nijinsky belongs to the twenty-first century, a time when statelessness, mental anguish, and the insanity of war escalate ad nauseam, just as they did when Vaslav suspended himself in the air, and the public called him a god.
Nijinsky, by John Neumeier, is presented by The Australian Ballet. It continues until Saturday 17 September 2016 at the State Theatre. Also 14–19 October at the Adelaide Festival Theatre, and 11–28 November at the Joan Sutherland Theatre, Sydney Opera House. Performances attended: 7 & 8 September.
Arts Update is generously supported by The Ian Potter Foundation.