It is possible that the remainder of 2016 may produce a more memorable film than Sunset Song, but I doubt it. None so far has moved and enthralled me as Terence Davies' latest has. How I wish he didn't keep us waiting so long between films. It was the semi-autobiographical Distant Voices, Still Lives (1988) that established him as a major figure, and in the new century there was the brilliant, painful adaptation of Edith Wharton's The House of Mirth (2001), the eloquent documentary of growing up in Liverpool, Of Time and the City (2008), and a moving version of Terence Rattigan's The Deep Blue Sea (2011). In my view, there is more sense of piercing emotional truth in his films than in those of almost any other working director.
His latest, Sunset Song, is no exception. It tells the story of a Scottish girl called Chris Guthrie, who, as a teenager in Aberdeenshire, shows serious academic interest and promise. The film opens on a sumptuously shot field of waving corn from which Chris emerges – she's been lying there – and then cuts to her in a Latin class where she is asked to say something in French because she is said to have an immaculate accent. Two crucial matters are thus established: her aspirations and the land whose enduringness will outlast everything that follows, including family griefs and the havoc and brutalisation of World War I.
The film cuts from Chris and her schoolfriend running happily along a forest road to the interior warmth – and what seems domestic harmony – of the Guthrie family: father (Peter Mullan) and mother (Daniela Nardini), and an older brother Will (Jack Greenlees). Suddenly, with shocking arbitrariness, the puritanical Guthrie beats Will for 'taking the Lord's name in vain'. We are made aware that we are in a patriarchally run household that momentarily shatters the luminously beautiful images the film has so far dealt in – and which inevitably reminds us of Pete Postlethwaite's often brutal father in Distant Voices. Even more painful are the cries of the mother in childbirth, while she is giving birth to twins upstairs. There is nothing gratuitous about the film's moments of violence; they are presented as the almost inevitable outcome of a repressive community in which women do what they are told. Chris, for instance, will never get to realise her idea of becoming a teacher, and the mother, played with moving grace by Nardini (of This Life fame), will find that she can no longer bear the crudity of enforced sex and repeated pregnancy.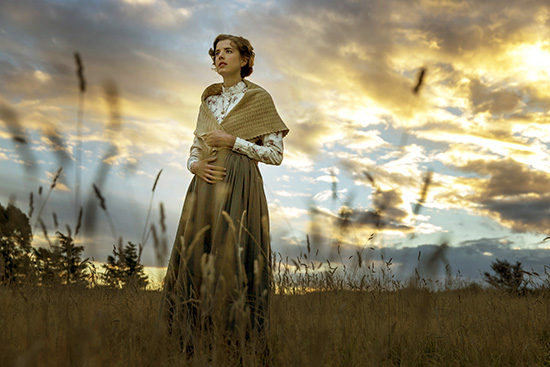 Agyness Deyn in Sunset Song (photograph by Iris Productions/The British Film Institute)
It is strange to be talking about the film as if it were full of incident. Actually, it is poetic, reflective, interested in tracing how individual lives respond to the challenges of the seasons, to the rigours of climate, and to the bursts of emotional savagery on either individual or national levels. The incidents that happen are generally those that account for a daily working life. When something more obviously dramatic occurs, it brings with it the sort of shock that everyday life, rather than the movies, has accustomed us to. In between such moments, there is, for instance, the touching sense of a bond between Chris and Will, which reminds us how rarely the affection between brothers and sisters receives serious cinematic mileage. One of their memorable scenes is that of the harvesting when the father propels the horse-drawn machine along and the siblings' task is to gather the hay into stooks.
Such scenes reminded me of Brueghel's unforgettable paintings of rural life. Another echo came during the sequence of the marriage of Chris and Ewan (Kevin Guthrie), a friend of her brother's, when the whole sequence has a similar painterly beauty, a rendering of real joy that recalls such community occasions in Brueghel. More to the point, Michael McDonough's cinematography, whether focused on the splendours of the natural world, the realities of everyday life, or the later grimness of war, is stunningly eloquent from first to last. I mentioned the wedding sequence, which creates a sense of real joy (complete with the singing of 'Auld Lang Syne'). The last third of the film enacts the wonderful sense of the love and the heartbreak it will involve.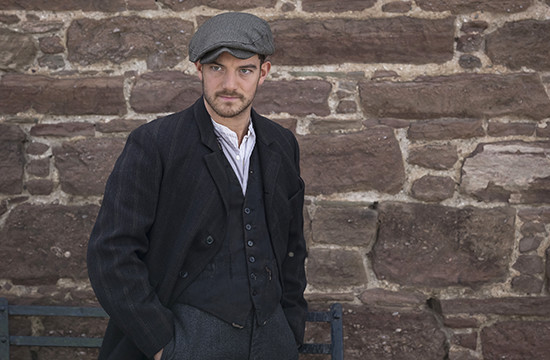 Kevin Guthrie in Sunset Song (photograph by Iris Productions/The British Film Institute)
Perhaps it could be claimed that this last third, dramatising the trauma of war, needs more detailed treatment, but the performances of all concerned, particularly that of Agyness Deyn as Chris, more than carried me through effortlessly to its poignant last moments, in which Chris's voiceover as an older woman acknowledges what she has always believed: that 'Nothing endures but the land'. You may be moved, but you will not be depressed.
Sunset Song, directed by Terence Davies, is being distributed by Madman Entertainment, and is in cinemas now.
Arts Update is generously supported by the Ian Potter Foundation.