Television
The Kettering Incident (Foxtel Showcase) ★★★1/2
The citizens of Kettering, Tasmania might well feel ambivalent about Foxtel's new drama The Kettering Incident, budgeted at $14 million and shot on location. A small coastal town just south of Hobart, Kettering looks like an attractive spot for a weekend getaway, but the same cannot be said of the fictionalised setting of the show, imagined by head writer Victoria Madden and her team as an insular community full of secrets.
Taking its cue from recurrent accounts of UFO sighting in the Kettering area, the show has an uncanny mood from the outset. Ari Wegner's cinematography evokes a world where perceptions are not always reliable, where the sombre landscape looms inescapably while close-up details slide in and out of focus. The dominant colours are grey, green, and blue – dolomite cliffs, forested hills, clouded skies. Against this backdrop touches of brightness leap out at the viewer, such as the hooded red jacket worn by Gillian Baxter (Miranda Bennett), one of two teenage girls seen at the start of the first episode riding their bikes into the woods.
Gillian never returns from the expedition; the remaining girl, Anna Macy (Maddison Brown), comes under a cloud of suspicion and is sent off to be educated in the United Kingdom. Fifteen years later, she's a London doctor (now played by Elizabeth Debecki), plagued by migraines and blackouts and with no memory of the events surrounding her friend's disappearance. When she returns to Kettering to confront her past, history seems to repeat itself, her arrival coinciding with the disappearance of another girl (Sianoa Smit-McPhee), whose father (Damian Garvey) owns the local sawmill. Soon she finds herself probing not one mystery but many, as cops, businesspeople, loggers, and greenies all prove to have something to hide.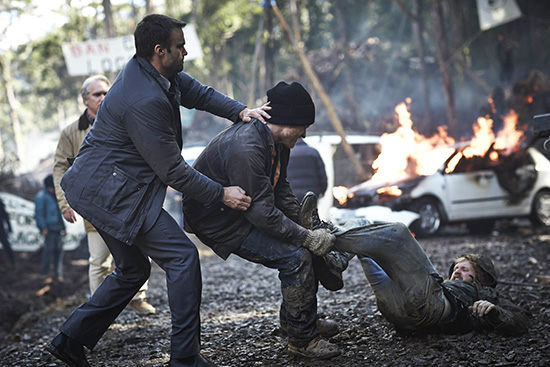 A scene from the season première of The Kettering Incident (Showcase/Foxtel, photograph by Ben King)
Muted yet stylish, slow-paced but complexly plotted, The Kettering Incident is one of several recent Australian efforts to emulate American-style 'prestige television', a genre that might be said to begin with David Lynch and Mark Frost's Twin Peaks (1990–91) a reference point for every subsequent offbeat small-town mystery with hints of the supernatural. But there is no equivalent here to Lynch's characteristic absurd humour. The sober tone is closer to Atom Egoyan's films about grief in a cold climate, such as The Sweet Hereafter (1997), or the understated treatment of fantasy and the Gothic in the Australian work of Peter Weir.
Madden's background is mostly in crime drama, and The Kettering Incident retains the form of a traditional whodunit, with a gallery of suspects and a solution you may or may not see coming. At the same time there are larger issues at stake: intimations of apocalypse are everywhere, whether the threat stems from nature, human technology, extra-terrestrial intervention, or a mix of all three. Oysters go bad, dogs inexplicably turn on their owners; the camera dwells ominously on owls and swarms of moths. Moss climbs up walls and onto bodies, as if the land were an organism and civilisation the disease it sought to expel.
Our anchor in the midst of all this weirdness is Debicki, one of the few cast members to emerge unscathed from Baz Luhrmann's disastrous film The Great Gatsby (2011). Her impact there was mostly visual, her black-bobbed profile resembling a vintage illustration in Harper's Bazaar. Here she is an equally striking, aloof presence: an investigator whose curiosity matches our own, but also a mystery in herself. Anna's British accent immediately sets her apart from the locals, and her clipped, offhand delivery is always faintly out of sync with whatever happens around her.
Unable to read her thoughts, we have to make what we can of her alternately imperious and recessive gestures – toying with a snow dome, resting her arms on a shop counter, or folding up her body as if apologising for her height (Debicki is over six feet tall). Her flapping blue coat, often paired with an old Saints T-shirt (the band, not the AFL team), gives her the look of an eccentric superhero, towering over the other characters and peering at them anxiously down her long bony nose.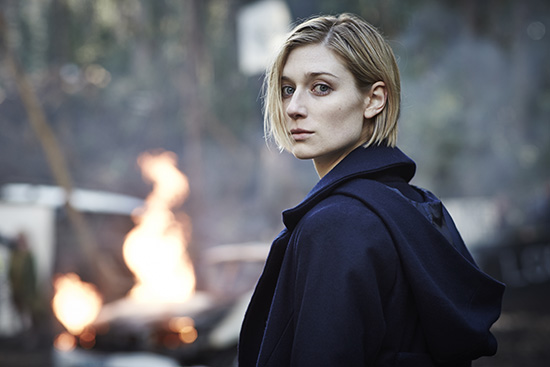 Elizabeth Debicki in The Kettering Incident (Showcase/Foxtel, photograph by Ben King)
The Kettering Incident is not the kind of television drama that offers a clear political or social statement: each revelation poses a fresh riddle, allowing meaning to be constantly deferred. But this makes the subtext all the richer, especially when it comes to the question as to what it means to belong to a community or a land. One feature of the show's enclosed world is the overwhelming whiteness of its inhabitants – a whiteness taken for granted within the narrative yet hard to ignore, given that in reality Oyster Cove, just north of Kettering, was the site of the last Aboriginal settlement in Tasmania. Whether or not future seasons touch more explicitly on this, one advantage of amnesia as a plot device is the space it allows us to ponder what has been forgotten.
The Kettering Incident, directed by Rowan Woods and Tony Krawitz, was produced by Porchlight in association with Sweet Potato Films for Foxtel Showcase.
Arts Update is generously supported by the Ian Potter Foundation.