Advances
The Update - August 23, 2016
Monash's new performance art space
It's all happening at Monash University, ABR's newest partner. The Matheson Library (though still open and bustling with students) is being transformed in a huge building project, and – most auspiciously for arts lovers in Melbourne south-east – Monash will soon be the home of a new performance centre named The Ian Potter Centre for the Performing Arts. The $45 million project, named in recognition of the philanthropic foundation, will be located at Monash University's Clayton Campus, and will comprise a 586-seat refurbishment of the Alexander Theatre, as well as two new performance venues: a 130-seat sound gallery and a 200-seat jazz club. The Victorian Government and The Ian Potter Foundation, have pledged $10 million and $5 million towards the project, respectively. Announcing the new project on 22 August, Professor Margaret Gardner, Monash University President and Vice-Chancellor, praised the investment in a 'truly contemporary performance space' and Professor Paul Grabowsky, Executive Director at the Monash Academy of Arts, said that the space 'will provide endless opportunities for students, staff, and the surrounding community into the future'. The Ian Potter Foundation supports Arts Update.
Eloquent singers galore
Universal Music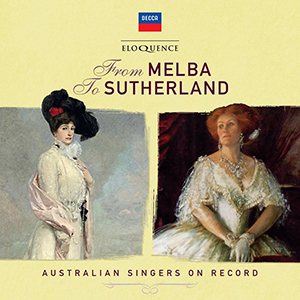 and Decca's Eloquence series – one of the great restorative labels in the world – has a big month in September, with six re-releases of Salvatore Accardo's recordings (Bach, Brahms, Mendelssohn, Sibelius and much more). Operamanes will be interested in Eloquence's four-CD set From Melba to Sutherland, 'the first-ever comprehensive survey of the recrodings of Australia's greatest singers'. Performers include Marjorie Lawrence, Joan Hammond, June Bronhill, Harold Williams, Florence Austral – and those two immortal dames, of course. ABR has one set to give to a new or renewing subscriber (see the Giveaway section below).
Australian World Orchestra turns five!
The Australian World Orchestra will celebrate its fifth birthday with two concerts at the Sydney Opera House. On Wednesday, 28 September Alexander Briger, AWO's Chief Conductor and Artistic Director, will conduct Ravel's Boléro, Elena Kats-Chernin's The Witching Hour – Concerto for 8 Double Basses, and Tchaikovsky's Fifth Symphony. On Thursday, 29 September, Stanley Dodds, conductor of the Berlin Symphony Orchestra and violinist of the Berlin Philharmonic Orchestra, will conduct Beethoven's Seventh Symphony and Dvořák's Ninth.
Last year's AWO concert with Simon Rattle conducting Bruckner's Eighth Symphony has rightly won this year's Helpmann Award for 'Best Symphony Orchestra Concert'. This unforgettable concert was much lauded by Michael Shmith in Arts Update and by Peter Rose in ABR's November 2015 'Arts Highlights of the Year'.
Seraphim Trio plays Schubert
The Seraphim Trio – one of Australia's leading ensembles – is now in its twenty-second year. Arts Update was there when the Seraphs first performed in Mildura in 1994. This year is the Trio's 'year of Schubert', and it is about to undertake another national tour, performing his entire works for piano trio. There are concerts in Sydney, Ballarat, Melbourne, and Adelaide, commencing on September 10 and culminating in Adelaide 24 –25 September (a Weekend Feast at the State Library of South Australia. We have two double passes to the Sydney concert on Saturday, 10 September (Independent Theatre, 4.30 pm).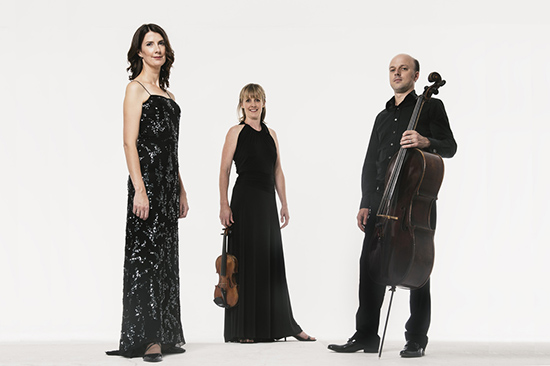 The Seraphim Trio, Anna Goldsworthy (piano), Helen Ayres (violin), and Timothy Nankervis (cello)
Tristan and Isolde in Tassie
Bizarrely, some tickets are still available for the Tasmanian Symphony Orchestra's Wagner concert on Saturday, 19 November, when Nina Stemme and Stuart Skelton will perform excerpts from Tristan und Isolde, conducted by Marko Letonja. Wagnerites, what are you thinking! In September, Stemme and Skelton will perform these two great Wagner roles in Mariusz Treliński's new production of Tristan, with Simon Rattle conducting. Arts Update will there on the opening night of the Met's 2016 –17 season, and looks forward to interviewing Stuart Skelton, Australia's world-renowned Heldentenor.
2010 and all that
Australian Book Review – not without its Collingwood die-hards – was intrigued to read about a new concert on 22 September (finals time!) when the Melbourne Symphony Orchestra will join forces with the AFL to present a new soundtrack composed by Tamil Rogeon celebrating (if that's the right word) the draw between Collingwood and St Kilda (which preceded Collingwood's emphatic win in the replayed Grand Final the following Saturday). Arts Update was there, rather hoarse it must be said. The concert will be accompanied by a screening of 'memorable moments' of the drawn grand final.
The concert is in Hamer Hall at Arts Centre Melbourne – Thursday, 22 September (8 pm).
Seraphim Trio and Universal Music Giveaway
To be eligible for two double passes to The Seraphim Trio's Sydney concert or Universal Music's four-CD set giveaway you must be a current or new paid subscriber to the print edition of ABR or to ABR Online. To be in the running please email Grace Chang at This email address is being protected from spambots. You need JavaScript enabled to view it. with your full name and contact details and the prize you are interested in winning. Preference is given to subscribers who have not received a giveaway in recent months.