Music
Jeremy Rose and The Earshift Orchestra: Iron in the Blood ★★★★ (Universal Music)
Iron in the Blood is jazz musician Jeremy Rose's ambitious and heartfelt tribute to Robert Hughes's The Fatal Shore (1986). Although some academic historians may demur, The Fatal Shore remains a crucial book for understanding the brutality of Australia's colonial origins.
To create his eleven-part tribute, Rose has assembled The Earshift Orchestra, an ensemble of seventeen musicians, nearly all of whom are youthful, like the composer. Two accomplished actors, Philip Quast and William Zappa, perform short excerpts from Hughes's book (which are sometimes excerpts from original documents themselves). These are cleverly and movingly integrated into the work as a whole.
Rose's composition and orchestration here is reminiscent not only of Duke Ellington, Charles Mingus and Gil Evans but, at times, of Igor Stravinsky and Peter Sculthorpe. It is a powerful mélange to which Rose has added much of his own as well. Listeners tend to think of jazz as primarily improvisation but a great deal here is written down – then stirringly performed in the idiom. There are also several improvised solos, including a couple of memorable ones by the composer and others by trumpeter Nick Garbett and saxophonist Matt Keegan, to mention just two. The rhythm section of Joseph O'Connor (piano), Thomas Botting (bass), and Danny Fischer (drums) also plays an indispensable role – even when playing rubato.
The sources of Iron in the Blood are not only to be found in the work of the composers and arrangers mentioned above, but also in British folk song. The optimism in these parts is a useful counter to, and relief from, the harsher textures portraying the (still-astonishing) savagery of the 'System'.
This project was supported by the Australia Council with cooperation from the Sydney Conservatorium of Music. It is hard to imagine money being better spent.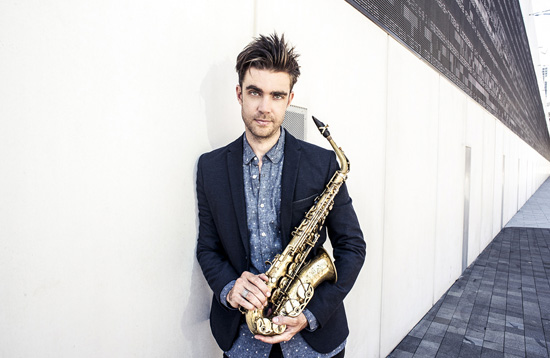 Jeremy Rose
Iron in the Blood: A musical adaptation of Robert Hughes' The Fatal Shore, composed by Jeremy Rose, is produced by ABC Classics and distributed by Universal Music. $24.99 CD, 69:51 minutes, 479 6387
Arts Update is generously supported by the Ian Potter Foundation.