High-Rise has been a long time coming to the cinema screen. J.G. Ballard's novel of the same name has been slated for adaptation almost since it was published in 1975: director Nicolas Roeg (Walkabout, The Man Who Fell to Earth) was provisionally attached to the project in the late 1970s, as was, more recently, Canadian science-fiction director Vincenzo Natali (Cube, Splice). It has taken British director Ben Wheatley to bring a film version to completion, with man of the moment Tom Hiddleston – star of critically acclaimed television mini-series The Night Manager – in the role of Dr Robert Laing, resident of the titular building.
Ballard's High-Rise is a potent imagining of a localised apocalypse. The novel takes place almost entirely within the confines of a new luxury apartment block, forty storeys high: as the building's systems (elevators, electricity, air-conditioning) gradually malfunction, the residents descend into lawless ferocity. High-Rise has no shortage of vivid images to tempt the eager filmmaker, from a ransacked supermarket to an Afghan hound floating dead in a swimming pool. What's harder to convey is that distinctive Ballardian tone, which is coolly erotic, fusing repulsion and pleasure in its depiction of the building's increasingly fetid atmosphere and the residents' wolfish appetites.
Tone, unfortunately, is Wheatley's main failing. His filmic style bears superficial resemblance to Nicolas Roeg's in so far as he, like Roeg, is interested in narrative non-sequiturs and the suggestion of dream states. His visions are often very bloody: in films such as Down Terrace (2009) and Sightseers (2012), the former set among a family of criminals and the latter among caravanning tourists, Wheatley has depicted a seething cruelty that seems to lie at the heart of the England.
This, on paper, should suit him to Ballard, who was also fascinated by the violent pathologies he saw lying in wait beneath the surface of contemporary English life. But Wheatley's version of High-Rise is altogether too heated, too deranged, to do justice to Ballard's novel. There is every chance that the action of this film is taking place only inside someone's head – perhaps in Laing's mind, perhaps in the mind of a young boy called Toby Melville (Louis Suc), whose mother Charlotte (Sienna Miller) forms a sexual relationship with Laing. As the characters progressively lose their minds, so the director also seems to lose his grip on the material.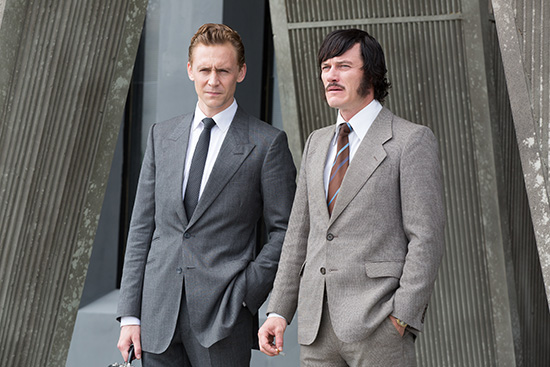 Tom Hiddleston and Luke Evans in High-Rise (Transmission Films)
Wheatley's problems begin with the building, which, more than any of the residents, is the story's main character. Working with production designer Mark Tildesley, he has created a set that emphasises period architectural detail (raw concrete, sans serif signage), but that lacks the verisimilitude necessary to make the action feel convincing. Exterior shots of the building betray their origins in CGI, while interior shots are often staged in semi-darkness, with actors spotlit as if they were performing in a black box theatre. As a result of both these production choices, the spatial precision necessary to Ballard's depiction of apartment living gone wrong is lost.
'The two thousand tenants formed a virtually homogenous collection of well-to-do professionals – lawyers, doctors, tax consultants, senior academics and advertising executives,' Ballard writes. But even within this affluent middle-class further stratification exists: Laing, a doctor and medical school lecturer, lives on the twenty-fifth floor, while 'film industry technicians and trios of air-hostesses' populate the building's less desirable lower storeys. The fortieth-floor penthouse is occupied by the building's architect, the imperious Anthony Royal, played in the film by Jeremy Irons, with typical élan.
The plot, such as it is, centres on Laing's attempts to reach the penthouse as the residents of each section – upper, middle, and lower floors – descend into civil war. Alongside the aforementioned Charlotte and Toby Melville, Laing forms a precarious alliance with Richard Wilder (Luke Evans), a television cameraperson, and his pregnant wife Helen (Elisabeth Moss). The latter pair reside on the one of the building's lower floors, which makes them feel inferior and overlooked, and not without reason.
Carnivalesque misrule prevails. Wilder leads a group of restless children in a takeover of the building's swimming pool. On the top floor, Royal and his wife Ann (Keeley Hawes) host an ancien régime fancy dress party, which drives home the point of a decadent and oblivious bourgeoisie rather more than is required. (This detail is not in the novel.) Sex is everywhere, and so is violence: orgies take place almost every evening, and the bodies of murdered residents drop from balconies onto the carpark below.
In the novel, an unnamed, third-person narrator is a voyeur to these events, and so the reader becomes one, too. The film brings us closer to Laing's perspective: lines from the novel are given to Hiddleston, who speaks them in voiceover. In collapsing the distance between protagonist and narrator, Wheatley and his scriptwriter Amy Jump have ended up with a film that only serves to confuse: the viewer loses any sense of where the characters are in the building, or why, as Laing both observes and participates in the growing madness.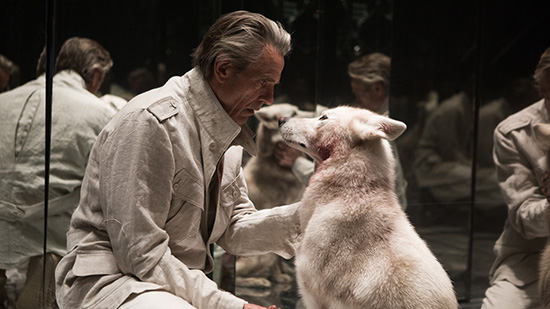 Jeremy Irons in High-Rise (Transmission Films)
Wheatley's film ends with the child Toby, who has survived the building's social collapse, tuned in to the voice of Margaret Thatcher. The quote is taken from a 1976 speech to the House of Commons, before Thatcher became prime minister, in which she advocated for the free market. 'Where there is State capitalism there will never be political freedom,' she said. 'Where there is private capitalism there may not be political freedom, but there cannot be political freedom without it.'
In ending the film this way, Wheatley traps High-Rise entirely within the 1970s. But Ballard's critique was broader, and deeper, than a mere satire upon Thatcherism, which had yet to be named as an ideology when High-Rise was published. The novel can be read as a critique of improving pretensions in architecture and urban design, and these pretensions still surround us: think of the glossy advertisements for new apartment developments that promise a healthier, wealthier, more efficient way of living for residents. But High-Rise is also a riposte to the sort of dystopian nightmare which suggests that atavistic savagery will find its outlet among the poor. Ballard, on the contrary, locates the greatest perversions among the wealthy; shorn of the appliances and conveniences around which they have centred their lives, they no longer know who they are. As their sense of subjectivity collapses, the residents of Royal's apartment building increasingly turn to filming themselves, as if they were turning into images to be consumed. In this, among other things, Ballard remains prescient.
High-Rise (MA 15+), based on the novel by J.G Ballard. Directed by Ben Wheatley and distributed by Transmission Films. 119 minutes. In cinemas in Australia from 18 August 2016.
Arts Update is generously supported by the Ian Potter Foundation.