Advances
The Update - August 9, 2016
Saul at Adelaide Festival
Major arts festivals have been announcing their programs. A highlight of the 2017 Adelaide Festival (3–19 March) will be Berlin-based Barrie Kosky's production of Handel's Saul, which had a huge success at the 2016 Glyndebourne Opera Festival. It will be twenty-one years since Kosky directed the Adelaide Festival, and this will be an undoubted highlight of the festival. There are four performances from 3 to 9 March 2017.
Which Way Home
Darebin Arts Speakeasy and ILBIJERRI Theatre Company will première Which Way Home on 25 August at the Northcote Town Hall. The comedy-drama, written and performed by Katie Beckett, explores the relationship between a daughter and her ageing father (played by Tony Briggs) on a road trip to his birthplace, Muriwarri Country Goodooga.
'He is a loving, wonderful, strong man. I have had a lot of wonderfully strong and emotionally in tune, generous men around me growing up and I was wondering why don't I see the aboriginal men that I grew up with represented on stage, on TV, on film?' said Katie Beckett, whose own father raised her and two siblings following her mother's death. A sentiment that serves as a timely counterpoint to Bill Leak's cartoon depiction of an indigenous parent published in The Australian earlier this month.
Laughter and Tears
Victorian Opera heads back to the famous Palais Theatre in St Kilda for the much-anticipated collaboration with Circus Oz – a unique double pill of circus and opera that redefines Ruggero Leoncavallo's famous tragedy Pagliacci of 1892. Olivier Award-winning Emil Wolk will direct. The cast includes Rosario La Spina, who gets to sing the famous tenor aria 'Vesti la giubba'; and Elvira Fatykhova will perform the role of Nedda. There are three performances: August 13, 16 and 18.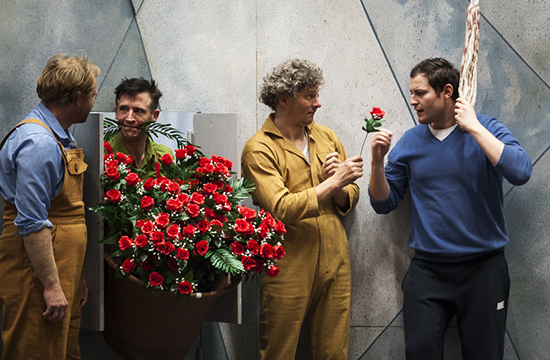 Victorian Opera's Laughter and Tears rehearsals (photograph by Charlie Kinross)
Gandel Philanthropy Funding for Multicultural Arts Victoria
Multicultural Arts Victoria (MAV) is the recipient of a $50,000 Gandel Philanthropy Major Grant for its Emerge Cultural Leadership Program in 2016–17. This allows MAV to foster the endeavours of refugee, culturally diverse, and indigenous artists from outer metropolitan and regional localities of Victoria. 'Through supporting, encouraging and developing new cultural leaders and strengthening cross cultural networks and community infrastructure, we hope that this program can help promote cultural dialogue and build community spirit,' said Vedran Drakulic, CEO of Gandel Philanthropy.
Brahms and Bendix-Balgley at the ASO
Concertmaster of the Berlin Philharmonic, Noah Bendix-Balgley, will be performing Brahm's 'grand and symphonic' concerto with the Adelaide Symphony Orchestra and Johannes Fritzsch on 5-6 August at the Adelaide Town Hall. At only thirty-one years of age Bendix-Balgley has served as the concertmaster of the Pittsburgh Symphony Orchestra from 2011–14, and has performed to much acclaim across Europe and The United States.
Nijinsky
Acclaimed director of the Hamburg Ballet, John Neumeier, will be charting the rise and fall of Vaslav Nijinsky in a number of performances in Melbourne, Adelaide, and Sydney for The Australian Ballet. Once dubbed the 'God of Dance', Nijinsky burst onto the scene in the early twentieth-century with a string of transcendent performances, and was worshipped like a rock star, before he was diagnosed with schizophrenia in 1919 and committed to an asylum. He never danced again before an audience. For more information visit The Australian Ballet website.
Giveaway from Victorian Opera and Circus Oz
Courtesy of Victorian Opera, we have three double passes to Laughter and Tears on August 16 or 18.
To be eligible for these giveaways you must be a current or new paid subscriber to the print edition of ABR or to ABR Online. To be in the running please email Grace Chang at This email address is being protected from spambots. You need JavaScript enabled to view it. with your full name and contact details and the performance date you would like to attend. Preference is always given to people who have not received a giveaway in recent months.