Advances
The Update - July 12, 2016
Mona Brand Award
The State Library of NSW has launched the inaugural Mona Brand Award for Women Stage and Screen Writers, worth a total of $40,000. The award carries a major prize of $30,000 and an additional $10,000 prize for an emerging writer. The biennial award has been made possible by the bequest of Australian playwright and poet Mona Brand (1915–2007). Her socially relevant and controversial works have been performed on stage, radio and television around the world. Kim Williams AM, Senior Judge and Chairman of the State Library of NSW Foundation, commented that: 'Through these awards we celebrate Mona Brand's legacy and those outstanding Australian women who have created stories which have led to brilliant, memorable and engaging performances for Australian and international audiences.' The Mona Brand Award will be presented at the State Library of New South Wales in November 2016.
Natasha Bieniek: Archibald Prize 2016 finalist
The finalists for the 2016 Archibald Prize (Art Gallery of New South Wales) have been announced, with Betina Fauvel-Ogden's portrait of celebrity chef and restaurateur, George Calombaris, winning the Packing Room Prize. Natasha Bieniek has been selected as one of the finalists for her painting of the artist Wendy Whiteley, the 'goddess' muse and wife of the late Brett Whiteley. Bieniek's entry (measuring only 13.5 centimetres high and 18.5 centimetres wide) depicts her subject sitting amongst the foliage of her verdant Lavender Bay garden – a long term project she began when her husband passed away in 1992. Bieniek's miniature oil painting Biophilia was the winner of the 2015 Wynne Prize. She is a resident artist at Southbank's Boyd Community Hub, which is also Australian Book Review's home. We wish our fellow Creative Spaces artist the best of luck!
Berlin Philharmonic Orchestra Academy
Harry Bennetts has become the first musician from the Australian National Academy of Music (ANAM) to win a two-year residency at the Berlin Philharmonic Orchestra Academy (the creation of which was reported The Update on 28 June). Bennetts will begin his residency on 1 September, and return to Australia in late November to perform the Brahms Violin Concerto as a finalist in ANAM's Concerto Competition.
Three Stravinsky ballets by David Robertson
This year Sydney Symphony Orchestra's Chief Conductor and Artistic Director David Robertson is conducting three ballet scores composed by Igor Stravinsky for the Ballets Russes at the beginning of the twentieth century, and pair these with contemporary works to explore the themes of Stravinsky's music. The Firebird (1910) will be paired with Peter Sculthorpe's Sun Music I (1965) and Szymanowski's first violin concerto performed by Christian Tetzlaff; Petrushka (1911) with Elliott Gyger's Acquisition (world première) and Tan Dun's double bass concerto The Wolf; and The Rite of Spring – which famously sparked riots at its première in 1913 – will be paired with The Desert Music by Steve Reich. Performances will be held across two weeks in August.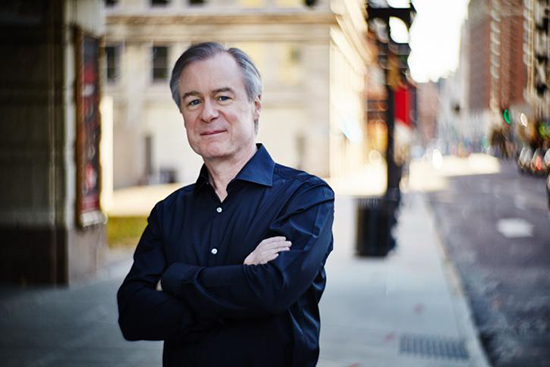 David Robertson
Frida Kahlo and Diego Rivera Giveaway
Thanks to the Art Gallery of NSW, Australian Book Review is giving away three double passes to the exhibition, Frida Kahlo and Diego Rivera: from the Jacques and Natasha Gelman Collection, which brings together works by the artists as well as short films, personal letters and photographs documenting Kahlo and Rivera's lives. The exhibition considers the fruits of their companionship from their artistic output, to their public personas and impact on popular culture.
To be eligible for tickets to Frida Kahlo and Diego Rivera you must be a current or new paid subscriber to the print edition of ABR or to ABR Online. To be in the running for this special offer, email Grace Chang at This email address is being protected from spambots. You need JavaScript enabled to view it. with your full name and contact details.
Arts Update is generously supported by the Ian Potter Foundation.