Dance
Romeo and Juliet (Houston Ballet) ★★★1/2
To open its Melbourne winter season, The Australian Ballet has invited the handsome and talented Houston Ballet to make its Australian début in Romeo and Juliet by Houston's Australian artistic director, Stanton Welch. After reaching leading soloist and resident choreographer status in Australia, Welch joined Houston Ballet in 2003. He will always be remembered here for revolutionising balletic etiquette and contemporary design with Divergence, in 1994, and for his daring to make his first full-length ballet from Puccini's Madama Butterfly a year later. Welch now has a catalogue of some sixty works and five restaged classics (with a new Giselle on 9 June). Romeo and Juliet is his latest full-length creation. It is still very fresh; the Australian première was only its fifteenth performance since the world première in February 2015.
Seeking a creative entry into the story, Welch returned to Shakespeare's text from which he fleshed out relationships, such as Mercutio's kinship to the peace-making Prince Escalus and Paris, while remaining loyal to Romeo. Welch framed the drama within three families, not the two often found in ballets, and restored friends and servants to each house, then added a swarm of street urchins to the lively Carnival scene. Even Friar John is restored to Friar Laurence, to make clear his function, long before he rushes, but fails, to deliver Juliet's letter explaining the effect of Friar Laurence's sleeping potion.
With firm ideas already in mind, Welch approached Italian designer Roberta Guidi di Bagno for sets and costumes. Refining her research of the Italian Renaissance to the era of Andrea Mantegna and Luca Signorelli, Guidi di Bagno created refreshingly light, airy spaces, carved stone loggias, frescoed arches, and lofty interiors, which open seamlessly on to the outdoors. The pièce de résistance, though, is the Capulet mausoleum, pontifical in its monumental scale and decoration, shimmering under the light of myriad candles.
Connor Walsh and Karina González in Romeo and Juliet (photograph by Jeff Busby)
Meticulously crafted, flattering costumes are coded by family: the Montague's a pale blue denoting nobility; Prince Escalus and kin bronze and gold denoting power; the Capulets brilliant reds and pinks denoting passionate emotions. The overall effect is sumptuous, not least in the great hall of Juliet's first ball as colours coalesce in an expressionist drop curtain comprising the families' coats of arms. Only the Friars' humble habit looks out of place; the cut and shape are correct, but the glittering fabric chosen for them is distracting and out of character.
Choreographically, Welch's production bears the traces of two iconic versions created by John Cranko and Kenneth MacMillan, respectively, for Stuttgart Ballet in 1962 and the Royal Ballet in 1965. 'Cranko's the man!' Welch told The Australian in an interview. Both men exploited classical technique while relinquishing its stylistic limitations to fashion a liberating naturalistic idiom. These influences are evident in Welches choreography for the protagonists, and Cranko's, most directly, in the long balcony scene and two-bedroom pas de deux, the ballet's most ecstatic and tragic scenes. Here, Welch's Romeo (Connor Walsh) and Juliet (the strong and ravishing Karina González) fly and fall instinctively to express their dreams and fears in exciting partnering.
Other highlights in the season's first two performances came in solos or extended action numbers. Benvolio (the charming Oliver Halkowich) had some of the ballet's most lucid and satisfying dances. Mercutio (Jared Matthews, a gifted comic) played his body like a strap of liquorice, twisting himself into all manner of shapes. Tybalt (Christopher Coomer) was all manly outrage, although this Tybalt is seen to have a heart, momentarily shocked that he has killed Mercutio. Romeo (Connor Walsh) was soft and lyrical, sweetly goofy in lovesick mode, while Juliet (González) created ribbons of fluidity that stopped, stock still, then dissolved into exquisite organic shapes. Lady Capulet (Jessica Collado) was played with convincing flair across the entire performance, in a characterisation and quality that was close to perfect. All received a standing ovation.
Welch has always been adventurous, happy to overturn tradition, so his appealing but largely traditional choreography for the rest of the company seems retrospective. Furthermore, his intention to make his Romeo and Juliet more easily understood has led him into some dramaturgical road blocks. Overly literal mime in Friar Laurence's scenes, for instance, robs the stage of required serenity and gravitas clearly written into Prokofiev's soulful music. Similarly, two cortèges, for the entombment of Tybalt and Juliet, are presented with unseemly haste. These scenes may be brief, but they require a heightened tone, slower pace and sensibility to mirror what Shakespeare achieved in words.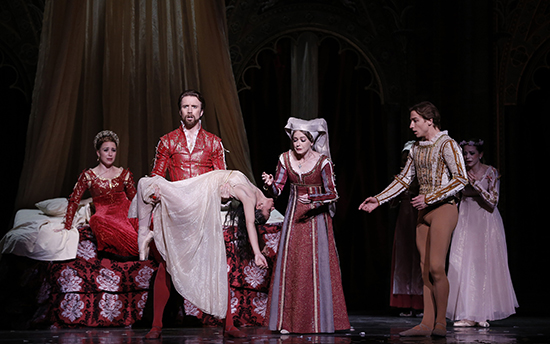 The cast of Houston Ballet's Romeo and Juliet (photograph by Jeff Busby)
Viewing a second, less rushed performance with the same cast confirmed just how much of Welch's production is entertaining, rewarding, and worthy of refinement. In Houston Ballet, Welch has the fine quality of his dancers to do it. They display immense clarity and sense of purpose, and delight and ownership in this ballet. I look forward to seeing them again.
Romeo and Juliet, choreographed by Stanton Welch for Houston Ballet, presented by the The Australian Ballet. The production continues at the State Theatre until 9 July 2016. Performances attended: 30 June and 1 July.
Arts Update is generously supported by The Ian Potter Foundation.