Film
The Measure of a Man ★★★★
French writer-director Stéphane Brizé's The Measure of a Man (La loi du marché), looks at first to be a character study with a quasi-documentary feel, then takes a disconcerting turn. At its centre is Vincent Lindon (Welcome [2009], Mademoiselle Chambon [2009]), a robust, often demonstrative actor who is also capable of surprising restraint. In The Measure of a Man, for which he won best actor at Cannes in 2015, he gives a subdued, beautifully judged depiction of a middle-aged man grappling with a situation that seems designed to reinforce in him a sense of defeat.
This is Lindon's third film with Brizé. In The Measure of a Man, his character, Thierry, is in his early fifties and worked as a machine tools operator. He has been made redundant, and after almost a year of unemployment inducted into a bureaucratic system that appears to be supportive, but is gradually wearing him down by submitting him to a series of demoralising ordeals. Lindon plays him with a downcast gaze and a kind of stoic determination in the face of the obstacles and obligations imposed on him.
Brizé, who co-wrote the film with Olivier Gorce, shows us how Thierry has been subjected to an industry of HR and bureaucracy, with a scripted language and seemingly arbitrary expectations and requirements.
Outside the world of work, Brizé gives us fleeting examples of domestic routine, both solitary and shared. Thierry's relationship with his wife (Karine de Mirbeck), seems warm and uncomplicated, although we learn very little about her. Their bright adolescent son, Matthieu (Matthieu Schaller), has a disability and needs more financial support, despite a scholarship.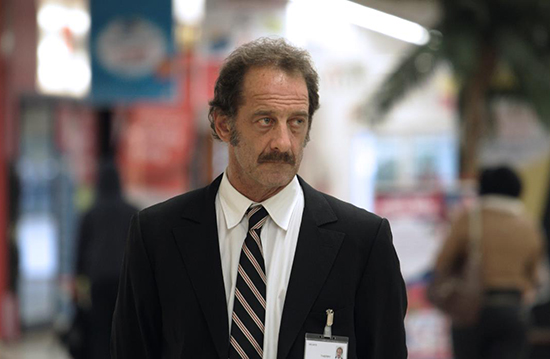 Vincent Lindon in The Measure of a Man (Sharmill Films)
Apart from Lindon, the cast is mostly made up of non-professional actors whose performances dovetail neatly with his – for the most part, they are playing characters doing the kinds of jobs they do in their own lives. (De Mirbeck, who plays his wife, is not an actress; she's married to one of Lindon's oldest friends.) There is a deliberately observational, documentary aspect to Brizé's approach. He uses a handheld camera. He often films his characters from the side, and video footage, particularly security footage, plays an increasingly important role in the narrative.
The Measure of a Man has a varied pace. Some scenes play out at length, often with a sense of discomfort or awkwardness; these include a prolonged sequence in which Thierry and his wife take dance lessons, and a series of negotiations with prospective buyers who have come to inspect the family's mobile holiday home and want a better price. On other occasions, Brizé cuts from one situation to another, making an abrupt transition or showing us the aftermath of a tragic event rather than the event itself.
When Thierry is following the rituals of managed unemployment – training sessions, interviews – sometimes we don't see his interlocutor. In scenarios that are often pointless or demoralising, it's as if their voices and characters are interchangeable. In a training course, he takes part in a mock job interview that is filmed for fellow-course members to discuss. Invited to assess him, their judgements come thick and fast; they are dismissive about his body language and what he projects about himself. Not dynamic enough, not confident enough, they say. Thierry also submits himself to a Skype job interview – filmed from the side, so that we don't see the interviewer – during which he's told, in an offhand way, that his resume isn't very well written, and that he has almost no chance of getting the position. Then we discover, after the brisk humiliation of the Skype encounter, that Thierry suddenly has a job. Dressed in a suit and tie, he stands attentively, watching those around him. He has been hired as a security guard at a large supermarket. And at this point The Measure of a Man takes an intriguing, almost suspenseful turn.
His job involves a mixture of distance and engagement. There are scores of video cameras throughout the store, keeping customers under surveillance. Everyone is potentially a shoplifter, he is told during his probation period. There are signs to watch out for: body language, once again, is a factor to be taken into account. Is a shopper handling an item considering buying it or preparing to slip it into a bag? What does hesitation imply? There are scripted routines to observe, too, about what to do when people are suspected of theft; how to question them, what options to give them, what kinds of things to say to achieve a desired outcome. It turns out his task is not simply to observe the customers and analyse their demeanour. The employees, too, are under surveillance. Work has become a way of setting people against each other.
The accumulating power of The Measure of a Man is in its small details and undemonstrative approach. Brizé doesn't parade Thierry's decency and there's nothing excessive about the way it is depicted. What emerges, gradually, is a haunting account of choices and constraints, as Thierry assumes a gatekeeping role in the new economy of the twenty-first century.
The Measure of a Man, directed by Stéphane Brizé is distributed by Sharmill Films, and opens on 30 June, 2016 in participating cinemas across Australia.
Arts Update is generously supported by The Ian Potter Foundation.