Theatre
All My Sons (Sydney Theatre Company) ★★★★1/2
Arthur Miller's reputation as the writer of glum naturalistic problem dramas is undergoing a re-evaluation at present. The fashionable director Ivo van Hove's ecstatically reviewed and Tony Award-winning production of A View from the Bridge stripped the play back to reveal its archetypal classic structure, and his brilliantly staged, if infuriatingly wrong-headed, approach to The Crucible, at present on Broadway, has flying girls, sinister wolfhounds, and icy hellish wind blasts in what appears to be an attempt to turn the piece into a replay of The Exorcist.
Miller never considered himself to be a naturalistic playwright. None of the unsuccessful plays he had written before All My Sons was naturalistic, and even with this play, which he consciously modelled on the Ibsen of Hedda Gabler and An Enemy of the People, in an attempt to write a more commercially viable work, he was still conscious of its relationship to classic tragedy.
In his program note, director Kip Williams calls Miller 'a deeply musical writer' and sees the play as operatic in its scope. The actors in his brilliant production for the Sydney Theatre Company perform in a style that could be called heightened realism, and the physical production moves away from the naturalistic. Alice Babidge's forbidding house front, lowering over the distraught Kate Keller at the start, gradually moves back, giving the actors more space as the themes of the play expand; at the end, it disappears altogether, leaving a skeleton of the building which mirrors the disintegration of the family who live there.
All My Sons, conceived and written during World War II, is based on a true event described to Miller ironically enough by the despised and disliked mother-in-law of his first marriage. An engine factory in Lockhead Ohio knowingly supplied defective parts to the Air Force which resulted in the deaths of eight pilots, and the daughter of one of the managers turned her father in to the authorities. Miller used this story not simply to condemn war profiteering but to show the corrupting effect of capitalist society, a world in which value is worked out simply in monetary terms. Joe Keller, the protagonist and owner of the plant, can only see his life's purpose as someone who has built up a business to hand on to his son. Keller is the father of two sons, both of whom fought in the war but only one of whom, Chris, has returned, the other, Larry, having been declared missing in action. Although Joe and Chris have accepted their loss, Joe's wife, Kate, refuses to believe Larry will not return. When Larry's former girlfriend, Ann, daughter of Joe's convicted ex-partner, arrives and she and Chris decide to marry, the play inexorably moves towards its foreordained conclusion.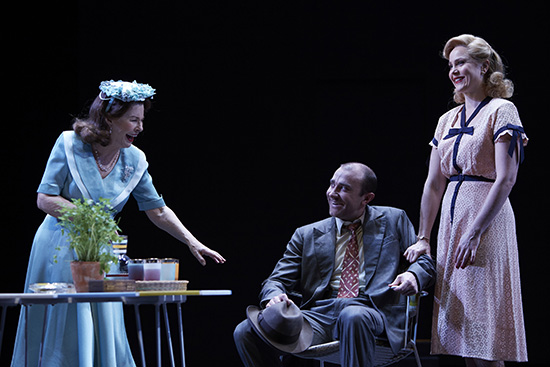 Robyn Nevin, Josh McConville, and Eryn Jean Norvill in Sydney Theatre Company's All My Sons (photograph by Zan Wimberley)
Although he was no longer a young man when he wrote the play, Miller was still something of a neophyte as a playwright, and there are some decidedly clunky plot points around which the play pivots. But such is the power and commitment of the cast that the Sydney Theatre Company has assembled that the structural weaknesses of the play are rendered immaterial.
Williams has orchestrated such a superb example of ensemble performance that every member of this magnificent cast deserves mention. Miller uses the Keller neighbours as a sort of Greek chorus, but each is a very individual character. On one side are the Libbeys, long-standing residents of the street. John Leary is a goofy presence as the astrologically obsessed Frank blithely unaware of the damage his predictions are causing. Contessa Treffone as his exuberant wife, Lydia, skirts the borders of caricature but stays on the right side. The Baylisses, who have taken over Ann's old family home, are a more complicated pair. Jim is an idealistic and ineffectual doctor, a character straight out of Chekhov. Bert Labonte projects the quiet decency of a man for whom there is more to life than money and possessions. In contrast, Anita Hegh as his dissatisfied wife is all anger and bitterness. Hegh is chilling in her venomous confrontation with Ann.
Miller gives Ann's brother George only one scene. But what a scene it is, and what Josh McConville makes of it. Bursting onto the stage like a harbinger of vengeance in an ill-fitting suit, McConville gives us a weak, bewildered, easily cajoled man who wants to be talked out of the confrontation he must make but eventually discovers there is no way out. The image of him mangling his imprisoned father's hat in agony while the oblivious Frank burbles on is one that will remain with Arts Update for a long time.
Chris and Ann are as much victims as the dead pilots. Like the protagonists of Greek tragedy, their lives are blighted by others' actions, the consequences of which they can never escape. Eryn Jean Norvill's Ann is mixture of spunk and vulnerability, a woman desperately wanting to make a normal life for herself and the man she loves. The naked tenderness with which she accepts Chris's proposal shows desperation as well as love. If there is a voice of decency in the play it belongs to Chris, but by the end even he realises how compromised that decency has become. Chris Ryan's performance grows in stature as his character gains painful self-knowledge.
In many ways, Kate Keller is the fulcrum of the play. For different reasons, both husband and son play along with her obsession that Larry is still alive. Robyn Nevin gives us a woman skating on the thinnest of emotional ice. She says that to admit Larry's death would leave her no choice but suicide, and we believe her. She is a mixture of determination, anger, fear, and charm. When she attempts to soothe George, her anger at what had been done to his war-torn generation is genuine, but it only adds to her guilt. At the play's close, she is a broken whimpering wounded animal. This is the remarkable Nevin at her peak.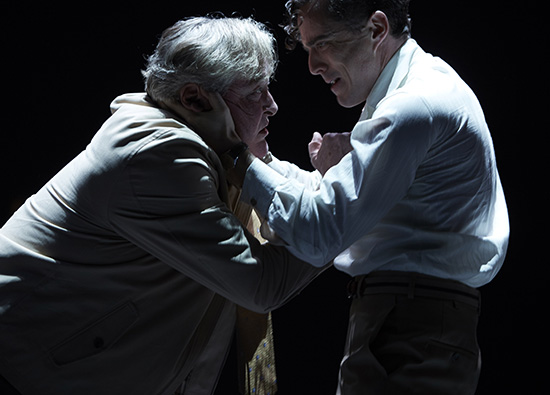 John Howard and Chris Ryan in Sydney Theatre Company's All My Sons (photograph by Zan Wimberley)
It has often been said that great actors need to have a sense of danger and unpredictability about them. These are qualities John Howard has in spades. Even at the start, when Joe is playing cops with Bert, a local kid sparklingly played by Jack Runwald, one can sense the fear-related aggression that Joe is keeping under control, and the moment when Joe throws Chris to the ground is terrifying. Equally terrifying is this powerful man's disintegration. Howard's is a big-scaled performance, devastating in its power.
This is a must-see production.
All My Sons written by Arthur Miller and directed by Kip Williams, is presented by the Sydney Theatre Company. The production continues at the Roslyn Packer Theatre until 9 July. Performance attended: 9 June.
Arts Update is generously supported by the Ian Potter Foundation.