Advances
The Update - May 31, 2016
Melbourne Recital Centre
Each new quarterly program for the Melbourne Recital Centre is full of highlights, but the July–September one is special. This is the last to be presented by outgoing CEO Mary Vallentine, who during her six years at the helm has transformed MRC into an essential venue for music lovers of all kinds. Highlights include the great Robyn Archer's 'The Other American Songbook' on July 22 and 23 (with ABR regular Michael Morley at the piano) and an ANAM Gala Concert with Simone Young conducting and Lisa Gasteen performing Wagner's Rückert Lieder. Gasteen – one of the world's leading Strauss and Wagner sopranos of the 1990s and 2000s – returns on 2 September for a performance of Das Lied von der Erde with Bradley Daley (tenor) and Philip Mayers (piano).
Eurovision in Oz
Now that the sixtieth Eurovision Song Contest is tawdrily over (Ukraine won), we can all excitedly look forward to the 2017 Contest. Helen Lewis, writing in New Statesman (10 May) before the recent semi-finals, hoped that Australia (which ultimately came second) would prevail and host the next Eurovision. 'I like the idea of Australia taking the prize, for two reasons: a) shipping the whole circus to Sydney next year would be appropriately bonkers; b) a load of academics would have to come up with a grand thesis for What This Says About Being European Today.'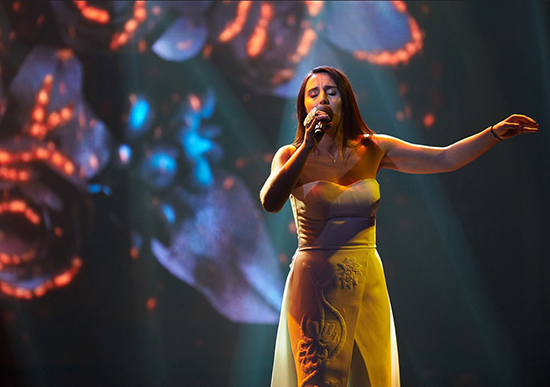 Eurovision 2016 winner Jamala (photograph by Andrei Maximov, Flickr)
The Denis Joachim Collection
A treasure trove of Australian books, colonial paintings, and photographs will go under the hammer at Mossgreen Auctions in Armadale, Victoria, over four sessions from 19–21 June.
This significant collection was amassed over a period of forty years by property developer Denis Joachim. His globetrotting journeys began at the age of eighteen with the purchase of a secondary copy of Captain Cook's Voyages. In light of the impending – and highly controversial – closure of St Kilda's Bookhouse, this auction serves as a reminder as to the inestimable value of secondhand bookstores – Joachim's expansive (and expensive) collection began in one.
For more details visit the Denis Joachim Collection website
Australia Council National Indigenous Arts Awards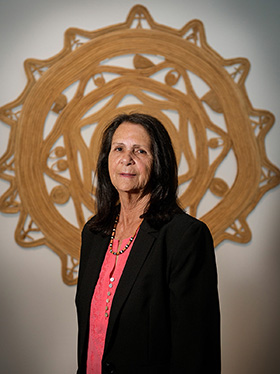 Artist Yvonne Koolmatrie at the opening of Riverland: Yvonne Koolmatrie, Art Gallery of South Australia, Adelaide, 2015. (photograph by Ben Searcy)The 2016 National Indigenous Arts Awards were presented at a ceremony at the Sydney Opera House on 27 May. These prestigious awards are intended to celebrate the artistry and contributions of exceptional Aboriginal and Torres Strait Islander artists. The $50,000 Red Ochre Award was presented to Ngarrindjeri weaver Yvonne Koolmatrie. The $40,000 Fellowship was awarded to multi-media artist Vicki Couzens, and the $20,000 Dreaming Award was presented to lyricist, rapper, composer and producer Nooky (Corey Webster). Australia Council Chair Rupert Myer said he looked forward each year to paying tribute to eminent indigenous artists through the awards. 'The awards put a spotlight on the significant contribution Indigenous artists make to the artistic vibrancy and cultural life of Australia. They encourage us to experience, appreciate and learn about the diverse cultures and ancient stories of our First Peoples through the broad range of work created by Indigenous artists across Australia,' said Mr Myer.
STC loses its artistic director
Jonathan Church has resigned as artistic director of the Sydney Theatre Company just nine months after he took over from Andrew Upton. Church's appointment was controversial with some questioning the decision to appoint a foreigner rather than an Australian director. However his departure before the launch of his first season with the company has really started the rumours flying. 'Regrettably, it has not proved viable for me to continue as STC's Artistic Director while balancing my other interests as we had hoped,' said Church in a statement published on the STC's website.
The STC will start looking for a new Artistic Director after the launch of the 2017 season.
Melbourne Prize for Music
Entries are now open for the 2016 Melbourne Prize for Music. The Prize is open to all Victorian musicians across all genres of music. Two new categories have been added to this year's prize, which has a total prize and award pool of over $130,000. The award categories in 2016 include the $60,000 Melbourne Prize for Music (won in 2013 by Brett Dean) and the two new categories: the $25,000 Beleura Award for Composition 2016 and the $20,000 Distinguished Musicians Fellowship category (supported by the VCA and the MCM). Entries are open until 11 July 2016, with the winners to be announced on 9 November. Public voting for the $4,000 Civic Choice Award 2016 commences on 6th September when the finalists are announced. The Melbourne Prize operates in a three-year cycle with the Melbourne Prize for Urban Sculpture the next to be offered in 2017 followed by the Melbourne Prize for Literature in 2018.
Arts Update is generously supported by The Ian Potter Foundation.