Film
Scorsese (Australian Centre for the Moving Image)
Scorsese, currently showing at the Australian Centre for the Moving Image in Melbourne, is not exactly the exhibition that is advertised, and that is a very good thing. Martin Scorsese's career has stretched over half a century and involves nearly sixty films. Yet anyone who has seen advance press and publicity for Scorsese could be forgiven for thinking the focus is mainly on the early and more masculine examples of his oeuvre, Mean Streets (1973), Taxi Driver (1976), and Raging Bull (1980).
These movies are certainly compelling, both as individual examples of film craft and for the way they play into the myths and realities of 1970s American cinema, when Scorsese, along with fellow directors and friends Francis Ford Coppola, Stephen Spielberg, and Brian De Palma, tilted against the ailing Hollywood studio system and then become some of its leading lights. But these films in no way tell Scorsese's whole story.
Scorsese's film output is broad, including crime (Goodfellas, 1990), comedy (After Hours, 1985), historical saga (The Gangs of New York, 2002), period drama (The Age of Innocence, 1993), musicals (New York, New York, 1977), and biopics (The Aviator, 2004). And he is still going strong. His latest feature, Silence, about two Jesuit priests who travel to Japan in the seventeenth century, is in post-production, and his next project has been announced, a biopic about singer Frank Sinatra.
There is Scorsese the documentarian, working on subjects as diverse as Bob Dylan (No Direction Home, 2005), actor and raconteur Stephen Prince, best known for his roles as the fast talking gun salesman in Taxi Driver, American Boy (1978), and rock group The Band (The Last Waltz, 1978), and Scorsese the film historian and preservationist, whose documentary, A Personal Journey with Martin Scorsese through American Movies (1995), helped reintroduce US audiences to forgotten aspects of their own film heritage.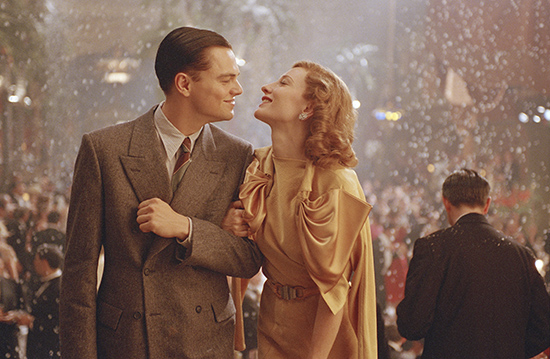 Leonardo DiCaprio (Howard Hughes) and Cate Blanchett (Katharine Hepburn) in The Aviator (2004) (source: Sikelia Productions, New York)
Lastly, there is Scorsese the Italian American, who grew up sickly and asthmatic in New York's Little Italy, where his only release was going to the movies. New York and his Italian-American heritage have been key themes in his work, the latter particularly showcased in the 1974 documentary Italianamerican, in which he interviews his parents about their lives and heritage.
Scorsese takes in all these aspects of the director's life and work. It is broad in scope but also explores, in almost forensic detail, the craft of filmmaking. The exhibition showcases not just Scorsese's aesthetic, but unpacks the filmmaking process, including inception, narrative construction, editing, sound, casting, and costumes.
It does this through a selection of clips from the director's work, and objects drawn from his private collection, including storyboards, annotated scripts, unpublished letters, and production stills, props, and costumes. I was particularly taken by the correspondence between Scorsese and Akira Kurosawa – Scorsese worked on the Japanese director's haunting film Dreams (1990) – which reads like two film nerds excited to be assisting each other.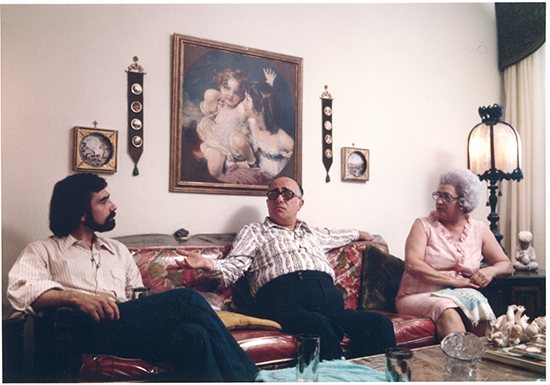 Martin Scorsese with his parents Charles and Catherine Scorsese in the documentary Italianamerican (1974) (source: Sikelia Productions, New York)
The success of the exhibition lies not just in the choice of clips, but in their presentation. In one room, three large interconnected wall screens display key moments in Scorsese's cinema, layering sound, vision, and texture in a way that encourages the viewer, even one familiar with the director's output, to seek out fresh perspectives and hidden meanings. Another display comprises a map of Manhattan with particular scenes marked on a grid, which can then be seen being played on screens mounted at the sides.
Masculinity is just one of many motifs coursing through Scorsese's work. Others are class, the family structure as both joyful and oppressive, and religion. His first major hit was the low-life crime saga, Mean Streets, but he followed it up with Alice Doesn't Live Here Anymore (1974), about a single mother and aspiring singer (Ellen Burstyn), trying to make a new life after the death of her husband. There is his dark 1991 remake of the 1962 classic Cape Fear, the story of a psychopathic ex-con (Robert De Niro) intent of getting revenge on the lawyer he believes wrongly sent him to jail, but also meditations on spirituality, such as Kundun (1997) and The Last Temptation of Christ (1988).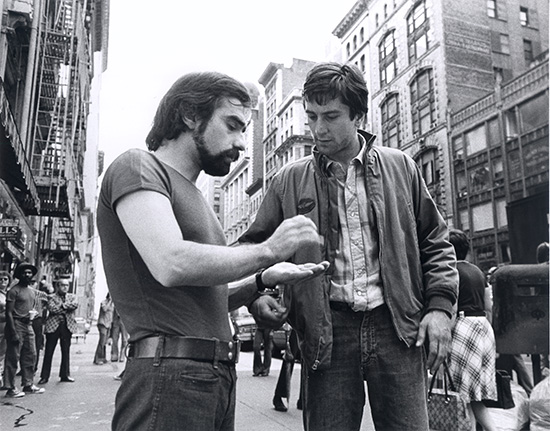 Martin Scorsese and Robert De Niro during the production of Taxi Driver in 1976 (source: Sikelia Productions, New York)
Exhibitions that deal with the inner workings of the creative process, whether art, music, or film, are usually partial and impressionistic. They may crystallise some key themes and, if we are lucky, give us a glimpse into the artist's passion and commitment. The curatorial excellence of Scorsese lies in how it achieves a degree of completeness and honesty about Martin Scorsese's film career at the same time as allowing the viewer to contemplate multiple interpretations of his work. I came out wanting to know more, and with a mental list of Scorsese's films I need to watch again or see for the first time.
A detailed program of screenings, talks, live events and education programs accompanies the exhibition.
Scorsese is on until 18 September 2016 at the Australian Centre for the Moving Image.
Arts Update is generously supported by the Ian Potter Foundation