Music
Follies in Concert (Melbourne Recital Centre) ★★★
Stephen Sondheim's Follies opened on Broadway in 1971, during his most fertile period as a composer and lyricist; it premièred one year after Company and two years before A Little Night Music. It echoed the plotless structure of the former and the ambivalent nostalgia of the latter, but largely failed to make an impression on audiences. It wasn't the unmitigated disaster of Anyone Can Whistle (1964) – which infamously closed after nine performances – but it has had a chequered history ever since, and never had a full-scale production that made its money back.
To call it a failure, however, would be to do it a grave disservice. According to Meryle Secrest's Stephen Sondheim: A Life (1998), a bootleg recording of the original New York production 'reveals the kind of shuffling of feet and coughing in the audience that strikes dread into the heart of a producer', but most of the critics were positive and the show's reputation has only strengthened over time.
It is interesting to note that Follies' greatest triumphs have come from concert versions: pared-back, semi-staged performances that strip the work of much of the context while emphasising the songs in isolation. This tends to tilt the show into the realm of revue, for better or worse, but anyone who was lucky enough to attend Richard Wherrett's 1993 Melbourne Festival performance will remember squeals of delight and stamping of feet rather than coughing and shuffling. Its greatest iteration was undoubtedly Thomas Z. Shepard's recording in New York's Avery Fisher Hall with such luminaries as Barbara Cook, Mandy Patinkin, Elaine Strich, and Carol Burnett in the cast. The waves of adulation for that production are still crashing on the shores of public opinion.
The conceit of the show is simplicity itself. A bunch of faded stars of the Weismann Follies gather in the theatre that made them on the eve of its destruction to 'glamourise the old days, to stumble through a song or two, and lies about ourselves ... a little'. Two couples form the backbone of the sparse narrative: Ben (Philip Quast) and Phyllis (Anne Wood), and Buddy (David Hobson) and Sally (Lisa McCune), great friends who nevertheless harbour deep resentments. Their memories, joyous and painful, compete with their present reality of decay and regret, until it's time to go home.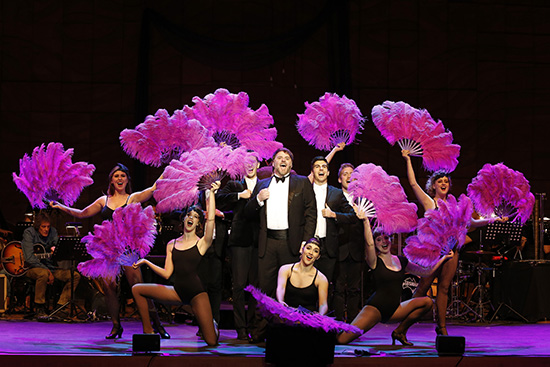 Follies in Concert (photograph by Jeff Busby)
Not that the bitter grievances of these four people define the show. Minor characters are given major musical numbers, all riffing on the theme of loss, ageing, and resilience. It has become something of a tradition to cast legendary stage performers in these roles, and this production is no exception. Thus we see Bert and Patti Newton bringing a touching melancholy to 'Rain on the Roof', Queenie van de Zandt pouring all her brassy charm into 'Who's That Woman', and Nancye Hayes positively nailing the sassy resignation of 'Broadway Baby'. There is so much combined experience on the stage it lends this most ambivalent musical about the ageing process a defiant, celebratory quality.
Of course, this being Sondheim, we are never far from darkness and despair. Director Tyran Parke understands this well and gets considerable mileage from the play's liberal use of dramatic irony. Often the central characters will be singing one thing, desperately trying to believe it, and indicating to the audience something entirely different. It is evident in McCune's poignant, deluded number 'In Buddy's Eyes' and Quast's achingly sad 'The Road You Didn't Take'. It peeps through Wood's bitter song 'Could I Leave You?' and informs Hobson's pathetic 'The Right Girl'. Throughout, all four leads are tightly attuned to the self-deceptions and unacknowledged motivations of their flawed and flailing characters, and each have moments of genuine virtuosity.
Not that all the casting decisions are effective. McCune is simply too young for the role of Sally and her voice is often stretched beyond its means, most noticeably in her duet with Quast, 'Too Many Mornings'. She makes up for it, however, in the bluesy torch song 'Losing My Mind', a rendition of great pathos. Hobson is also an odd choice for Buddy, despite his ease with the vocal demands of the part. He's not an expansive comic actor, which the role needs, although he too brings flawless timing to 'Buddy's Blues'. Most disappointing is Debra Byrne in the show-stopping, cult-favourite number 'I'm Still Here'. A song about the vagaries of public life and the sheer guts of perseverance seems a natural fit for Byrne, but she delivers a skittish, imprecise performance. She is vocally uneven and looks like a deer draped in chintz facing a hunter's rifle.
The best casting of the night is Quast as 'the famous Benjamin Stone' and Wood as his icy wife. He is a world-class performer and brings loads of charm and gravitas to the role; the bone-weary disappointments of the character never become maudlin and even his selfishness feels earned. Wood is simply born to play Phyllis, as she did for the Production Company back in 2008. Together they hint at what might have been.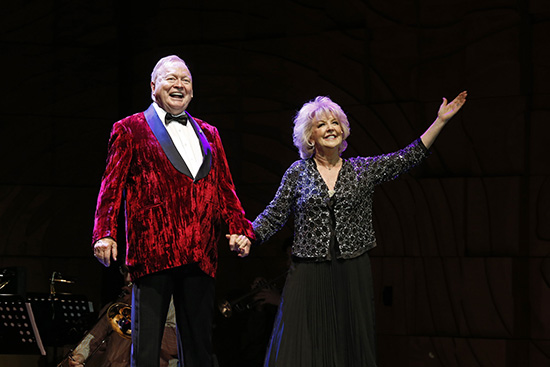 Bert and Patti Newton in Follies in Concert (photograph by Jeff Busby)
As it stands, this production from Storeyboard Entertainment is only intermittently successful. It has some electrifying moments, but also its flat spots. Sondheim's genius for pastiche and some glorious, full-blooded playing under Stephen Gray's musical direction help compensate, but this is hardly a production whose applause will echo down through the ages.
Follies in Concert, was presented by Storeyboard Entertainment and directed by Tyran Parke. The season ran from 24 May to 25 May 2016 at the Melbourne Recital Centre. Performance attended: Wednesday 25 May.
Arts Update is generously supported by the Ian Potter Foundation