Commentary
Letter from America
Los Angeles – city of freeways, studios, hotels, and endless sunshine – is also home to some great art collections and notable architecture, the latter spanning much of the twentieth century. Several of the art museums, taking advantage of the climate, are built as a series of separate pavilions, creating a most congenial experience for visitors.
The best way to see LA's museums, architecture, and famous signage is to hire a car: the distances to be covered are vast and the destinations are spread right across this huge city. Driving around also gives a good sense of the geography of the LA basin. For the less intrepid, the public transport network is extensive. Buses can be slow, and the subway is often much faster than a car: it took no time to get to Frank Lloyd Wright's newly reopened Hollyhock House in Barnsdall Park from Downton LA, where Arts Update was staying. Hollyhock House was built between 1919 and 1921 and was Frank Lloyd Wright's first LA commission. As with many of his projects, architect and client fell out. Aline Barnsdall did not like the house, never lived there, and in 1927 donated it to the City of Los Angeles. Much restored, it is now open as a house museum and is essential visiting for an understanding of Wright's ingenious use of space, decorative motifs, and the relationship between architecture and the climate.
Our first museum stop was the Los Angeles County Museum of Art (LACMA). With its outstanding encyclopedic collections displayed in separate buildings, punctuated by courtyards and open spaces, LACMA is one of the most enjoyable museums in the world. A novel way to start, one that staved off jetlag, was the Pavilion for Japanese Art, designed by Bruce Goff and completed in 1988. This fine survey of Japanese art includes screens, scrolls, prints, sculptures, ceramics, netsukes, and lacquer. The beautifully installed screens are approached via meandering ramps in a free-form building that is lit mostly by daylight filtered through screen-like walls.
Thence to a superb exhibition, New Objectivity: Modern German Art in the Weimar Republic, 1919–1933. Presented thematically, this show introduced many artists from this turbulent era. Paintings dominated, but there were also powerful representations of drawings, graphic work, and photographs. The well-known figures of Otto Dix, Max Beckmann, and August Sander were richly supported by numerous other artists, many not so famous, including the photographers Aenne Biermann, Hans Finsler, and Albert Renger-Patzsch.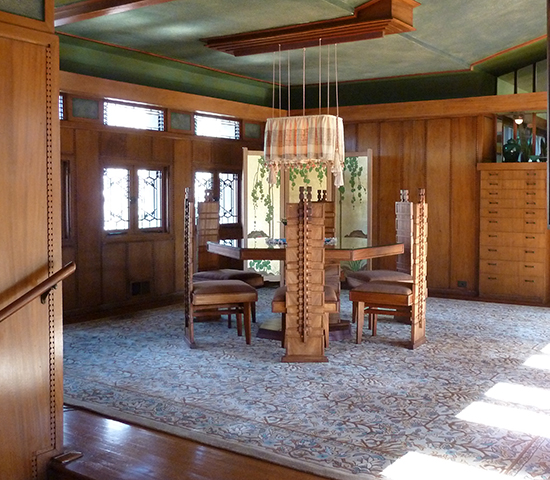 Dining room with original furniture, Hollyhock House, Los Angeles
Frank Gehry, A major retrospective with models and designs, gave a strong sense of the working practice of this famous LA-based architect. Australia was represented by a model of UTS's Dr Chau Chak Wing Building. (Arts Update later had the opportunity to attend a concert in Gehry's Walt Disney Concert Hall, which, in contrast to the famous, billowing titanium exterior, has messy, unresolved foyers and interior spaces in the most dubious taste.) The original elegant 1960s LACMA buildings, by William L. Pereira are now showing their age, with obvious deterioration, and plans are afoot to rebuild much of the LACMA campus, to a design by Swiss Pritzker Prize-winning architect Peter Zumthor.
Downtown LA, mostly avoided by tourists locals alike – unless headed to a museum or concert hall – has been quietly undergoing a gentrification process in recent decades with many of the late-nineteenth and early twentieth-century high-rise buildings being repurposed, mostly for residential use. While parts of it can still feel edgy, there is a distinct end to the decay of this historic precinct. Walking tours of Downtown are presented by the Los Angeles Conservancy (Arts Update went on the Downtown Renaissance one) and illustrate this transformation as a work in progress.
The Huntington Botanical Gardens at San Marino (east of Pasadena), normally lush and well-watered, were showing the effects of the devastating Californian drought. Large areas of the usually green lawns were brown, trees were dying or dead, and there was evidence of much replanting with drought-resistant plants. It was ominously reminiscent of Melbourne during the Millennium Drought. Fortunately, the rich collections, in the luxury of climate-controlled interiors, appeared unchanged. The Huntington Art Collections cover late medieval through to the present with extraordinary strengths in the eighteenth century. This is the home of Thomas Gainsborough's The Blue Boy among other numerous grand eighteenth-century English portraits, as well as a fine American collection. The Huntington Library is one of the world's great libraries, the star attraction being a copy of the Gutenberg Bible.
In Pasadena we find Greene & Greene's refined Arts and Crafts Gamble House and the Norton Simon Museum. Named after the wealthy twentieth-century collector whose treasures it displays, the Norton Simon is one of the great small museums of European and South and Southeast Asian art. The European collection has consistently impressive works from the fourteenth to the twentieth century – Raphael, Rembrandt, Zurbarán, Guercino, Rubens, Tiepolo, Ingres, Monet, Degas, Cézanne, van Gogh – all displayed in a breathtaking series of galleries. The original building, designed by Thornton Ladd and John Kelsey and opened in 1969, underwent major renovation by Frank Gehry and Greg Walsh in the 1990s, and is now one of the great art museum interiors.
Well worth visiting too is the nearby Hammer Museum, home to the Armand Hammer collection. There are just two rooms and a handful of artists, represented by some of their greatest works, including Rembrandt's Juno, John Singer Sargent's Dr Pozzi at Home, Gustave Moreau's Salomé Dancing before Herod, and van Gogh's Hospital at Saint-Rémy.
The Broad – a new private contemporary art museum on Grand Avenue in Downtown – is proving the hit of the year. Although admission is free, booking is essential and it is booked out months ahead. The entrance is via the ground floor, which also has exhibition spaces, including Yayoi Kusama's popular Infinity Mirrored Room in a dedicated room. However, it proved more interesting to take the escalator which ascends through the middle of the building in a tunnel that cuts through 'the vault' (art storage) to the light-filled top floor. On our visit, this floor was lit entirely by daylight, with no artificial lighting at all, an ideal way to view works of art. The lighting is achieved through an ingenious controlled system built into the perforated 'veil' that covers the whole building. The collection is modern to contemporary, beginning with fine holdings of Warhol. Predictably, it is mostly North American, but there were also several works by Anselm Kiefer and Joseph Beuys on display.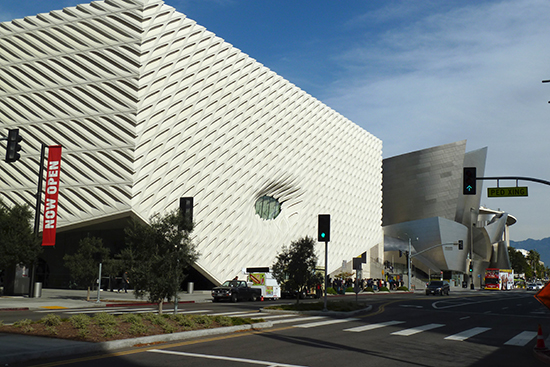 The Broad Museum, Los Angeles
You know you are in Texas when the bilingual English-Spanish sign at the entrance to museums states:
Pursuant to section 30.06, penal code (trespass by license holder with a concealed handgun), a person licensed under subchapter H, Chapter 411, Government Code (Handgun Licensing Law), may not enter this property with a concealed handgun.
Was one to infer from this officialese that the carrying of unconcealed guns into museums was not illegal, and that large numbers of people hovering outside museums were bearing guns?
Regardless of this minatory signage, the buildings and collections are magnificent. The first stop was the Kimbell Art Museum, resplendent in its Louis Kahn building (1972), a building long noted for the successful way in which it displays art sympathetically in beautiful spaces and uses controlled daylight wherever possible. The collection is small (around 350 works) but of such exceptional quality that the history of European art (and some Asian) can be more than adequately described through major works and key artists.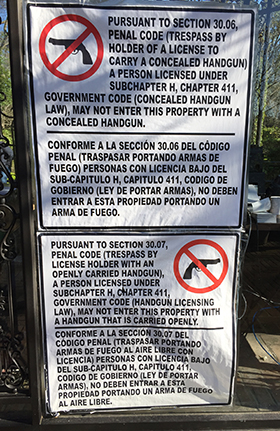 The Kimbell's Renzo Piano annex (2013) housed two fine touring exhibitions, Castiglione: Lost Genius. Masterworks on Paper from the Royal Collection and Gustave Caillebotte: The Painter's Eye, the latter showing the Impressionist to advantage through a small, thoughtful selection of his finest paintings, including Paris Street, Rainy Day, 1877 (The Art Institute of Chicago) and The Floor Scrapers, 1875 (Musée D'Orsay). Caillebotte's interest in structure, echoing forms, patterns, and perspective shifts was evident.
The Piano Pavilion is understated and sympathetic to Kahn's masterpiece, but the interior temporary exhibition spaces lack grace and subtlety with overly fussy floor detailing and concrete walls, the most unsympathetic surface imaginable upon which to hang Old Master drawings and Impressionist pictures.
Further along is The Modern Museum of Art Fort Worth, designed by Tadao Ando and completed in 2002. This building is worth travelling to see in its own right. A masterpiece in restraint, The Modern provides generous rectangular galleries for the display of the collection and for special exhibitions, as well as side rooms that offer views of the superb building and its surrounding mirror pond. The special exhibition, Kehinde Wiley: A New Republic, dealt largely with the artist's interest in depicting African-American men in poses and positions normally occupied by whites.
Dallas, much rejuvenated in recent years with the creation of several cultural institutions (mostly privately funded), has the grand Dallas Museum of Fine Arts. The permanent collection is splendid, and there was a fine Pollock show, Jackson Pollock: Blind Spots, with some seventy works contextualising Pollock's black pictures painted between 1951 and 1953.
Nearby is the Nasher Sculpture Center (2003), also by Piano, a series of connected rectangular rooms that house the collection and exhibitions and cleverly form a transition from the plaza to the extensive sculpture garden beyond. I.M. Pei, famous for his wing of the National Gallery of Art in Washington, also designed the Morton H. Meyerson Symphony Center (1989), with its ample and elegant foyer spaces and acoustically marvellous deco-revival interior.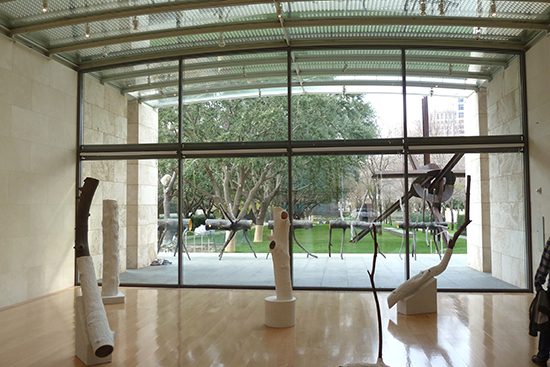 Interior at the Nasher Sculpture Center, Dallas
Next, Arts Update headed to Houston and The Menil Collection – ranging in date from the prehistoric to the present and displayed in a group of buildings. Philip Johnson's Rothko Chapel (dedicated in 1971) is pleasingly austere, but these fourteen paintings by Mark Rothko seemed flat and lacking mystery, especially following the superb show of the artist's work, Mark Rothko: A Retrospective seen the day before at the Museum of Fine Arts, Houston.
In addition to their art collecting, the de Menils have been brilliant in their choice of architects. First came Philip Johnson; then they selected Piano for the Menil Collection (1987) and the Cy Twombly Gallery (1995) – not to be missed by Twomblyites, and one we had to ourselves for the better part of an hour. The scale of the buildings and their relationship to the collections they house is most harmonious. (Arts Update can also recommend the bookshop, and the Bloody Marys at the excellent new bistro opposite.)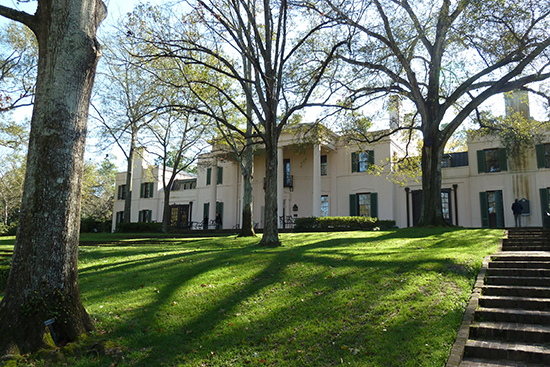 Bayou Bend, Houston
The results of the extraordinary Texan philanthropy are abundantly evident in all the cultural institutions. Ima Hogg, one of the more significant early benefactors, gifted her estate and fine collection of Americana to the MFA; since 1966 it has been a house museum annex. Although getting to Bayou Bend is a bit of a hike, the mansion (completed in 1928), with its diverse furniture and decorative arts collection in a garden oasis, is well worth visiting. It gives a fuller understanding of the diversity and richness of American material culture.