Theatre
Miss Julie (Melbourne Theatre Company) ★
Strindberg. How do you solve a problem like August? In his own time he was considered extreme. When Strindberg (1849–1912) gave Miss Julie to his publisher, Joseph Seligmann, in 1888, Seligmann insisted it be cut to make it more palatable for the Swedish public. The play wasn't published uncensored until 1984. In the nineteenth century, Miss Julie, a chamber play in which the daughter of an aristocratic estate is seduced by her father's valet, was thought scandalous for its frank articulations of sexual desire, bestiality, and menstruation. (Strindberg may be the only canonical playwright to mention periods.)
Now, of course, sexuality isn't nearly so scandalous. These days, Strindberg is on the nose because of his toxic misogyny. There's no avoiding it, in his writing or in his life. Strindberg's relentless misogyny makes Michael Meyer's excellent biography (1985) miserable reading. In his attitudes to the 'woman question', Strindberg was influenced by Darwinism and, of course, Nietzsche, but he gave these ideas his own pathological spin.
Strindberg's contempt for the 'inferior' sex, his envy and hatred of the power that he claimed feminine weakness and manipulativeness exercised over the trammelled strength of men, is uncomfortably reminiscent of the kinds of statements you find from Men's Rights Activists in the less savoury corners of the internet. As with its twenty-first-century manifestations, Strindberg's misogyny was a reaction to contemporary feminism, the campaign by women for equal rights.
Miss Julie is a case in point. Strindberg describes his nominal character as a 'new' creature, 'a half-woman born of a half-woman'. By this he means that Miss Julie is the daughter of a feminist, a woman who cuckolded her aristocratic husband, made the estate a laughing stock by reversing gender roles among their servants, and finally burned down her own house in revenge for her slave status as a wife. Miss Julie and her mother are in fact prototypes of that bogeywoman beloved by MRAs, the man-hating feminist.
In this, as in so many other ways, Strindberg was an uncannily prescient forerunner of modernity. If he were merely a misogynist, he wouldn't be worth remembering; but he was also a visionary theorist of theatre. He invented chamber theatre, a reaction against the artifice of the Romantic theatre that dominated Europe in his day. His notion of 'intimate theatre' is what we think of now as standard: small audiences, intimate performance, emotional and behavioural truthfulness. Reading his endless notes, letters and theoretical speculations, you are constantly struck by his restless insights, many of which remain cogent more than a century after they were written. And his plays still exert a dark fascination.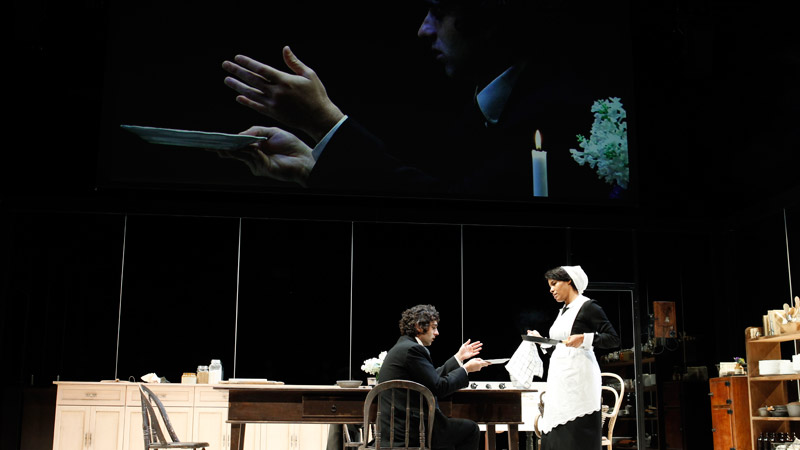 Mark Leonard Winter and Zahra Newman in Miss Julie (Melbourne Theatre Company)
So, to return to my original question: how do you solve a problem like Strindberg? Well, you don't do what Kip Williams does in his production of Miss Julie for the Melbourne Theatre Company: scrub him clean and render him up as Mr Nice. Strindberg was many things, horrific and wonderful, often both at once: but one thing he could never be accused of was niceness.
Barry Jacobs, one of Strindberg's many translators, says implacably: 'There can be no excuse for literary translators who themselves distort Strindberg's text in an attempt to clarify the subtext ... or to force their own interpretation onto the original.' Yet this is precisely what has happened in this production. Williams's interpretation distorts Miss Julie so egregiously it makes you wonder why he wanted to direct the play in the first place. It transforms a vicious play about class and sexuality into a variety of soft porn.
On paper, this is a production with all the right ingredients. Williams is one of Australia's most talented young directors, seen most recently in Melbourne with his startlingly intelligent production for Malthouse/STC of Caryl Churchill's Love and Information. He's backed by a design dream team: lighting by Paul Jackson; sound design and composition by The Sweats; set and costumes by Alice Babidge. These are some of the best people in their fields, and the result is sumptuous. I spent much of the show admiring Jackson's lighting, which is no less than exquisite.
The casting is equally impressive, with Robin McLeavy, Mark Leonard Winter, and Zahra Newman – again, some of our best performance talent – as, respectively, Miss Julie, Jean, and Christine. They give of their best, but the energies they generate on stage are fatally compromised, most notably by a bowdlerised text which attempts to make Strindberg's misogyny more appetising for contemporary audiences.
It is a production marked by half-baked decisions. The action takes place in an uber-naturalistic nineteenth-century kitchen that is enclosed in a perspex box, surrounded by the amorphous black space of the rest of the stage. When the play opens, the kitchen is hidden by a huge screen, on which is projected the introductory moments of the show. At first it appears to be a pre-recorded movie, but when the screen lifts, to settle above the set, we realise that the action is being filmed live by half-seen cameras moving outside the box. This video plays continuously through the show, creating a doubled performance, projected and live.
After Benedict Andrews and Simon Stone, glass boxes and filmed action are pretty much clichés of the wunderkind director doing the classics. Used well, these tropes can contribute powerfully to a troubling and alienating sense of voyeurism. Andrews's 2007 production of The Season at Sarsaparilla, for instance, put screens either side of the stage, which flickered into our consciousness to show distorted, oblique close-ups of the actors in intimate moments: staring into the bathroom mirror, doing the washing up.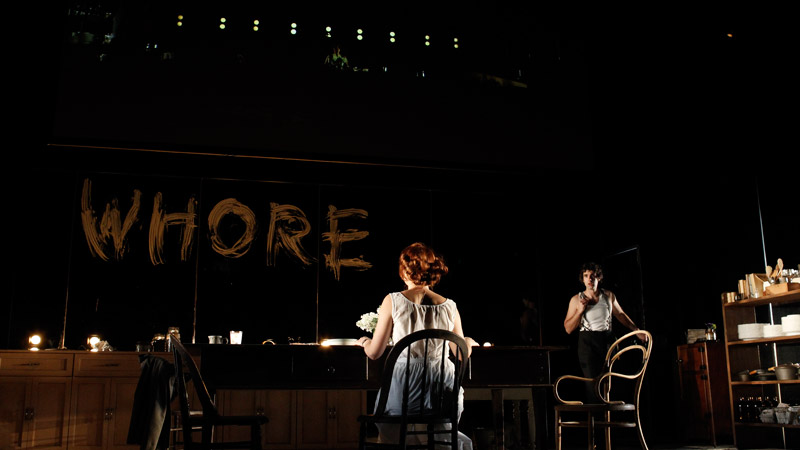 Robin McLeavy and Mark Leonard Winter in Miss Julie (Melbourne Theatre Company)
In this case, the video seems to be serving a reductive idea of naturalism. With few exceptions, it simply gives us another view of the action in close-up; when the actor has her back to us, for instance, we are able to see her face. Rather than heightening the power of the performances, the effect is to draw the focus away from the warm bodies on stage, diminishing their presence (quite literally: the actors seem tiny in relation to their bloated projections). And it adds little to our understanding.
This seems to me a profound misunderstanding of Strindberg's naturalism, which was a philosophy as much as a stylistic intention. The video acts very much as the 'misconceived naturalism' that Strindberg himself condemned as mere 'photography which includes everything, even the speck of dust on the camera lens'. He specified that the design for Miss Julie should be 'impressionistic', since being unable to see all the action 'creates the opportunity for surmise, that is to say, stimulates the imagination to complete the picture'. There is little opportunity for surmise here: everything is laid out plainly for our inspection. Especially, and most deadeningly, our moral stance in relation to the action.
As practised by Strindberg's contemporaries Ibsen and Zola, naturalism was a revolutionary philosophy which sought to illustrate how human behaviour is a product of heredity and environment. Miss Julie is perhaps the play where Strindberg most clearly explores the notion of naturalistic determinism, in which these factors operate in lieu of fate. Both Miss Julie and Jean are shown to be the decadent products of their gender and class. Jean, the son of a peasant, is the up-and-coming capitalist, ambitious and predatory, seeking to replace the aristocracy. Miss Julie, ruined by her feminist upbringing, the scion of a degenerate upper class, disastrously betrays both her feminine nature and her class. Each, as they say in the play, is as bad as the other.
Strindberg loaded Miss Julie with contradiction, calling it a 'naturalistic tragedy'. This label has much the same intention as Wordsworth and Coleridge's ground-breaking Romantic publication Lyrical Ballads (1798), jamming together two contradictory traditions to create a new artistic tension. Naturalism claims that human behaviour is determined, while tragedy turns on the exercise of free will. This contradiction is part of the energy behind the action of the play, in the shifting dominance between the two major characters, and in the complex movements of Miss Julie's final decision to suicide.
None of this tension is present in the production. In lieu, we get some anachronistic and gratuitous profanity, a superficial gesture that is emblematic of the whole, in which the economical sadism of the text is diluted by crude rewriting. Subtext is brought to the surface, giving us explanations about class or gender which operate as essayistic and, it must be said, banal commentaries on the action. This also has the effect of making these characters more self-aware, as if they are moral allegories rather than characters driven by forces they barely understand. The worst example is the new coda, in which the maid Christine exhorts Miss Julie not to choose the dark side.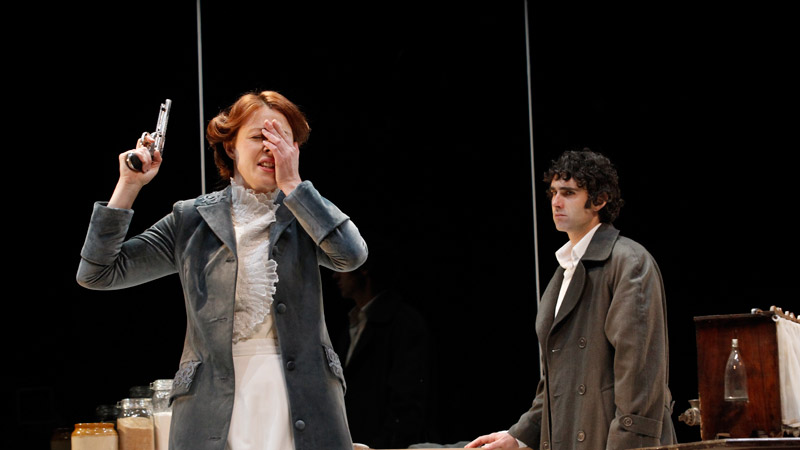 Robin McLeavy and Mark Leonard Winter in Miss Julie (Melbourne Theatre Company)
It is quite possible to do violence to the classics and produce new insights. Daniel Schlusser's radical adaptation of A Doll's House, for instance, recuperated the original surprise of Ibsen's ending, 'the door slam heard around the world', by staging the bowdlerised ending in which Nora returns. But this kind of transformation requires an agonistic intellectual engagement with the text that Williams's production signally avoids.
It is a waste of the talent that is gathered on this stage. Miss Julie is about misogyny: to soften the play's ugly heart, to creep pusillanimously around the wounds of class and gender that drive it, is the worst sort of pandering. Perhaps if those questions were dealt with head-on, we might emerge with some insight into the class and gender divisions that bedevil our society now. Without that engagement, why program this play at all?
Miss Julie, written by August Strindberg, directed by Kip Williams for the Melbourne Theatre Company. The production continues at The Sumner Theatre until 21 May 2016. Performance attended: April 21.
Arts Update is generously supported by The Ian Potter Foundation.