Art
Jan Senbergs: Observation–Imagination (National Gallery of Victoria)
Jan Senbergs: Observation-Imagination is a major retrospective survey of this artist's long career. The 120 works selected for exhibition range from his formative years in the 1960s to 2014. They show Senbergs moving freely to create a stylistic identity that draws upon, yet stands decisively apart from, mainstream movements in international art over the past half century.
'Observation' and 'imagination' – the two key terms in the exhibition's title – are seamlessly fused qualities in Senberg's work, as the six recent large-scale paintings in the opening gallery strikingly testify. On one wall here are four giant paintings of cities, imaginatively conceived yet, through the presence of recognisable elements, still rooted in part in reality; each offering a foretaste of Senberg's characteristic style. Extended Melbourne labyrinth (2013) shows a city whose features are topographically familiar yet stretched and extended, as if to touch or engulf other parts of the world. Melbourne Capriccio 3 (2009) and Geelong Capriccio (if Geelong was settled instead of Melbourne) (2010) – the first, with its elevated buildings, recalling medieval styles of mapping; the second, with its strange spatial perspectives – depict dense and busy cities, with cars hurtling along their labyrinthine highways, and buildings that sprout as if organically. Yet each of these cities, for all their crowdedness, is strangely devoid of nature and of human presence. So too is the fourth painting in this gallery, Driving around the Port Kembla sculptures on a Saturday night (2003), an unsettling industrial cityscape with its fires, polluting chimneys, and clouds of smoke; a single car with its blinding yellow headlights in the central panel adding to the general sense of desolation.
On the opposite wall are two large baroque fantasies, Elated City (2009) and Paolozzi's City (2010), which show Senbergs' ingenious use of source materials, and his further delight in the process of mapping. In both works the formal boundaries of the map are redrawn to resemble the shape of a human head – much in the style of Giuseppe Arcimboldo's Renaissance portraits of figures compounded of fruit, vegetables, tree roots, and sea creatures. But the heads that Senbergs presents are compounded instead of mechanical objects, architectural forms, and urban freeways. They are 'maps' to modern living that are at once humanised and dehumanised. They are works of exuberance but also of despair. They recall too the inventions of Antoni Gaudí, whose freedom of form, colour, and texture Senbergs greatly admired while visiting Barcelona in 1967. In Senbergs' homage to Eduardo Paolozzi, another early influence is remembered. Mechanical and organic form merge in this painting with such dynamism that the buildings themselves seem mobile. The elevated map of Paolozzi's city shows a dome (which is not quite St Paul's), colonnades, and a square (which is not quite Trafalgar Square). Yet the work brings to mind both the city of London, where Paolozzi lived, and that of Leith in Scotland, where he was born.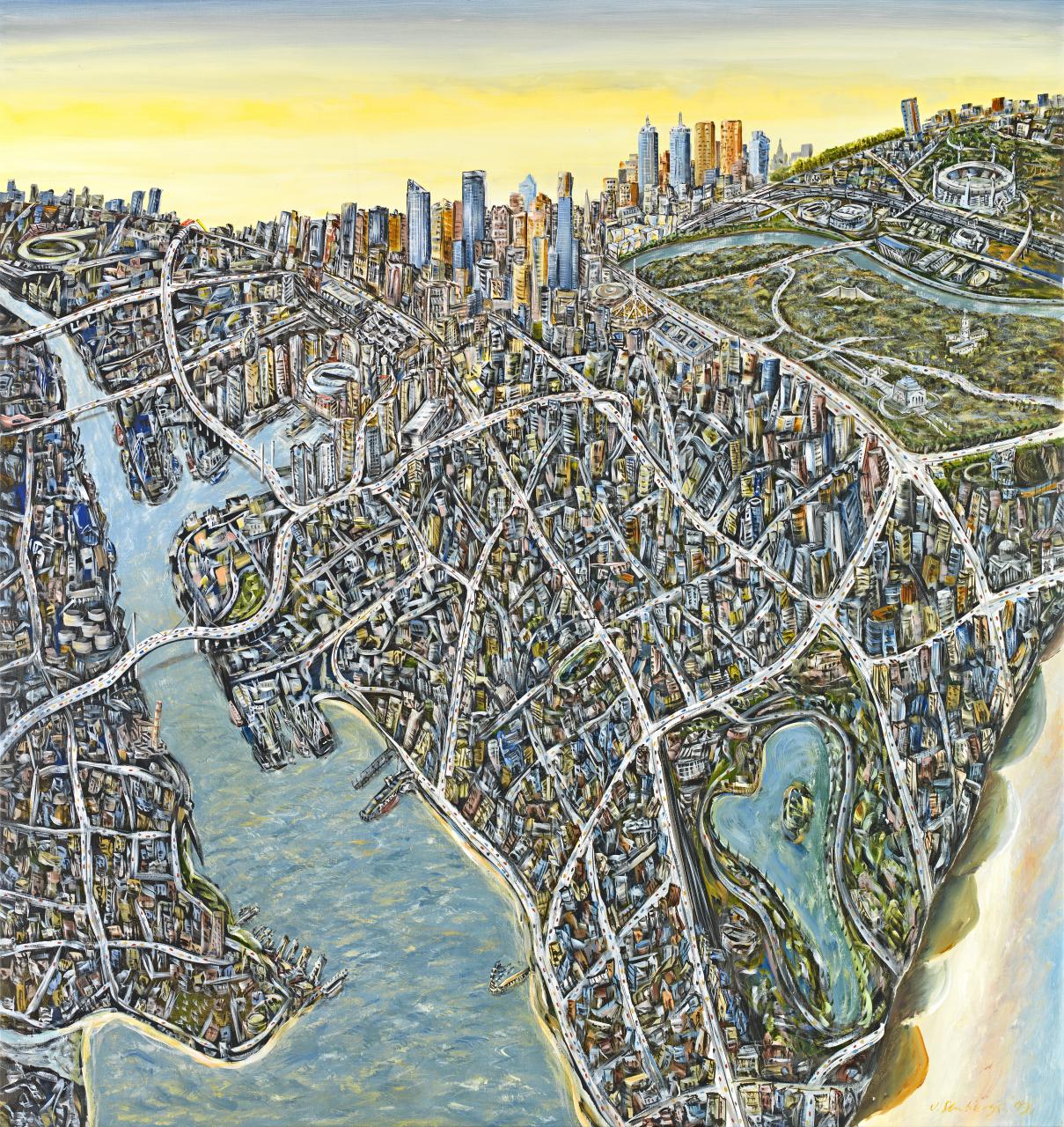 Melbourne Capriccio 3 (2009) by Jan Senbergs (National Gallery of Victoria)The subsequent galleries trace Senbergs' development chronologically. The earliest paintings, such as Two Heads (1961) and Guardians (1963), convey the guidance of his teacher, Leonard French, as well as the presence of Roger Kemp: the latter seen particularly in Figure (1963), a felt pen drawing of a loose structure with black lines creating abstract overlapping forms. In the late 1960s he produces a series of brilliant screenprints which established his continuing reputation as a major printmaker. In the 'mound' paintings of the 1970s and 1980s – and the industrial landscapes at Port Liardet (later Port Melbourne) and the Copperfield mines of Mount Lyell in Tasmania – the artist develops his own confidently flowing visual language. Senbergs was intrigued by the formation of mounds, made up of industrial waste and detritus, as depicted for example in the colour screenprint Collapsing Structure (1968) and Collapsed Object no. 2 (1969), a work incorporating oil, polymer paint, and screenprinted image on canvas. The theme reaches its highest picturesque appeal in Moundhouse 1973, one in a series of works exhibited at the San Paolo Biennial of that year, with its restrained colour and elegant architectural detail, the black mound is transformed into a less than perfect rectangle. The colour screenprint Moundhouse 1975 shows a further transformation of the mound, which now develops a doorway and windows, becoming (in the words of the artist) 'a building for not living in'. Senbergs' sense of absurdity recurs in a number of works, such as Incoming Minister (1971), in which a suited minister is seen, in a humorous variation on a Chagallian theme, floating above a Parliament House ominously made up of peaked mounds and industrial chimneys.
The darker side of Senbergs' imagination is strongly evident in works of the 1980s. Port Liardet 2 (1981) depicts a post-apocalyptic world reminiscent of Hogarth's last print, Tailpiece, or The Bathos (1764), in which the collapsed figure of Father Time leans exhaustedly against a broken column, surrounded by shattered objects – a broken crown, a broken musket, a broken palette, and a document inscribed 'H. Nature Bankrupt'. In the equivalent position in Port Liardet 2, surrounded by broken machinery, sits a decapitated robot, lashed to a stake. Hogarth in his print imagines the destruction of the high civilisation of his times. Senbergs in his painting – like E.M. Forster in his story 'The Machine Stops' – imagines the final collapse of another kind of civilisation, one that is already degraded through its wholesale dependence on the machine.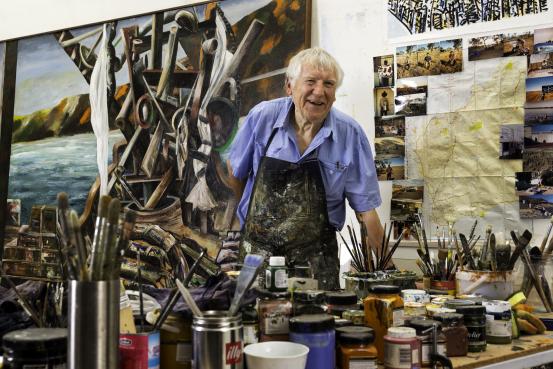 Jan Senbergs in his studio, 2015
(Predrag Cancar/National Gallery of Victoria Photographic Sevices)
'Father figures', as Senbergs likes to call them, are important to his work, both as artistic mentors, like Leonard French and Roger Kemp, and as historical personages who have indirectly inspired his art. Wilbraham Liardet is one such 'father'. Hotel keeper and water-colourist, Liardet settled at Sandridge (Port Melbourne) in 1839 and built the jetty (Princes Pier), where in 1950 Senbergs, aged eleven, first arrived in Melbourne with his mother. The American metallurgist and engineer, Robert Carl Sticht (1856–1922), who developed a process of pyric smelting for the Mt Lyell ore, and the Norwegian explorer Carsten Borchgrevinck are 'fathers' of a rather different kind. These figures loom significantly behind the narrative paintings Senbergs completed in the late 1980s and early 1990s, and yet – as characteristically with this artist's work, in which the human figure is so often masked, absent, or eclipsed – they are seldom literally depicted within it.
In 1992–93, Senbergs moved away from his artistic fathers as subjects, to paradoxically figurative drawings of tribal sculptures, but also returned to drawing engineering and industrial structures. All these works on paper in the penultimate gallery of this exhibition are of calligraphic mastery touched by genius. The sugar-lift aquatint Port Liardet Limner (1992) is a polyptich where the rapidly executed black strokes have the vitality and tension of a busy harbour.
In the second panel of the polyptich, a figure is barely discernible eclipsed as it is in an intricate engineering structure; the figure is an image of the artist. The majority of the other works in this gallery are of an autobiographical nature. Studio interior of 1993 and 1995 are pastel drawings of practical interiors. By using traditional perspective, Senbergs leads us deep into spaces filled to excess with realistic detail that documents the artist's domestic life as well as the world of the studio. Studio, tool bench (1995) shows Senbergs' passion for filling the entire space with objects: tools, bits of machinery, and all things that have seduced his instinct as a collector. A drawing of his wife's kitchen is filled with a similar clutter of objects, but perhaps a little more ordered. Senbergs' skill in these drawings is supreme.
In the words of Patrick McCaughey the drawings from 1993 to 1995 are 'unmistakably among the greatest drawings in modern Australian art.'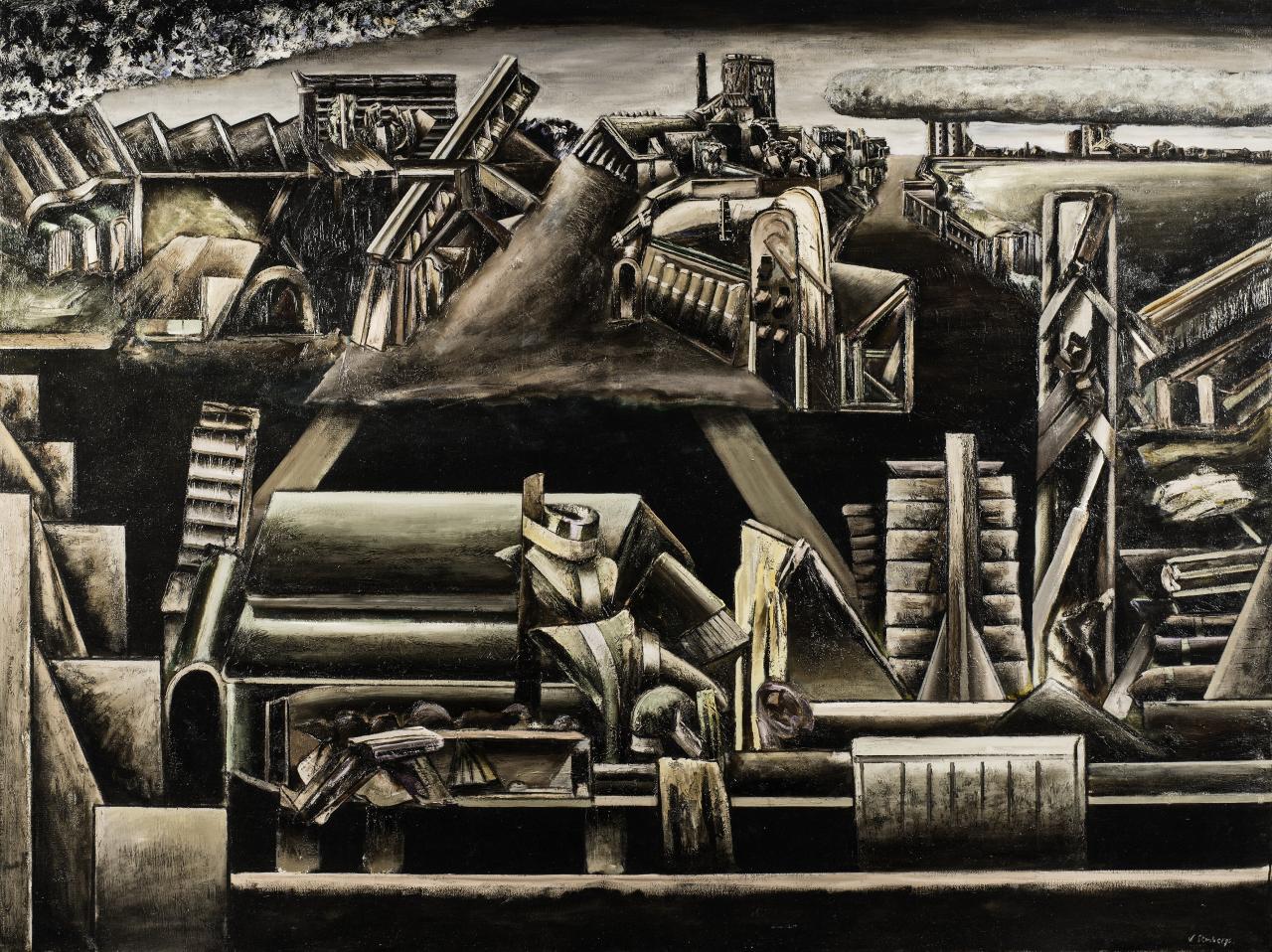 Port Liardet 2 (1981) by Jan Senbergs (Latrobe Regional Gallery Collection)
Jan Senbergs: Observation–Imagination, curated by Elena Taylor, is at the National Gallery of Victoria until 12 June 2016. The catalogue of the same name is published by NGV ($39.95 pb, 175 pp, 9781925432077).
Arts Update is generously supported by The Ian Potter Foundation.