Reference
The Update - March 22, 2016
Florence Foster Jenkins
Why is bad singing so funny? Why do missed high notes induce such hilarity? Is it all vaudeville or a case of Schadenfreude? Curiously, we have two new films about the egregious soprano par excellence, Florence Foster Jenkins (whose awful recordings are legendary and who died soon after giving a disastrous recital in Carnegie Hall in 1944). The first – Marguerite, directed by Xavier Ziannoli – is screening during the current French Film Festival, and it is not to be missed. Arts Update hasn't laughed so hard since it read public defences of Tony Abbott's intervention in the Prime Minister's Literary Awards in 2014. Catherin Frot deserved her César Award for Best Actress as the Jenkins-like singer manqué Marguerite Dumont.
Next up is Stephen Frears's much-anticipated Florence Foster Jenkins (Entertainment One, May 5 release), with Meryl Streep as Jenkins. Arts Update regular Ian Dickson will review the new film.
Lucia di Melbourne
Like Meryl Streep, Jessica Pratt really can sing. After making her Australian début as Violetta in 2014, and after a brilliant performance as Elvira in Victorian Opera's concert version of Bellini's I Puritani, Pratt returns to the company in Cameron Menzies' production of Donizetti's masterpiece Lucia di Lammermoor. Jessica Pratt – one of only three Australian singers to perform the role at La Scala (with Nellie Melba and Joan Sutherland) – has performed in countless productions of Lucia (here she is singing 'the Mad Scene' in Treviso in September 2014), but this will be first time she has sung the role in Australia. It is a coup for Victorian Opera, as Pratt is in much demand throughout the world (she makes her Metropolitan Opera début in December, as the Queen of the Night). Pratt will be joined by baritone José Carbo as Enrico and tenor Carlos E. Bárcenas as Lucia's lover, Edgardo. The season opens on 12 April and runs to 21 April.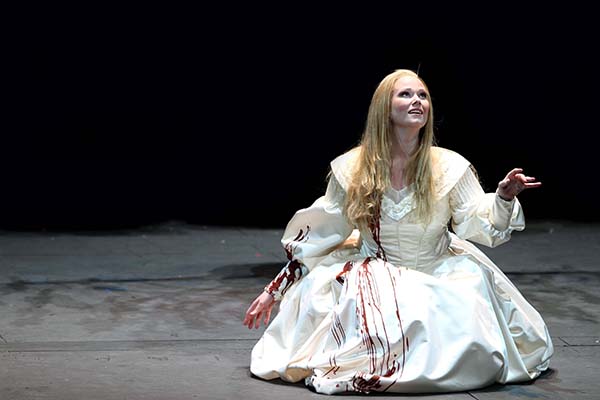 Jessica Pratt in Lucia di Lammermoor (photograph by Marcello Orselli)
Distinguished British pianist Stephen Hough returns to Australia for a national tour with Musica Viva (14 April to 2 May). Hough's programs are always highly individual, and this one is no different. It includes works by Schubert, Franck, and Liszt – but also one of Hough's own compositions: Piano Sonata III (Trinitas), which was jointly commissioned by a magazine no less – the Catholic magazine The Tablet – and the Barbican Centre in London. Hough, whose father was born here, holds Australian citizenship. Commenting on his forthcoming tour, he said: 'I love going to Australia. I love the quality of the light and space – not just geographical, but also artistic. The traditions there are much less lengthy and "stuck". There is room to feel that you can bring this music and it's fresh and new.'