Theatre
Picnic at Hanging Rock (Malthouse Theatre) ★★★★
Henry Lawson, in his story The Bush Undertaker (1892), refers to the Australian landscape as 'the nurse and tutor of eccentric minds, the home of the weird, and of much that is different from things in other lands'. It is precisely this otherness – this tendency toward the uncanny – that Joan Lindsay exploited in her novel Picnic at Hanging Rock (1967). Setting the gothic tale in a girls' boarding school in 1900 allowed Lindsay to evoke the crinoline and corsetry of an already lost world, a dainty white Australia confronted by the sheer rock of an ancient civilisation. It simultaneously sharpened the horror and cast a Late Romantic mist over it.
Peter Weir's seminal 1975 film adaptation famously accentuated this aspect; a bridal veil thrown over the camera's lens gave the cinematography an unmistakable nostalgic hue. Throw in some pan flutes, and a national myth was born. Sidelined from this interpretation was the novel's reliance on reportage, both journalistic and gossipy – an endless cycle of telling and retelling that only reinforces the mystery. It proves to be Tom Wright's singular point of difference in his stage adaptation for Malthouse Theatre.
Five girls (Harriet Gordon-Anderson, Arielle Gray, Amber McMahon, Elizabeth Nabben, Nikki Shiels) recount the events of the disappearance at Hanging Rock, echoing and foreshadowing each other, picking up and putting down personas like pebbles under the shadow of a monolith. Initially, it seems like narrative in the round, but what we lose in clarity of character we gain in atmosphere. The horror of time and of counting – 'At fourteen, millions of years can be almost indecent' – is beautifully realised, and any over-familiarity that cobwebs this scene is swept aside in the rising dread.
This is immediately followed by a dialogue between Appleyard College's eponymous headmistress and the one student not allowed to attend the picnic, Sara Waybourne. This is a brief exchange in the novel but proves central to Wright's vision; he returns to it again and again. The mental atrophy of Appleyard and the contorted whispering of Waybourne allow him to amplify Lindsay's concerns: these characters don't have a sufficient 'back-story'; unmoored from their history and their sense of belonging, they are adrift in a land that doesn't want them.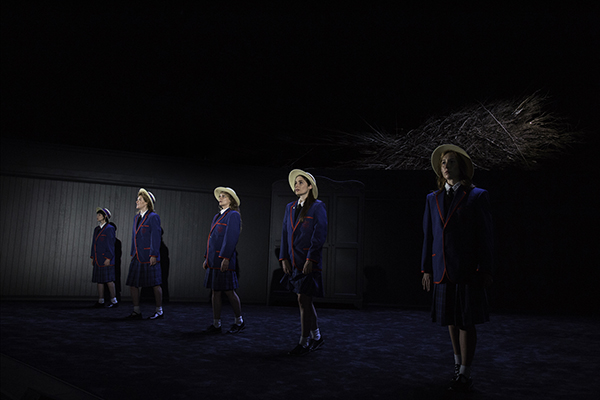 Malthouse Theatre's Picnic at Hanging Rock (photograph by Pia Johnson)
For the most part, Wright's soaring lyricism matches Lindsay's precise and evocative prose. The tone is, if anything, more intensely creepy and lush. Only occasionally does the adaptation falter. One scene between the rescued Irma and her dashing saviour Fitzhubert grossly overplays the comedy of manners, and another in the school's gymnasium tosses aside Lindsay's carefully calibrated unease for anachronistic language that seems good for little more than a cheap laugh.
While there may be quibbles in the adaptation, there is little to fault in the production. Malthouse Theatre's Artistic Director Matthew Lutton keeps such a tight rein on the production elements that there is little time to breathe. Blackouts are so sudden and absolute they feel like plunges into the abyss, and several wordless vignettes – the girls ominously moving toward a great void, or hauntingly miming schoolyard games – are almost unbearably sinister. Entrances and exits are consummate; dramatic tableaux appear on the retina in sudden flashes, characters frozen in postures of anxiety and resistance. The sense that time is running out of control, the hands of the clock leaping indiscriminate around the dial, fits perfectly with the novel's preoccupations.
The cast is individually strong – Nabben's Mrs Appleyard in particular dominates the stage – but most effective as a chorus. The long scene on the rock, snatches of perspective weaving together in dramatic crescendo, is narrative as incantation and utilises the tonal variation of the actors' voices brilliantly. There is a kind of elemental power to the girls, holding all the secrets, ultimately as silent as the grave.
The design (Zoë Atkinson) is frankly ingenious. A grey carpeted room furnished solely with a large grey cupboard, as if David Lynch had birthed Narnia, hems the characters but also exposes them. The lighting (Paul Jackson) is so good it works on the unconscious, and the sound design (J. David Franzke) and composition (Ash Gibson Greig) ratchet up the menace considerably. It is a genuinely frightening experience, a rarity in the theatre.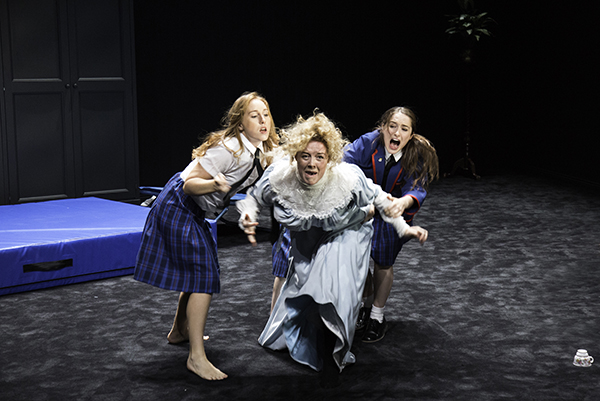 Harriet Gordon-Anderson, Nikki Sheils, and Elizabeth Nabben in Malthouse Theatre's Picnic at Hanging Rock (photograph by Pia Johnson)
Picnic at Hanging Rock continues to fascinate and appal; it repositions what poet Mary Fullerton called 'the rude and ruthless bush' as a mirror to a white Australia that barely acknowledges its own monstrosity. It shows how otherness can unravel the carefully articulated façade that mainstream Australia has erected as a bulwark against our own dark past. The need to retell this story, to constantly return to the rock and see what else we may find there, gives this adaptation an immediacy, even a contemporaneity, that is hard to resist.
Picnic at Hanging Rock, adapted from the Joan Lindsay novel by Tom Wright, directed by Matthew Lutton for Malthouse Theatre, 26 February to 20 March 2016. Performance attended: 2 March.
Perth season with Black Swan State Theatre Company, Heath Ledger Theatre from 1-17 April.
Arts Update is generously supported by The Ian Potter Foundation.