Music
Voyage to the Moon (Musica Viva/Victorian Opera) ★★★1/2
In this era of the jukebox musical, it is not surprising that the seventeenth- and eighteenth-century equivalent, the pasticcio opera, should be undergoing a revival. A couple of seasons ago, New York's Metropolitan Opera created a version, The Enchanted Island, which received a mainly positive response. Now Musica Viva and Victorian Opera have combined to produce their own version, Voyage to the Moon.
In the seventeenth and eighteenth centuries, opera scores and libretti were not set in stone. Amendments and additions were constantly made. Star singers travelled with what were called trunk arias, favorite showstoppers that they would insert willy-nilly into any opera they were performing. Mozart himself wrote alternate arias for singers to interpolate into his operas. Not too long ago, Cecilia Bartoli caused a mini-sensation and had a major falling out with director Jonathan Miller by insisting on singing Susanna's alternative arias in a Met production of Le Nozze di Figaro. Even Wagner got into the act, writing an extra aria for the priest Oroveso in Bellini's Norma.
Given the overwhelming demand for new works, it was only a small step to cobble together some sort of plot, insert already written arias, which would suit the available singers, and ecco – the pasticcio was born.
The producers of Voyage to the Moon have gone about its creation in a considerably less ad hoc way than their seventeenth-century equivalents would have done. They had the sense to involve the playwright and director Michael Gow and the very distinguished conductor and musicologist Alan Curtis, whose sudden and untimely death was a blow which the creative team have triumphantly overcome. One of the challenges of creating a pasticcio is bringing together a collection of arias and ensembles that are varied but sufficiently similar in approach so that there is a sense of stylistic unity, something that the first performances of The Enchanted Island apparently lacked. Even though the composers chosen by Curtis and his team range from Vivaldi, born in 1678, to Gluck, born in 1741, there is no sense of stylistic incompatibility.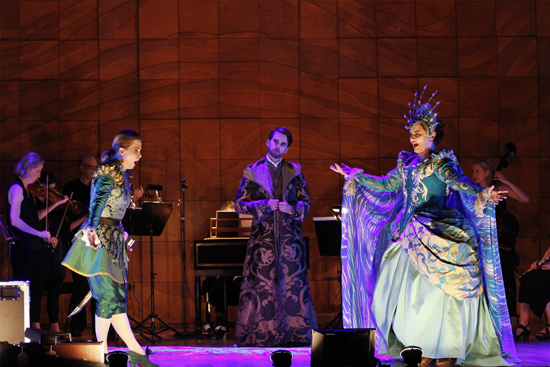 Voyage to the Moon (photograph by Jeff Busby)
Michael Gow has taken a section from that favorite work of baroque librettists, Ludovico Ariosto's Orlando Furioso, as a basis for his plot. The knight Orlando has been driven mad by his unrequited love for the princess Angelica and is preparing to create havoc. With help of a handy magician, Orlando's friend Astolfo travels to the moon to regain Orlando's sanity from the lunar princess Selena. Although Selena is at first resistant, Astolfo wins her over with his devotion and triumphantly returns to Earth to deliver Orlando from his madness. Given the simplicity of the plot, there is mercifully little need for the endless recitatives that bog down performances of original baroque operas, and Voyage to the Moon proceeds at a brisk pace.
The production has been designed to tour and the set, such as it is, and lighting are extremely basic. It is left to Christina Smith's costumes to give us some sense of the visual extravagance with which pasticcios would have originally been staged.
On the opening night in Sydney (the piece has already played in Melbourne) the three soloists threw themselves into their roles with such energy and conviction that they carried all before them. Doubling as Orlando and Serena, Emma Matthews seemed at the start a little uneasy. In her first aria, De Majo's Tutto tremar doviete, there was a slight and most uncharacteristic sense of forcing, but Matthews quickly settled down and her final bravura aria, Hasse's O placido il mare, was sensational, showing off her range and extraordinary vocal flexibility. Once into her stride she demonstrated yet again why she is one of Australia's most popular performers. It is to be hoped Opera Australia have plans for her in future seasons.
When it came to bravura singing, Sally-Anne Russell also proved herself to be no slouch, but the highlight of her performance was an exquisitely sung version of Cleopatra's mournful aria Piangerò la sorte mia from Handel's Giulio Cesare in Egitto. The young bass-baritone Jeremy Kleeman was in no way outperformed by his more experienced colleagues. With a rich sound, an understanding of the baroque style, superb diction, and an imposing presence, Kleeman made much of a rather nebulous character.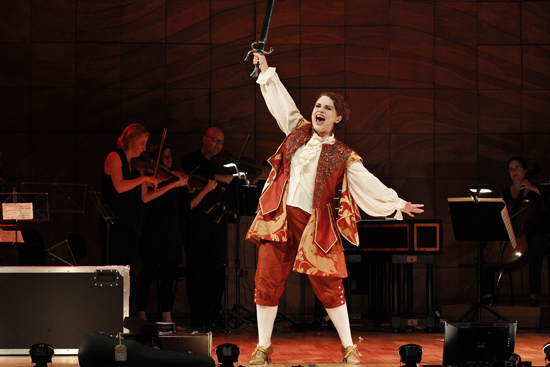 Voyage to the Moon (photograph by Jeff Busby)
The singers were supported by an instrumental ensemble ably led by Phoebe Briggs, whose sprightly playing was mercifully not accompanied b the somewhat anaemic sound produced by some baroque ensembles.
For those of us who approach four hours of baroque opera with a certain trepidation, pasticcio is the perfect alternative. Let's hope this is the first of many.
Voyage to the Moon, written and directed by Michael Gow, is a collaboration between Musica Viva and Victorian Opera. Performances continue in Sydney, Brisbane, Canberra, Perth, and Adelaide until 12 March 2016. Performance attended: 22 February (Sydney).