Opera
Luisa Miller (Opera Australia) ★★★★1/2
The gestation of some of Giuseppe Verdi's operas was more tumultuous than his often twisted plots. Luisa Miller – which is now being seen in Sydney prior to a shorter season in Melbourne – was as fraught as any of them? Salvatore Cammarano owed the Teatro San Carlo in Naples a libretto, and when he tried to renege the Neapolitans threatened him with incarceration. Verdi somewhat reluctantly agreed to help his colleague. After some indecision they settled on Schiller's play Kabale und Liebe (Intrigue and Love) of 1784. Verdi, a lifelong admirer of the German playwright, had already adapted two of his plays – Giovanna d'Arco (1845) and I Masnadieri (1847). There would be a fourth in 1867 – Don Carlo, considered by many to be his masterpiece.
Verdi, rarely content in Naples and always temperamental when creating his operas, was soon at odds with San Carlo, which threatened to have him imprisoned if he tried to leave Naples. Incensed, Verdi announced that he would board a French warship in the bay and seek protection from the French. Finally, the opera was premièred in Naples on 8 December 1849.
Salvatore Cammarano had written the libretti for some of the great bel canto operas, including Donizetti's Maria Stuarda (1834) and Lucia di Lammermoor (1835). He had twice collaborated with Verdi on Alzira (1845) and La battaglia di Legnano (1849). Their fourth opera together would be the ever-unfollowable Il trovatore (1853).
In Cammarano's libretto, Schiller's five acts are reduced to three. One character is excised, another renamed to assuage royal feelings. Because of the Neapolitan censors, the play's politics had be muted. Miller, the idealised old soldier, is devoted to his daughter, Luisa, and worries about her infatuation with a newcomer to the 'pleasant village' depicted in the notes. Soon he learns that Rodolofo is in fact the son of Count Walter and thus a deeply unlikely son-in-law. Wurm, the steward from the nearby castle, vile as one of Kafka's thugs (and played here with requisite villainy by Daniel Sumegi), taunts Miller and renews his own campaign for Luisa's hand. Miller, one of Verdi's saintlier men, refuses to comply, such is his respect for Luisa's freedom. Count Walter learns of Rodolfo's romance and determines to marry him to Federica, a duchess. When Luisa is blackmailed into declaring that she is in love with Wurm, Rodolfo turns on her with the usual combination of vengefulness and self-pity that we associate with most of Verdi's male characters. Too late, Rodolfo learns of Luisa's sacrifice; by then both of them having sipped the poison that Rodolfo has pathologically served.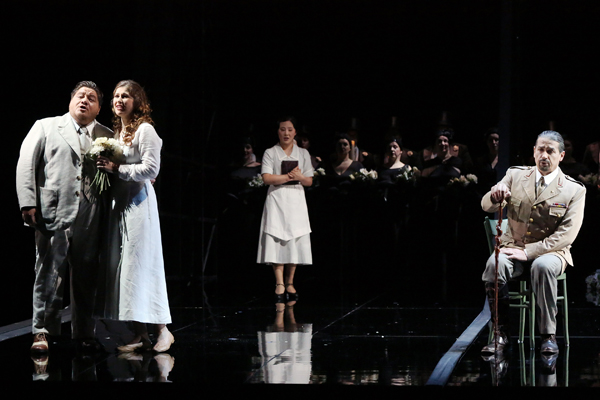 Diego Torre as Rodolfo, Nicole Car as Luisa, Eva Kong as Laura, and Dalibor Jenis as Miller (photograph by Prudence Upton)
Verdi's fourteenth opera is a transitional work. It marks the end of his so-called galley years. This is the first of Verdi's bourgeois dramas; the first to depict middle-class life. Stifelio, another bourgeois opera, followed in 1850, and La Traviata (1853) – clearly prefigured in Luisa Miller – was to revolutionise opera with its contemporary characters and its domestic themes and settings (the opera is set in 1850).
Writing of Luisa Miller in 1859, Abromo Basevi said: 'The grandiose is reduced, or totally abolished, and every character represents only himself. Passion, individualised therefore, does not need so much exaggeration, and so the singer, however impassioned, proceeds more calmly.' Andrew Porter said that with La battaglia and Luisa Miller Verdi enters his second period with 'a new care for the delicate, subtle musical presentation of personal predicaments'.
Interestingly, this bourgeois phase coincided with a new domesticity in Verdi's own life. The farmer–composer of Sant'Agata was becoming a more established figure in the middle class, though his liaison with Giuseppina Strepponi – mother of their two illegitimate children – was attracting obloquy. Strepponi was a kind of traviata, and their affair was scandalising many locals.
William Weaver – a perspicuous Verdian – has cautioned us about overdoing the theory of distinct transitions in Verdi's oeuvre. 'In a sense,' Weaver notes, 'all Verdi operas are transitional, since he was always seeking new paths, trying to discard old formulas, even successful ones.' Listening to Verdi, it is indeed hard to think of another composer so capable of producing discrete and highly characterised soundworlds over such a long period.
From the start, Giancarlo del Monaco's production – a co-production with the Opéra de Lausanne – weakens Verdi and Cammerano's conception by presenting the action as a kind of mournful flashback. During the lyrical and pastoral overture and the strikingly Bellinian opening scene – intended as a festive one with the chorus serenading Luisa Miller on her birthday – the formally attired choristers process solemnly around the stage (a congested and nervous-making exercise on the tiny Sydney stage; it will work better on the Melbourne one). Luisa, meanwhile, lies dead on the tomb she will deliriously strew with flowers two acts later. Sombre retrospection has its limits when the music is as jocund as this. Then Luisa, clambering to her feet, comes to life and Cammerano's drama reasserts itself on the largely empty dark stage which is dominated by three raked panels that rise and fall throughout the night to produce more intimate spaces.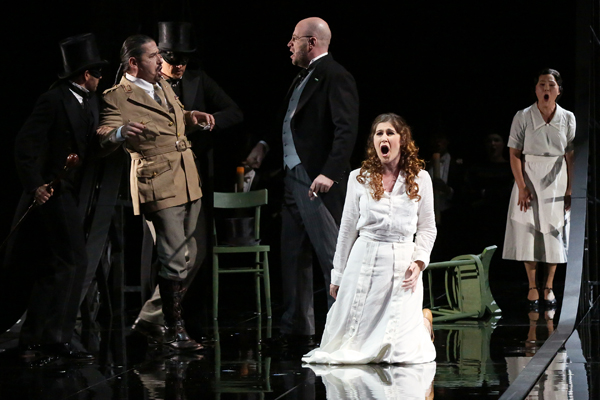 (photograph by Prudence Upton)
At times the production is fussy and over-directed. The symbolism of the numerous empty chairs seems obscure; they just get in the way. When the Count arrives – disdainful of his straying son and heir – there is too much stickery, so to speak, and the Count's malevolence towards his son seems hammy and contradictory. The lighting is stark and not always reliable; at times the principals were stranded in shadows.
Fortunately, del Monaco and revival director Barbara Staffolani have some serious actor singers at their disposal, and with the sole exception of Raymond Aceto (Count Walter) they explore the new naturalism and emotionalism of Verdi's opera and the starker self-realisation of his individual characters. We know from Faust last year and previous roles that Nicole Car is an an instinctive actress. Her many scenes with Rodolfo (Diego Torre), Wurm, the Count, Miller (Dalibor Jenis), and Federica (Sian Pendry) are compelling. Pendry added to her repertoire with a fine Duchess – a fairly thankless role, but made much of here. Of the men, Jenis, an unaffected but affecting actor, left the deepest impression. His big aria in Act One was sung with great steadiness and resonance, and the high note at the end was exemplary.
The score, which won't be familiar to many, is perhaps Verdi's most inventive to date. There is a superb a capella quartet in Act Two, and much of the early singing is lightly accompanied, like the Act One duet between Luisa and Rodolfo. The San Carlo orchestra had a virtuoso clarinettist, and the solo clarinet is highlighted throughout Verdi's score. The orchestra, ably conducted by Andrea Licata, played well all night.
Luisa Miller abounds in melodic arias, duets, and ensembles. We wait until Act Two for the most famous of the arias: Rodolfo's 'Quando le sere al placido'. Here, inexcusably, the director repeats the heavy-handed choral procession across the stage, obscuring Diego Torre for much of the aria. Verdi might well have been satisfied with this aria. Whom would he have wanted us to watch, the tenor or a silent, interpolated chorus? But Diego Torre, ignoring the distraction, sang the exquisite aria with great power and ringing notes, illustrating why Boito said of it: 'Ah, if you know the kind of echo and ecstasy that this divine cantilena awakens in the soul of an Italian.' Mostly Torre was in fine voice on the night, though his habit of attacking high notes from below was more pronounced on this occasion.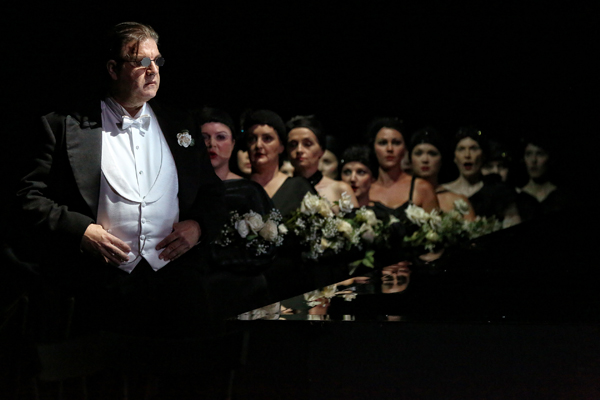 Daniel Sumegi as Wurm with chorus (photograph by Prudence Upton)
This was comprehensively Nicole Car's night. She returns from a successful début at the Royal Opera House, where she sang Micaela and Tatyana (in Kasper Holten's unhappy production of Eugene Onegin, in which Car has been seen here twice). Most noticeable is the added volume and total security at the top. Luisa – a precursor of Violetta – has some gorgeous music and much testing coloratura, in what is very much an opera for basses and baritones. Car is never eclipsed in the many ensembles, and during certain duets – especially those with Torre and Jenis – she seemed to inspire greater vocal feats from her partners. Like many of Verdi's heroines, Luisa is an unconscionable time dying, and the final scene can drag a little, but here it was done with real ardour and emotion.
Opera Australia has presented some fine sopranos since Joan Sutherland's final years with the company, but Nicole Car has all the qualities of an international star of the top rank. For a singer just turned thirty to essay her first Verdi heroine with such flair and attack, and to more than match the combined bass-baritonal and orchestral resources, is unusual and very auspicious. It's wonderful to contemplate what Car might achieve in the next twenty years. The performances opposite Jonas Kaufmann that will surely follow are likely to be fiery engagements. It's interesting, too, to note the way Car is shaping her career. She has declared that, much though she longs to sing Tosca and Elisabeth de Valois, she is not ready for those demanding roles. Next year she returns to the Dallas Opera, where she has previously sung the Countess in Figaro. This time she will sing Adalgisa, which she has already sung for Victorian Opera. It is an interesting choice. Norma's rival is usually sung by a mezzo, but Car's middle voice is very secure, and there are times when, timbrally, she reminds us of the great Agnes Baltsa. Poor wooden Pollione and Bellini's supreme heroine will have to be on their metal in Dallas.
Luisa Miller, composed by Giuseppi Verdi, directed by Giancarlo del Monaco, for Opera Australia. Season continues at the Joan Sutherland Theatre, Sydney Opera House until 29 February 2016 Performance attended: 13 February.
Note:
Arts Update also recommends Nicole Car's new (first) recital disc, The Kiss (ABC Classics). Accompanied by Andrea Molino and the Australian Opera and Ballet Orchestra, Car, who includes arias by Mimi, Marguerite, and Micaela, seems particularly at home in the Slavic repertoire. The Lullaby from Smetana's Hubička (The Kiss) is hushed and tender, and Car's engrossed 'Song to the Moon' will give other lustrous versions a run for their money. Do not miss the crowning E-flat from the Thaïs aria that completes the recording. In the words of the Shocking Blue song 'Venus', 'Yeah, baby, she's got it.'
Arts Update is generously supported by The Ian Potter Foundation.