Dance
Last Work (Batsheva Dance Company) ★★★★1/2
Performances by Batsheva Dance Company involve more than movement and choreography. Behind each production is a philosophy, markedly different from the vocabulary, tics, and motifs we expect from choreographers. Ohad Naharin has introduced a revolutionary aspect to the company to which he has belonged for forty-one years (he has been artistic director since 1990). This feature, the system and language of Gaga, intensifies the sense of autonomy among the dancers and also the way they work in unison. Gaga stresses the importance of listening to one's body and its rhythms; the results provide a unique aesthetic and an overall balance.
First, before I talk about the recent performance at the Melbourne Festival, a personal detour. In early 2015 I attended a studio work in Perth at Strut Dance. This involved approximately twenty-five young dancers who had spent ten days or so being schooled in the Gaga vocabulary by a Batsheva trainer. It was exhilarating – unlike anything I had ever seen. The power of the bodies presenting themselves with a heightened confidence that came from their own physical and somatic nervous systems demonstrated the experience, as Naharin puts it, of 'freedom and pleasure'. They were powerful monsters who could leap, personify trauma, and operate in relation to one another, understated and hysterical and even huge as required.
Back to the main stage, then, with the full company. Some people, possibly less passionate than myself about the world that opens up through contemporary dance, may struggle to understand this heightened emotionality and rich abstraction. My advice would be not to fixate on comprehension as the dominant task, but to look for universal gestures and movements and for what seems 'alien'. When the work is good, as it was here, Naharin gives sufficient markers as to what is going on in this choreographed movement.
In Last Work, it is all about the articulation of limbs and the referring gestures from dance history and from nature. Movement includes these descriptors: vulnerable, primal, ancient. There is neurosis and drama. In part this is suggested at the outset by the woman with a long plait and a striking corn-blue dress who occupies a corner upstage in a smooth and elegant run (on a machine) that continues throughout the seventy-minute performance – a kind of leitmotif of consistency, beauty, and physicality.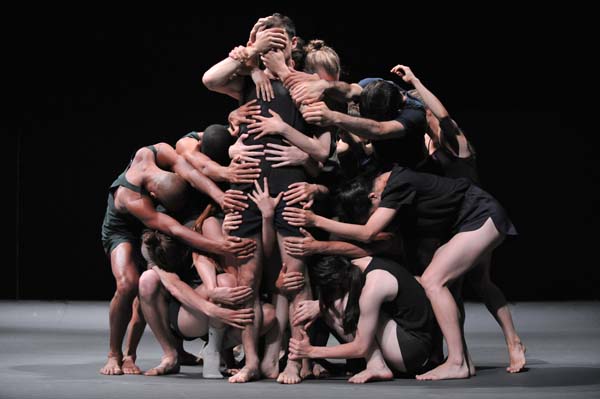 Batsheva Dance Company's Last Work (photograph by Gadi Dagon)
It is a wild ride full of tension, with eighteen dancers onstage. In Batsheva works, dancers often strip, and in one instance here contrasting replacement clothing includes black rabbinical robes alongside sexy white underwear; other opposing imagery include that idea of the sacred with the propulsion of cycling legs by dancers on their backs. Are these to undercut each other, or are they working independently? It doesn't seem to matter given the rang of activity onstage. To paraphrase Naharin, it is all about how balance is created by oppositions, considering force and its opposing force.
This is evident throughout Last Work with the play between abjection and its opposite, which, in some cases, can turn to hysteria. There is a tableau reminiscent of the terrified faces of the victims at Pompeii. Another one combines the sound and propulsion of trains with another set of haunted faces, a too-familiar twentieth-century image.
The final scenes of militaristic violence – some kind of insurgency – culminates in a painful attempt at cohesion with gaffer tape used to physically connect the performers. The perpetual runner, who had remained detached from the rest of the company, is brought into the fray. A white flag is forced into her hand and gaffer tape attached to her shoulder and waist.
What is most evident at the end is that Last Work contains an entirely original set of ideas that are articulated differently in every performance. Differently because of the somatic and psychological responses of the audience as well as those of the dancers. That is where narrative resides in a work such as this: intimate as well as primal.
I saw Decadance, also part of Melbourne Festival's program, at an earlier Australian tour in 2014. It was another wild ride, this time across Naharin's earlier Batsheva work: a sort of 'greatest hits' program, a magnificent insight into his thinking and into the transformative power of Gaga.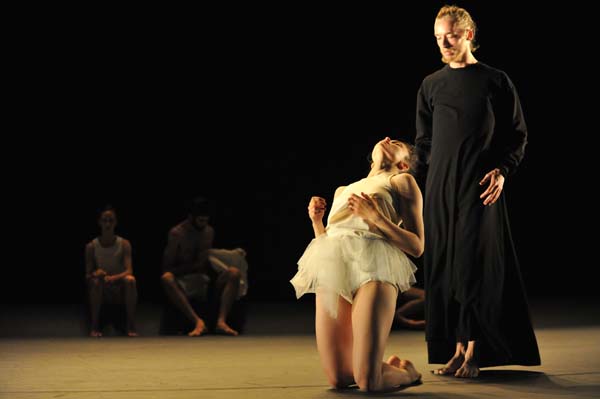 Batsheva Dance Company's Last Work (photograph by Gadi Dagon)
Batsheva Dance Company was created in Tel Aviv in 1964 by Baroness Batsheva de Rothschild, who recruited Martha Graham as its first artistic adviser. Ohad Naharin joined the company ten years later as a dancer. It cannot be an easy path, even with such support and artistic integrity, to operate in a contested space such as Israel and to become an international success. I yearn for the next opportunity to be in one of their audiences.
Last Work, Batsheva Dance Company, choreographed and directed by Ohad Naharin, Melbourne Festival, Saturday 17 October and Sunday 18 October 2015. Performance attended: 17 October.
Arts Update is generously supported by The Ian Potter Foundation.