Theatre
Desdemona (Melbourne Festival)
'What's in a name?' asked Juliet. Desdemona, like the rose, might have been called anything else and retained the same meanings. But for us, as we are reminded at the beginning of Desdemona, the name has become synonymous with misery and doom. The speaker is Desdemona herself. How can this be? If we know anything else about her, it is that Othello murdered her within hours of the consummation of their marriage.
Well, in this production – a kind of play with music, though perhaps concert with words would be more accurate, directed by Peter Sellars with text by Toni Morrison and songs and lyrics by Malian singer–songwriter Rokia Traoré – Desdemona speaks to us from an imagined afterworld. She is joined by her companion Emilia, another victim of a murderous husband, as well as by Othello himself, still tormented by the grief and remorse that led to his suicide. Tina Benko is the conduit through which each of these characters addresses us directly (including Othello, though Benko's deployment of a strong African accent makes for somewhat uneasy listening, recalling in its apparent sincerity the play's history of blackface).
This eternal home contains another, unexpected occupant: the character whom we (barely) know, in Shakespeare's play, as Barbary. Here she is called Sa'ran. We meet her for the first time, channelled by Traoré alongside Benko's Desdemona in one of Morrison's most intriguing conceits: the mirroring of the customary racial configuration of Othello and Iago's relationship (the largest part in Othello, Iago is a negligible presence in Desdemona, underscoring Morrison's feminist critique, which reframes the character's villainy as patriarchal rather than existential in nature).
In Othello, Barbary/Sa'ran warrants only the briefest of mentions at the outset of Act IV, when we learn that Desdemona's mother had a maid with this name and that she taught Desdemona the mournful Willow Song. The song itself is well known – introducing a haunting sense of fatalism into the play, it memorably portends Desdemona's broken-hearted doom – but what, if anything, do we know of the woman behind it?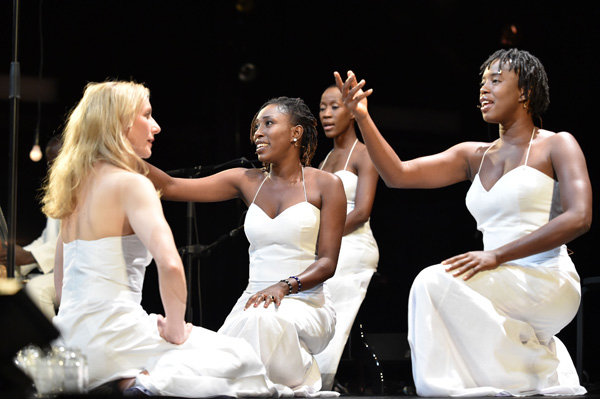 Tina Benko as Desdemona and Rokia Traoré as Barbary with Fatim Kouyaté andVirginie Dembelé (photograph by Jim Lee)
Hooking into the African associations of the name Barbary, Morrison's text – more lyrical than dramatic, unsurprisingly for a writer who is for the most part a novelist – gives voice to both the black and female characters Shakespeare marginalised or muted altogether. Othello, too, is lent new dimensionality, namely in the form of an interior life that Shakespeare, unlike with, say, Hamlet, largely left him without. In this way, all sorts of gaps in the play of Othello are filled in.
As one example, we hear for the first time the particulars of Desdemona and Othello's first, and only, night together. While not exactly revelatory – incongruous clichés like Desdemona's 'it was as though we'd known each other all our lives' don't help – such detailing humanises their relationship and moves us closer to their tragedy, one that A.C. Bradley described as 'the most painfully exciting and the most terrible' in all Shakespeare.
'Benko's deployment of a strong African accent makes for somewhat uneasy listening, recalling in its apparent sincerity the play's history of blackface'
Of equal interest is the intersectionality of Morrison's text, the opening up of not only questions of gender and race, but class too. In the process, we are given a flawed Desdemona who, whatever her feminist credentials, remains (at least initially) oblivious to her own privilege as the white-skinned daughter of a senator. Sa'ran lambasts Desdemona's naïveté in assuming they were friends back in the world of the living – 'You didn't even know my name,' she says with both anger and sadness in her voice. It is a lament for Desdemona's wrong-headedness, yes, but also for the invisible apparatus of inequity that separated them – and, by extension, continues to separate in contemporary America.
Nevertheless, Morrison's text makes it clear that Desdemona's affection for the woman she knew as Barbary was a guiding influence in her life. It is not so much Othello's tall tales – 'of the Cannibals that each other eat, the Anthropophagi, and men whose heads do grow beneath their shoulders' – that made the Moorish general stand out from among Desdemona's many suitors, but the memories they stirred in her of the stories and songs Barbary taught her as a child. It is a charming idea, albeit one that is oversold in Desdemona and Barbary's too neat and rather sentimental reconciliation.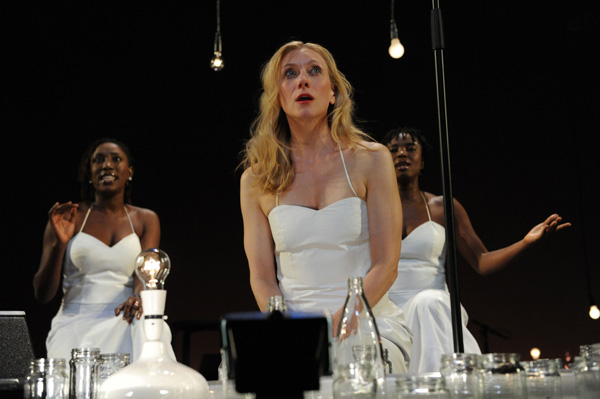 (photograph by Jim Lee)
Not all of the text is like this – there are moments of shocking brutality, such as when Othello recounts his raping of two old women while a young boy was left alive to watch – but it often lacks subtlety, betraying perhaps Morrison's (understandable) impatience with the continuing oppression of women, people of colour, and the economic underclass that she observes in her own time and place. Though impressive in its physical and vocal range, Benko's broad, somewhat overembellished performance seems to amplify this didacticism.
'Othello, too, is lent new dimensionality, namely in the form of an interior life that Shakespeare, unlike with, say, Hamlet, largely left him without'
Contrastingly, the simply rendered set – a series of African mourning altars strewn with glass jars and bottles and lit by overhanging light bulbs – lends the production a pleasingly minimalist aesthetic. Traoré's songs, sung in her native Bamanan, are sparse, defying our expectations of African music in their melodicism and lack of percussion. Playing a modified acoustic guitar, her accompanists are not the familiar drummers but vocalists Fatim Kouyaté and Marie Dembelé, and musicians Mamah Diabaté and Toumani Kouyaté, who, respectively, play the n'goni and the kora, stringed instruments used widely in West Africa. This exquisite soundscape, meditative and elegiac, is held together by Traoré's rich, bluesy voice. The atmosphere generated is ritualistic, a reckoning with the dead that is ultimately pacific rather than vengeful. This, after all, is Desdemona's explicit prayer – for all the killing to end, for all of humanity to share her disgust at violence and war.
In the end, Desdemona cannot forsake Othello, but she cannot forgive him either. This is a powerful dialectic, deeply human in its contradictory impulses, that shows Morrison's true strength as a writer – not as a polemicist but as a sharply observant witness to life's complexity. It is this complexity she gives back to Othello, a play that, perhaps more than any other by Shakespeare, remains beset by interpretative barnacles. How good it is to see them chipped away, the aftermath of tragedy revealed.
Desdemona, written by Toni Morrison and directed by Peter Sellars, with music and lyrics by Rokia Traoré. Melbourne Festival 16-19 October 2015 at Southbank Theatre, the Sumner. Performance attended: 19 October.
Arts Update is generously supported by The Ian Potter Foundation.