Television
The Beautiful Lie
'All happy families are alike, but an unhappy family is unhappy after its own fashion.' The famous opening line of Anna Karenina is thematically relevant to arts and culture the world over. Audiences are endlessly fascinated by the vicissitudes of the family unit. As an inherently domestic medium, television has a particularly lively relationship with the family. So it is no surprise that yet another television adaptation of Anna Karenina has appeared. What is curious is that this version (which airs on ABC over the next six weeks) is set in contemporary Melbourne.
Leo Tolstoy's plot is the scaffolding on which this distinctively Australian family drama is built. After a chance meeting with another man, wife and mother Anna Ivin (Sarah Snook) becomes aware of her dissatisfaction with her seemingly perfect marriage to Xander (Rodger Corser). By the end of the first episode, Anna and young music producer Skeet (Benedict Samuel) have commenced a love affair, which upheaves their immediate families and the community at large.
In the first three episodes, connections are built and severed across Anna's tight-knit clan. Her brother Kingsley (Daniel Henshall) is caught philandering with the au pair by his wife Dolly (Celia Pacquola). Dolly's younger sister Kitty (Sophie Lowe) announces her engagement to Skeet, loses his affection, and warms to family friend Peter (Alexander England). Peter, meanwhile, is dealing with his alcoholic brother, played by the ever-amusing Dan Wyllie.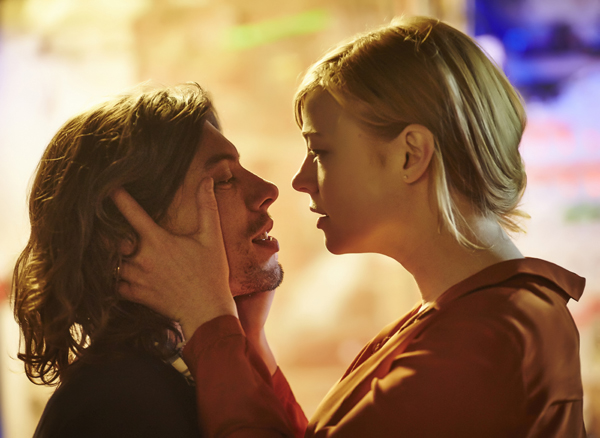 Benedict Samuel as Skeet and Sarah Snook as Anna (photograph by Ben King)
The Beautiful Lie is family-centric, but like Tolstoy's classic it isn't exactly family-friendly material. The requisite sex, the abandonment of children, and the central titular deceit are on display across the first three episodes. Before the initial opening credits – an unsubtle collection of images from Anna's life that flash before our eyes – a voiceover informs the audience of Anna's inevitable demise. Granted, this is a 150-year old spoiler.
'The Beautiful Lie is family-centric, but like Tolstoy's classic it isn't exactly family-friendly material'
While anyone familiar with the source material will no doubt play a game of literary bingo across all six parts, the creators of The Beautiful Lie are to be commended for their ambition. Writers Alice Bell and Jonathan Gavin rework the central conceit deftly, altering the well-worn adultery trope and class commentary of Tolstoy's book into a look at celebrity tabloid voyeurism. Positioning Anna and Xander as a pair of retired high-profile tennis players, their private relationship is weighted by public interest. Given the godlike status attributed to sports stars in Australia, a marital breakdown between well-known athletes would be imbued with significant media speculation. This is an interesting take on the societal norms and gossip-fuelled Russian aristocracy of Anna Karenina.
The show also offers fine performances from some well-known local actors, including a supporting cast that includes Catherine McClements and Gina Riley. As always, Snook and Corser are marvellous to watch; their physical embodiment of the palpable tensions between Anna and Xander is laudable. Likewise, Pacquola and Henshall bring life to characters Dolly and Kingsley in a way that injects pleasure into a show that could be overwhelmed by misery.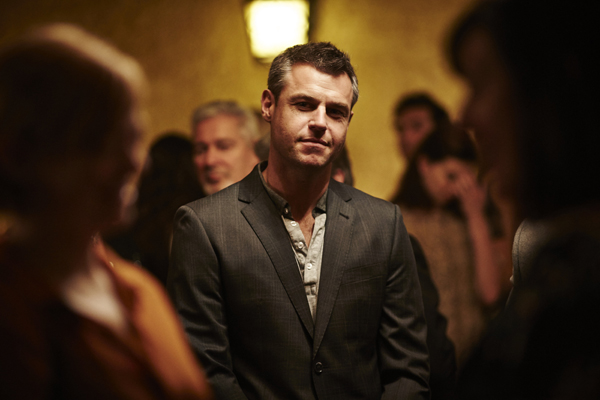 Rodger Corser as Xander (photograph by Ben King)
At times, The Beautiful Lie's savviness is heavy-handed; it is full of loquacious dialogue that errs on the side of pretension and overt symbolism that, when depicted on screen, has a distancing effect. Likewise, you might ask how much you should care about the apparent pleasure and pain of the over-privileged few as they swan around their sleek estates. Even Skeet – the artistic womaniser – lives in an empty mansion, where the depiction of an artistic life feels as contrived as the slow-mo shots used in the sex scenes or emotional moments.
The first three episodes bear the authorial stamp of producers Imogen Banks and John Edwards. The strong use of voiceover, whimsy, and complicated family politics in The Beautiful Lie speaks to Banks and Edwards's previous successes: Showcase's Tangle (2009–12) and Network Ten's Offspring (2010–15), a show so loved it has been resurrected and will return to our screens next year.
'As always, Snook and Corser are marvellous to watch'
These obvious comparisons make the construction of this content feel both smart – in its cross-genre audience appeal – but also a little confused and lacklustre, particularly Anna's instructive voiceover. 'Is it really possible to tell someone else what one feels?' Anna muses toward the end of Tolstoy's novel – a somewhat ironic line given the show's reliance on internal reflection and exposition.
Tolstoy's 800-page novel is as riveting as it is exacting; the sheer density (and at times tedium) is part of the gratification in completing the tragedy that spans eras in its navigation of personal and familial, social and self-inflicted drama.
The Beautiful Lie may not become a canonical work, but it is a solid family drama. While it may not rival the pleasures of spending weeks with a literary masterpiece, over the next six weeks it may just seduce you.
The Beautiful Lie (M), written by Alice Bell and Jonathan Gavin and directed by Glendyn Ivin and Peter Salmon, screens on ABC TV from Sunday, October 18 (8.30 pm).
Arts Update is generously supported by The Ian Potter Foundation.