Opera
Michael Halliwell reviews 'The Rabbits' (Opera Australia/Barking Gecko Theatre Company)
Australia is being overrun by a rabbit phenomenon, but not of the annoying, four-legged variety. It's The Rabbits: the opera, the musical, the song cycle, or what? Does it matter?
Premièred to highly positive reviews at the Perth Festival in February this year, it has now reached the Melbourne Festival. Some have seen in the success of this work the possible salvation of opera in Australia, but it is too early to say whether the piece might be the harbinger of new works that successfully straddle the generic divide between opera and musical theatre. There are many works that sit somewhat uneasily on the fence between the two genres: Leonard Bernstein's Candide is a work that garnered much critical acclaim when first performed in 1956, as well as a rather less effusive reception from many in the operatic establishment. Bernstein's music was described sniffily by some as a pastiche of musical styles, and he does incorporate a wide range of different musical idioms to suggest Voltaire's eighteenth-century setting. Candide's performance history is a study in the almost continuous re-working and even re-imagining necessary to find the final form it might take.
It is perhaps not too fanciful to see some similarities between Candide and The Rabbits. While based on vastly different sources, they aim at their particular targets through allegory leavened with humour. The Rabbits is also a mélange of musical styles and idioms, but is very much a piece of its time, our time. Interestingly, both works have a central, high-soprano character – most memorably in Bernstein's work, Cunegonde, who has the ever-popular show-stopping number 'Glitter and be gay' – and in The Rabbits the phenomenal voice of Kate Miller-Heidke as 'Bird'.
The Rabbits is based on the popular children's book by artist Shaun Tan, and novelist John Marsden. The text of the original book, coming in at less than 300 words, has been cleverly expanded by librettist Lally Katz, taking up implicit themes in Marsden's text and building a drama around them without radically changing the narrative arc of the book. As a picture book, much of its 'meaning' lies in Tan's detailed, often beautiful, yet frequently surreal and disturbing images. These have been effectively transferred into a powerful stage picture and highly distinctive costumes by Gabriela Tylesova, incorporating much of the striking visual material from the book.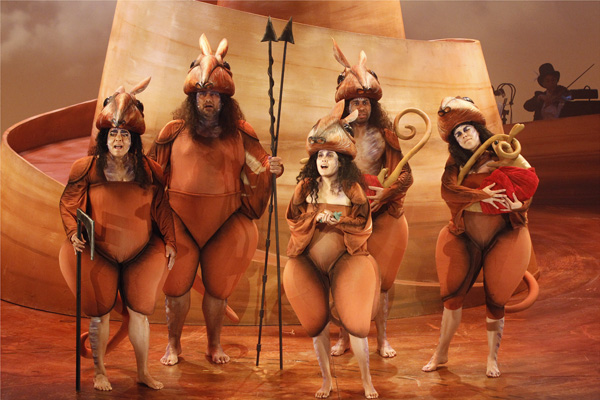 (photograph by Jeff Busby)
'Some have seen in the success of this work the possible salvation of opera in Australia'
While there is a narrative of sorts running throughout the work, it is essentially a series of tableaux which capture different stages of invasion, confrontation, and dispossession – it could be Australia, but might be elsewhere as well. All this might sound like a rather 'worthy' hour or so in the theatre, but far from it. There is tremendous energy onstage, and the cast of eleven performers and five in the band provide entertainment that has humour and pathos, never flagging for a moment. Literally towering over the action is Miller-Heidke, the narrator of events but impassioned observer as well. Her vocal line is a mixture of extended bird-calls with sometimes stratospheric swoops and trills, as well as moments of pure 'pop diva' vocalisation; but predominantly it is a form of vocal utterance that is operatic. She has a voice of great beauty with warmth and colour when needed, but with the high-flying agility of the best of the bel canto. A riveting vocal performance. And she wrote the music!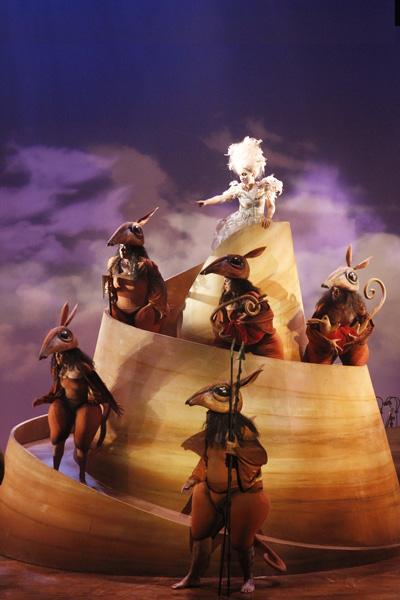 (photograph by Jeff Busby)
It is invidious to single out any of the other performances, but Kanen Breen as a deranged scientist glides effortlessly from his natural tenor range to a threatening counter tenor. The rabbits possess the operatic voices: Nicholas Jones, Christopher Hillier, Simon Meadows, and Robert Mitchell – and a fine male crew they are, giving weight to the many ensembles of the work, yet possessing distinctive individuality when necessary. They provide most of the comedy and humour of the work, with moments of pure Gilbert and Sullivan mixed with Offenbach. The voices of the marsupials are from musical theatre and pop, and the five singers reveal a wide range of emotional intensity. Marcus Corowa and David Leha have vocal weight and dignity, while Hollie Andrew, Jessica Hitchcock, and Lisa Maza tear out your heart with their plangent tones. The 'Kite Song' they sing, concerning the stolen children, is immensely moving and beautiful. The final layer of music is provided by Miller-Heidke's at-times otherworldly vocalisations.
The music is a mash-up, in the best sense of the word. One might describe it as sampling a wide array of musical idioms but without it feeling like crude pastiche or parody, except where the broad comedy calls for it. The band of five is very much part of the action. Visible at all times, in quasi-eighteenth-century costume, they occasionally emerge into the action, reminding one in both sound and visual effect of a slightly demented Klezmer band. Mention must be made of the musical arrangements of Iain Grandage. As he showed in his recent opera, The Riders (2014), he has a theatrical and musical instinct that is unerring and always to the point.
'The Rabbits is also a mélange of musical styles and idioms, but is very much a piece of its time, our time'
So does the work have 'legs'? One's immediate sense is that it is a piece almost ideally suited for productions in festivals. This is where it has found its home thus far: Perth, Melbourne, with Sydney to come. At just over an hour, it is a good fit for a festival program, but a little more problematic to program as a stand-alone work in an opera season. Perhaps a double bill with another work, but as all opera companies know, double-bills are notoriously hard to sell unless they are Cav and Pag.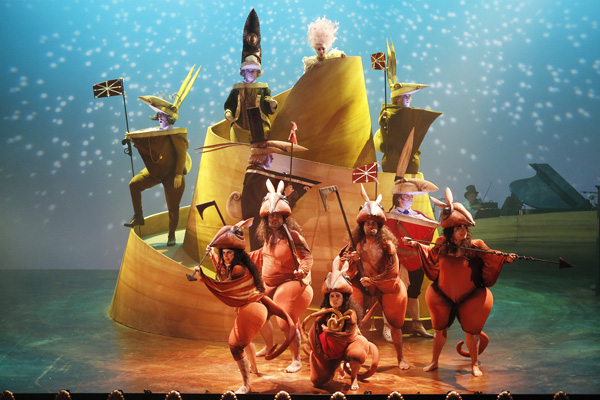 (photograph by Jeff Busby)
The closing moments of the work are intensely moving. Starting with a beautiful solo for Miller-Heidke, 'Now the land is bare and brown. And the wind blows empty across the plains', all the voices join: 'Where is the rich, dark earth, brown and moist?' Marsden's final words from the book, 'Who will save us from the rabbits?', is an open-ended question, pertinent to all of us. Fittingly, the potential bleakness of the words is counterpointed by music and the visual image on stage: it is the final picture from the book of a rabbit and a marsupial gazing into a reflecting pool of water, and then at each other. Food for thought, indeed.
The Rabbits, composed by Kate Miller-Heidke, directed by John Sheedy, with musical direction by Iain Grandage. An Opera Australia and Barking Gecko Theatre Company co-production in association with West Australian Opera, performed in the Playhouse, Arts Centre Melbourne from 9 to 13 October 2015. Performance attended: 11 October.
Arts Update is generously supported by The Ian Potter Foundation.