It has been said we get the versions of Shakespeare that mirror our times. If so, it is chilling to speculate what Australian director Justin Kurzel's take on Macbeth, the story of a loyal warrior who succumbs to the temptation to commit regicide, says about the current state of the world.
Macbeth, Shakespeare's darkest and bloodiest tale, has been adapted for the screen many times. In the process, like all interpretations of Shakespeare's work, it has become a text into which directors project themselves. These include Orson Welles's 1948 low-budget Hollywood version, shot in twenty-three days on sets left over from Westerns made by its distributor, Republican Pictures; Roman Polanski's post-Summer of Love 1971 rendition, infused with the trauma associated with the murder of the director's wife at the hands of the Manson Family; and Geoffrey Wright's bizarre 2006 interpretation set in gangland Melbourne, complete with a trio of delinquent schoolgirls as the witches.
Disturbing though many aspects of these films are, they pale in comparison to the hellish world Kurzel depicts. Kurzel begins the story in the lead-up to the battle in which Macbeth (played by Michael Fassbender) and his faithful lieutenant, Banquo (Paddy Considine), defeat forces disloyal to King Duncan (David Thewlis). Macbeth's soldiers, weary after a long campaign look on in horror at the reinforcements sent by Duncan to assist them, little more than children in their oversized armour, awkwardly holding weapons too large for them. The ensuring encounter is incredibly brutal, much of it shown in slow motion to emphasise the carnage.
After the battle, Macbeth and Banquo encounter the witches scavenging among the fallen soldiers. They prophesise that Macbeth will become king of Scotland. Initially sceptical, he travels back to his village, where he and Lady Macbeth (Marion Cotillard) hatch their plan to make the witches' words reality.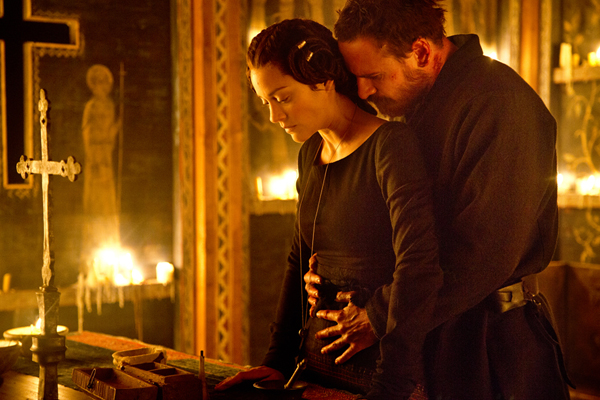 Marion Cotillard as Lady Macbeth and Michael Fassbender as Macbeth
The opening battle is just one of many events in the original story in which Kurzel ups the ante in terms of the violence. The murder of Duncan in his bed is depicted in all its gory intimacy. Banquo's slaying by Macbeth's assassins is a similarly brutal affair, while the final confrontation between Macbeth and Macduff (Sean Harris), becomes an extended scene in which the two slash and hack at each other, before Macduff eventually prevails. Interestingly, Lady Macbeth's is the only death in the film not shown in grisly detail, lending ambiguity in terms of who or what is responsible.
'It is chilling to speculate what Australian director Justin Kurzel's take on Macbeth ... says about the current state of the world'
It is tempting to view Macbeth through the prism of Kurzel's first feature, Snowtown (2011). Snowtown is based on the real-life murder of twelve people in Adelaide's depressed northern suburbs between August 1992 and May 1999. The crimes were discovered when the remains of eight of victims were found in barrels of acid in a disused bank building. The victims had been tortured. The killers obtained their social security and bank details, which they used to collect their welfare benefits after their deaths. Despite Snowtown's grim subject matter, most of its violence occurs off-screen. Macbeth feels like it owes as much to Game of Thrones as to Shakespeare. This is not meant as a criticism, more a warning that parts of the film are not for the faint-hearted.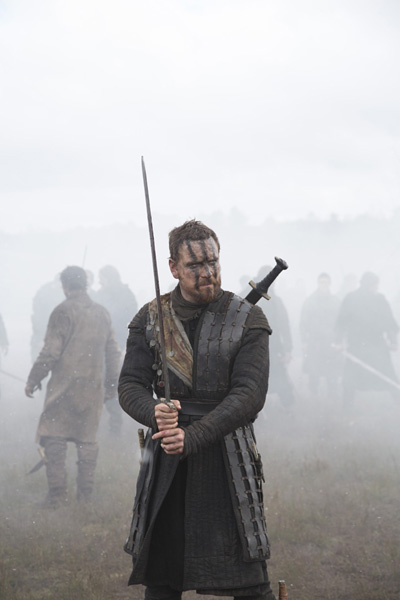 Michael Fassbender as Macbeth
Overall Macbeth, Kurzel's second feature is an impressive effort. No doubt, part of this can be attributed to the prowess of his two leads. Fassbender is perfect as the brooding, unhinged Macbeth and Cotillard gives an understated performance as Lady Macbeth, a woman contending with her own demons. The two share palpable chemistry. The collaboration must have worked for all concerned, as Kurzel is currently putting the finishing touches on another movie featuring Fassbender and Cotillard, Assassin's Creed, based on the popular video game, due out in 2016.
The movie is further elevated by the all-encompassing sense of place Kurzel creates. The director has spoken about his desire to be as faithful as possible to the reality of eleven-century Scotland. With the help of production designer Fiona Crombie, who worked on Snowtown, they have created a world that looks realistic and feels lived in. Director of photography Adam Arkapaw, another Snowtown alumni, is to be congratulated for making the most of the shooting locations, particularly Scotland's bleak, snow-capped mountains and desolate moors.
'Macbeth feels like it owes as much to Game of Thrones as to Shakespeare'
Kurzel's interpretative flourishes and tweaks not only generate tension but they add impressive texture and interest. The film's very opening shows Macbeth and his wife presiding over the funeral of what is obviously their young child. They are clearly traumatised by the death – motivation, perhaps, for their subsequent actions. The short and brutish life of children is a constant theme. Children are both victims of, and bear witness to, the bloody crimes of the adults around them. There are the child soldiers slain in the opening battle, one of which reappears to Macbeth at various points in the story. Kurzel focuses on the look of utter terror on the face of Banquo's son as his father is slaughtered. Macduff's wife and three children are captured and Macbeth watches impassively as they are burnt alive.
It is horrid stuff. But then so too was the image of drowned three-year-old Syrian boy, Alan Kurdi, face down in the sand on the coast of Turkey. It is proof, for those who seek it, that Shakespeare's work holds its relevance, allowing us to reflect on events, good and bad, in contemporary society.
Macbeth (MA15+), directed by Justin Kurzel, distributed in Australia by Transmission Films, is in cinemas from 1 October 2015.
Arts Update is generously supported by The Ian Potter Foundation.