Film
Peter Kenneally reviews 'Holding the Man'
Timothy Conigrave would surely have been delighted that Neil Armfield's film of his much-loved book Holding the Man (1995) is being released at exactly the moment that Tony Abbott is conducting his farcical elephant waltz around the issue of same-sex marriage. Tommy Murphy's play of the book in 2006 resolved Conigrave's matter-of-fact but poignant text into its essential elements: love, humour, pain, religion, and acting. His screenplay for this film, with Neil Armfield's direction, takes a further step and adds the cinematic dimension of simply being.
The story is simplicity itself: Timothy Conigrave and John Caleo fall in love as teenagers at school in 1976, are parted and rejoined more than once, both eventually falling ill with Aids. This has terrible consequences, but their love is undying. Armfield has said that in directing film, as with theatre, his aim is to hold a space for the actors to do the work, in this case to show what it was like to be these people at these times. He and cinematographer Germain McMicking have fulfilled this aim in almost every scene of Holding the Man.
A great example of this is Luke Mullins's electrifying portrayal, in one short scene, of a dying Aids sufferer, fading into dementia. The Kurtzian nature of his delusions, and the naked terror on Tim's face as he interviews him, echo through the film. Ryan Corr, as Conigrave, is in almost every scene of the film, and holds the space steadily, demonstratively, so that by the end, just as the book does, he has shown what there is to show, holding nothing back, making no excuses.
The film's episodes leapfrog and double back on each other, from decade to decade, enabling a degree of revelation and tension in a film with, essentially, no plot. The skill and attention to detail shown at all levels in doing this is admirable: the 'period' aspects, from 1976 to 1990, are meticulously rendered, without being kitsch, the soundtrack perfectly judged. There is some suspension of disbelief required in the early scenes, when the boys seem squeezed into their school uniforms, but this is soon forgotten. Each episode, set in its particular time, has its own arc, merging with and as complete as the next, and for a film of over two hours there are very few slack or unnecessary scenes. It can also turn from tragedy to comedy on a sixpence.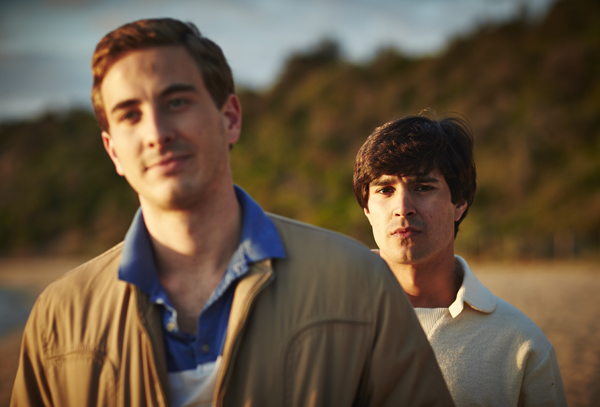 Ryan Corr as Timothy Conigrave and Craig Stott as John Caleo in Holding the Man
Armfield and Murphy also know when to build on the raw material. The star-crossed lovers atmosphere of the boys' first meeting and falling in love is overtly framed by their Catholic school's (actual) production of Romeo and Juliet, in which Timothy plays Paris, while after parental discovery and separation, their (fictional) kiss through the fly-screen window of John's bedroom conjures up both Pyramus and Thisbe and the confessional. Holding the Man is a long long way from being an art film, but it contains enough artifice to reward every impulse to contemplation.
'Armfield and Murphy also know when to build on the raw material'
John's father (Anthony LaPaglia), helplessly loving his son but unable to accept John's sexuality, sets the tone for the emotional axis of the film, along which he and Timothy seem locked in a struggle for John's soul: the characters, to the end, exist within the Catholic universe that has formed them. LaPaglia's performance is quite astonishing: however wrong this father's actions, the purity of his feelings almost makes them comprehensible. He sometimes seems to be drawing the whole film into himself, to be able to continue in a world he can no longer fathom. The acceptance shown John and Tim by their friends, Tim's parents, and even Mrs Caleo, only seems to increase his pain.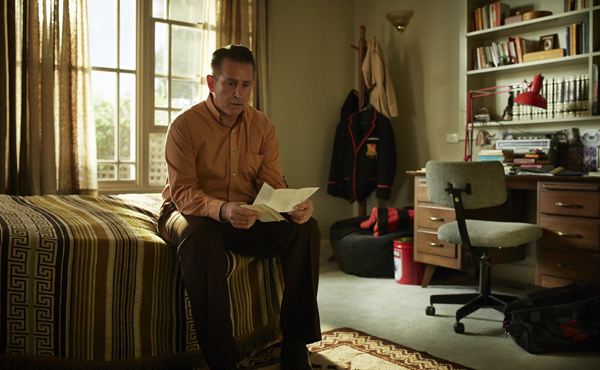 Anthony LaPagalia as Bob Caleo
Guy Pearce, as Tim's father, pales rather by comparison, and Pearce has the discomfited air of someone who has not quite been given enough to do. Timothy's mother (Kerry Fox) is in the same boat, except for one scene where she and Tim prepare vol au vents for a wedding while he tells her he has Aids. The minutely observed physical actions in this scene are exquisite, building to one heart stilling gesture. From this point on, Craig Stott, as John Caleo, seems to become more and more luminous as he becomes sicker and sicker, his passivity a kind of apotheosis. The film moves onto a heightened plane, rather like a classic Hollywood weepy, except that there is no absurd plot, no saccharine. Still, Stott occupies the screen like Joan Fontaine might, or, when his hair is shaved off, like a less tormented version of Dreyer's Joan of Arc. He exists, very simply, as a focus and a source of love, while around him the story is told, directly, painfully, and always with humour: a romance, a documentary, a prayer.
Holding the Man, directed by Neil Armfield, scripted by Tommy Murphy, from the memoir by Timothy Conigrave, is in cinemas from 27 August 2015.