Theatre
The Present (Sydney Theatre Company)
In 1881, armed with the confidence of youth, the twenty-one-year-old Anton Pavlovich Chekhov fronted up to the Maly Theatre in Moscow, at that time one of the foremost theatres in the world, in order to present its leading actress, Maria Yermolova, with a copy of his recently written and probably first play. The great lady promptly returned the manuscript, which the disappointed young author equally promptly destroyed. However, to quote Bulgakov's devilish Woland, 'manuscripts don't burn', and in the 1920s an earlier version of the play was discovered in a bank vault. This is a rambling untidy work that, if played in its entirety, would take over four hours to perform. The title page, if it ever had one, is missing, and it is usually presented under the name of its protagonist, Platonov.
Over the years, there have been several attempts to make the piece theatrically viable. In England playwrights of the calibre of Michael Frayn and David Hare have presented adaptations, and in the 1970s the Russian director Nikita Mikhalkov made a magnificent, if very loosely adapted, film Unfinished Piece for the Player Piano.
Unlike Chekhov's mature plays, in which plot is almost non-existent and major events happen off stage, Platonov has a storyline that makes Il Trovatore look like the picture of clarity. Platonov is an early version of a character who appears repeatedly in Chekhov's work. Nabokov describes this character as a man 'with an almost ridiculous inability to put his ideals and principles into action … knowing exactly what is good, what is worthwhile living for, but at the same time sinking lower and lower in the mud of a humdrum existence, unhappy in love, hopelessly inefficient in everything'. Having failed at university and lost his inheritance, Platonov is now a provincial schoolmaster. Although he is married to the naïve Sasha, he appears to be catnip to the local women and pursues and is pursued by an ex-lover, the idealistic Sonia, the aggressive student Maria, and the tempestuous Anna, a financially strapped landowner. To keep things on the boil, the young playwright throws in an attempted suicide and an attempted and later actual murder.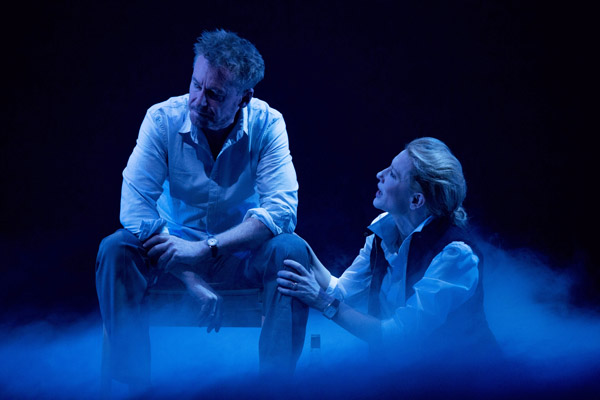 Richard Roxburgh as Platonov and Cate Blanchett as Anna in Sydney Theatre Company's The Present (photograph by Lisa Tomasetti)
Andrew Upton has drastically cut the play – we lose the attempted suicide – and updated it to the mid-1990s, a time when Russia was still reeling from the collapse of the Soviet Union. The characters gather at Anna's heavily mortgaged country estate to celebrate her fortieth birthday. The modern setting allows Upton to indulge his obsession with the word 'fuck'. I imagine in the not too distant future there will be a PhD thesis on 'the use of the word fuck in the plays of Andrew Upton'. This is symptomatic of a script which relentlessly coarsens the piece and pushes it towards farce. This is exacerbated by John Crowley's shallow production. The first two acts are played for the broadest of comedy, so that when the piece darkens in the second half we have had no reason to take the characters seriously and any deeper currents are lost.
'I imagine in the not too distant future there will be a PhD thesis on ''the use of the word fuck in the plays of Andrew Upton''

'
Within the limits imposed by the script and direction, the exceptionally strong cast still manage to make their mark. Chekhov's Platonov is a mere twenty-seven which to a twenty-year-old probably seemed virtually middle-aged, but the character is much more believable when played older. Richard Roxburgh projects a raddled charm, wit, and a curdled intelligence which makes his fascination to the women around him believable, but Upton cheapens this by suggesting that the only reason they find him irresistible is because he gives good sex. One of Roxburgh's great strengths is the way he can switch from comedy to despair in an instant, a talent which made his Vanya both hilarious and heartbreaking. But here, because of the relentless superficiality of the production, his anguish comes across merely as comic. Only in his scenes with Blanchett's Anna, and in the rapport between them in the very final moments of the play, is there any real sense of emotional truth.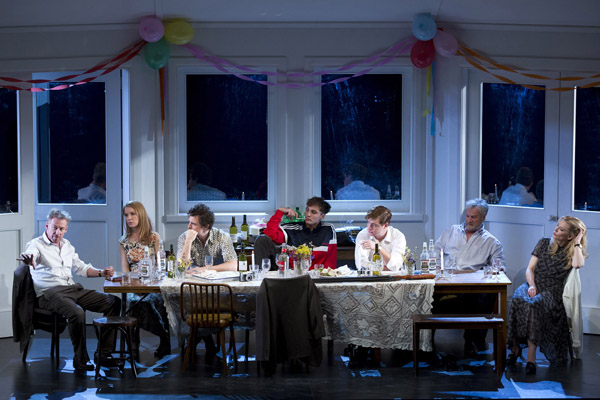 Richard Roxburgh, Jacqueline McKenzie, Chris Ryan, Eamon Farren, Brandon McClelland, Martin Jacobs and Cate Blanchett in Sydney Theatre Company's The Present (photograph by Lisa Tomasetti)
If Roxbugh's Platonov is essentially passive, Cate Blanchett's Anna is a force of nature. She prowls the stage like Rilke's panther pacing 'in cramped circles over and over / the movement of [her] powerful soft strides / is like a ritual dance around a centre / in which a mighty will stands paralyzed'. By far the most intelligent and energetic character on stage, Anna is trapped by her financial situation and finds herself surrounded by people she despises. Blanchett is the most physical of actors and the way she disintegrates during the party from glamorous to haggard is spectacular. The slight slump of her shoulders when she realises that both of the men she had hoped would rescue her from bankruptcy have deserted her somehow conveys both despair and resilience. We know that whatever happens she will survive.
'Cate Blanchett's Anna is a force of nature'
Toby Schmitz, cast wildly against type as a man of whom nobody takes any notice, manages some trenchant moments. Eamon Farren is a deliciously sleazy Kiril. In the original script, Sergei, Anna's stepson, is a good for nothing in debt to moneylenders, but here he is simply a pathetic wimp. Chris Ryan, in ocker mode, is once again unable to transcend the production, and his despair is played simply for laughs.
The great English novelist William Gerhardie, in his perceptive monograph on Chekhov, Anton Chekhov: A Critical Study (1923), makes the point that 'there is something merciless and blindly cruel in people's misunderstandings of their fellows' sensibilities which Chehov (sic) never loses sight of'. This comes across clearly in Crowley's production, but at the expense of the compassionate understanding of human frailty which is at the heart of Chekhov's work.
The Present, after Anton Chekhov's Platonov, by Andrew Upton, directed by John Crowley for Sydney Theatre Company. Season runs from 8 August to 19 September at the Roslyn Packer Theatre. Performance attended 8 August 2015.