Opera
I Puritani (Victorian Opera)
'In my Eden a person who dislikes Bellini has the good manners not to get born,' wrote W.H. Auden in his poem 'Vespers' (1954). Like much of Auden's table-talk, this may seem rather extreme, but those who attended last Thursday's concert version of Vincenzo Bellini's I Puritani may have gone away with similarly exclusive thoughts.
Though it was a cold night in Melbourne, Hamer Hall was almost full for this single performance by Victorian Opera. Opportunities to enjoy Bellini's tenth and final opera are few in Australia. The Victorian State Opera performed it in 1986, with Jenny Drivala as a suitably loopy Elvira, and Keith Lewis, such an elegant tenor but defeated on that occasion by Arturo's impossible music. One year earlier, Joan Sutherland had sung Elvira in Sydney – the only time she performed the role in Australia.
This welcome concert version introduced many listeners to Bellini's soulful music, which at its best achieves a kind of Mozartian or Berlozian purity and languor. In his short, excellent A Life of Bellini (1996), John Rosselli writes: 'In his mature works [Bellini's] gift for original, distinguished, unforgettable melody – a gift exceedingly rare – went together with an intensification of sonority and a poignancy of feeling his late eighteenth-century forebears had not dreamt of. We cannot tell how he would have developed if he had lived a full span. As it was his achievement was unique, and is enough.'
Of all his musical contemporaries, Bellini was probably closest to Chopin, who learned much from the master of the long-breathed harmony. On his deathbed the similarly short-lived Chopin asked to be buried near Bellini in Père-Lachaise.
Among the modern composers there was one unlikely admirer. Stravinsky wrote: 'While Beethoven left to the world riches partly due to his lack of melodic gifts, another composer, Bellini, whose qualities have never been compared to those of the musician from Bonn, scattered widely a tireless profusion of magnificent melodies of the rarest refinement, distributing them freely as if unwilling to take any personal credit for their creation. Beethoven's bequest to music seemed the fruit of obstinate effort. Bellini received the gift of melody without troubling to ask for it, as if heaven had said to him – "I bestow upon you the very gift that Beethoven lacked."'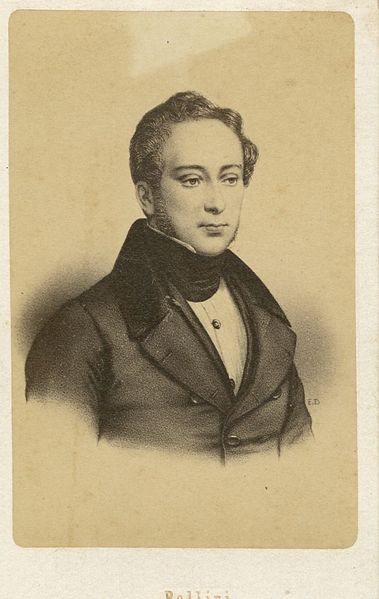 Vincenzo Bellini portrait by E. Neurdein (Source Bergen Public Library Norway via Wikimedia Commons)
Bellini, though barely thirty, had enjoyed an enormous success with La Sonnambula and Norma (both in 1831) before he composed Puritani. Then he moved to England, hoping to escape pirate managements and publishers. The London season of his operas was not a success, so Bellini moved to Paris, where the handsome young Sicilian enjoyed a great social triumph (though Heine famously dismissed him as 'a sigh in dancing pumps'). Bellini's difficulty with the French language did not abate, and there were some endearing faux pas, as when he asked for a 'fucking hat' (chapeau de foutre) instead of a 'felt hat' (chapeau de feutre). He persevered and after some disappointments finally gained a contract to write a new opera. It would have an English theme, with Roundheads and Cavaliers – and a passing queen (Henrietta Maria, widow of Charles I, fleeing the axe).
Unfortunately, Bellini's great collaborator Felice Romani was not the librettist on this occasion. That honour went to Count Carlo Pepoli, a political exile and minor poet. His libretto abounds in dramatic incoherence and purple-tinged effusions. In one favourite of mine, the chorus says of Elvira: 'Si fe' smorta, avvampò' ('She turned deathly pale, then blazing red').
Yet the music transcends the flawed dramatic structure and the crudity of Pepoli's libretto. When it premièred in January 1835 the opera became an immediate success, helped by the fact that it was sung by four of the most famous singers of the day: Grisi, Rubini, Tamburini, and Lablache, who became known as the Puritani quartet after extensive performances across Europe. Bellini was promptly made a Knight of the Legion of Honour, and Puritani soon became a favourite of Queen Victoria.
'''In my Eden a person who dislikes Bellini has the good manners not to get born,'' wrote W.H. Auden'
Then, within months, Bellini was dead, victim of amoebic dysentery. He was thirty-three. The unique experiment in Morbidezza and 'long, long melody' was prematurely stilled. Had Bellini been as long-lived and productive as Verdi, he would have been alive in 1889 and might still have been composing in the decade of Don Carlos and Tristan und Isolde. And there was nothing remotely finished or fully exacted about Bellini's oeuvre: it was all mellifluous promise and melodic invention.
The opera is not without its critics. The plot is absurd, and some of the tunes are undeniably facile. Berlioz, fastidious genius, deplored 'Son vergin vezzosa' and 'Suoni la tromba'. But would that more operas included such failures. As John Rosselli writes, 'Such trivialities keep an opera on the boards when graver works disappear.'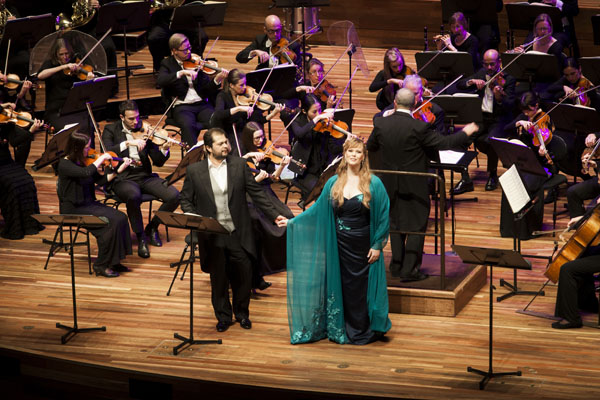 Celso Albelo as Lord Arturo Talbot and Jessica Pratt as Elvira in Victorian Opera's I Puritani (photograph by Charlie Kinross)
Oddly, it was Rossini who early defined the nature (and simplicity) of Bellini's genius. Rossini recognised that the young composer 'must love very, very deeply'. The older composer (just embarking on his long retirement) advised Bellini on orchestration and dramatic effect and arranged for I Puritani to be written for the Théâtre des Italiens (above which Rossini lived in an apartment).
Bellini's romantic quality is movingly illustrated in 'Qui la voce', when Elvira, briefly regaining her senses and noticing that Giorgio is weeping, sings: 'Egli piange … forse amò' ('He is weeping … perhaps he has known what it is to love'). Bellini had instructed Pepoli: 'Opera must make people weep, shudder, die through the singing …'
In some ways, it is hard to think of more melancholy operatic music, always excepting Die Walküre. (Wagner too, while critical of Bellini's instrumentation, was a great admirer of his operas. The affinities are subtle but there. The bars immediately preceding the great quartet 'Credeasi misera', for example, surely lead straight to Götterdämmerung.)
Victorian Opera's performance was truly affecting, one that captured the poignancy and death-hauntedness of Bellini's spirit. Richard Mills, a great admirer of Bellini, drew fine playing from the orchestra. There was sound work from the strings all night, and the horn playing was outstanding, especially in Act Two.
Celso Albelo (Arturo Talbot) has sung in many of the world's great opera houses. The Spanish tenor specialises in bel canto roles. From his opening singing in the hymn and 'A te, o cara', it was clear we had an assured and experienced Arturo. Written for the great Rubini, Arturo is a fiendish creation, with an impossible tessitura (Bellini died before he could revise it for lesser mortals), but Albelo hit every C sharp and D-natural, and held some of them with what can only be described as Spanish daring. Yet some of his most beautiful singing came during 'A una fonte afflitto e sole', Arturo's tender 'song of exile', which the tenor sang with great delicacy and feeling.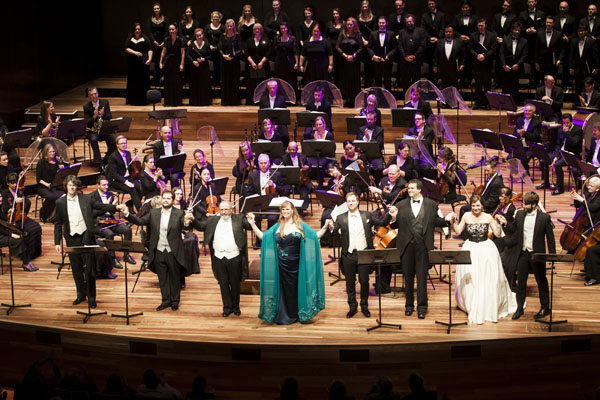 Full cast and Orchestra Victoria (photograph by Charlie Kinross)
Then came 'Credeasi misera', at the end of the opera – a bracing moment for any singer. This quartet, one of the glories of Italian opera, contains some of the highest notes for a tenor, and Arturo must hit them repeatedly. One alternative is to sing the high F falsetto (Pavarotti does so to limp effect in the second Bonynge recording). But Albelo hit the note full voice, almost knocking over his music stand in the process.
The empathy between Albelo and Jessica Pratt (Elvira) was palpable, and it was good to see them moving away from their stands at crucial points and acting the parts. Their scenes together were thrilling, and the duet 'Vieni fra queste braccia' that follows the lovers' reconciliation was notable for its power and full-throatedness.
The other men were admirable too, especially Paul Whelan (Giorgio Valton), an immensely tall young New Zealander who recently sang the role for the first time with the Boston Lyric Opera. His long Act One duet with Elvira and the aria 'Cinta di fiori', which precedes her Act Two mad scene, were highlights of the evening.
Nathan Lay (Ricardo Forth) coped handsomely with the intricate coloratura of his Act One aria, 'Ah! per sempre io ti perdei'.
As William Weaver has remarked, 'this opera is Elvira's, as Norma is Norma's, and La Sonnambula is Amina's.' Jessica Pratt, a young Australian singer based in Europe, was making only her second appearance in her home country following her début as Violetta for Victorian Opera in 2014. That was a fine performance (I reviewed it for Arts Update); but Puritani was something else. Pratt is one of Europe's leading Elviras and Aminas. It is easy to see why. After a slightly cautious start in the long duet with Giorgio, Pratt soon exhibited a fabulous coloratura technique, confident in its rubato and with a sure trill, not a feature of her Violetta. Pratt's messa di voce singing was audacious, and some of her high pianissimo notes had a purity and floating quality that reminded me of Renée Fleming's celebrated recital in this cavernous hall in 2002. The long mad scene, 'Qui la voce', was beautifully sung and acted, and the cabaletta that followed ('Vien diletto') was capped by a brilliant, unflinching E-flat. The audience demanded a curtain call after this, but Pratt chose to stay in the wings and in character.
Any Australian Elvira – any Elvira, for that matter – must be compared with Joan Sutherland, who sang the role for a quarter of a century and left us with some astonishing recordings. For me, Pratt was more moving, more pathetic, more idiomatic than Sutherland's first studio Elvira. But then, by 1963 there was nothing remotely vulnerable or stricken about Sutherland, a very commanding crazy woman indeed. For a less queenly Elvira, listen to Sutherland's début in the role at Glyndebourne in 1960 (her only non-Mozart role in that house, and the first time Puritani had been staged in Britain since 1887). That was a much more emotional and exposed Elvira; the diction is keener too.
'Any Australian Elvira – any Elvira, for that matter – must be compared with Joan Sutherland'
Pratt's Elvira, at this rate, will be in demand for years to come. But it was surely a mistake of the conductor to omit the brilliant cabaletta – 'Ah! sento, o mio bell'angelo', from the Palermo manuscript – which Richard Bonynge restored to the end of the opera. Without it, Arturo's sudden reprieve seems ludicrous and this often illogical opera ends far too abruptly. It also deprives the audience, and the soprano, of three minutes of spectacular singing. (Happily, Sutherland recorded it for US television in her prime.)
Arts Update understands that Jessica Pratt will return to Victorian Opera in March 2016. It would be wonderful to hear this outstanding Bellinian in another bel canto role – Amina or Beatrice perhaps?
There was a huge ovation at the end, rightly so. This was bel canto singing of a kind rarely heard in Melbourne since Sutherland and Pavarotti performed in La Sonnambula fifty years ago, during that immortal tour.
I Puritani, conducted by Richard Mills for Victorian Opera, in a concert version at Hamer Hall, Arts Centre Melbourne. Single performance: 2 July 2015.