Opera
The Barber of Seville (Melbourne Opera)
Writing to a friend in 1898, Giuseppe Verdi said of Rossini's The Barber of Seville:
You may say things about Rossini and they may be true regarding the borrowings, the speed of composition and so forth, but I confess that I cannot help believing 'The Barber of Seville' for abundance of ideas, for verve and for truth of declamation the most beautiful opera buffa in existence.
And yet, this famous comic opera, first staged in 1816, ranks with La Traviata (1853) and the Rite of Spring (1913) as having had of the greatest opening night fiascos in musical history. Fortunately, at Melbourne Opera's opening night of The Barber, there was not a cat to be seen, guitar strings remained whole, and there were no supporters of a rival composer (Paisiello) interjecting with catcalls.
Although Rossini was only twenty-four when he composed The Barber, it was his seventeenth opera. He had developed a maturity of style with the dramatic Tancredi (1813) and the comic Italian Girl in Algiers (1813). Rossini's facility for rapid composition and self-borrowings meant that The Barber was able to be performed within two months of his previous work. It remains one of the most popular and oft-performed operas in the repertoire.
Melbourne Opera has considerable experience with The Barber with productions airing in 2001 and 2010, to some acclaim. The performance this reviewer saw on Thursday, 25 June has taken the company beyond, way beyond mere acclaim. Several ingredients combined to create this near-perfect offering.
An idiomatic, witty English text, was leavened with sometimes hilarious, topical allusions. Anna Cordingley's ingenious set designs took full account of the Athenaeum's challenging stage making the space seem both wider and deeper. The ensemble, under the fastidious direction of Hugh Halliday, inhabited all sectors of the stage, without fumbling, to make the most of the farcical plot. The orchestra, under the baton of Greg Hocking, began confidently and never faltered. The woodwind contributions in the overture were delightful. Raymond Lawrence provided thoughtful, comedic harpsichord accompaniments to the recitatives with witty interjections.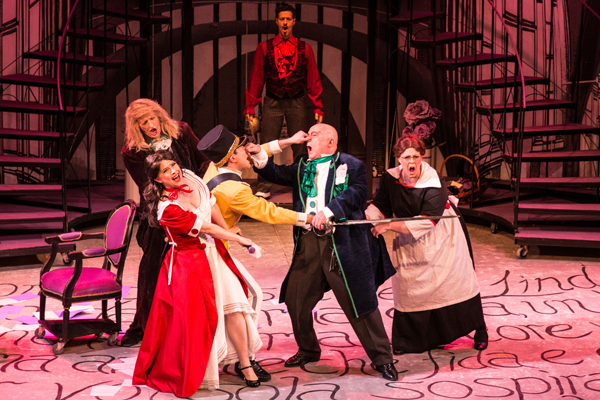 David Gould (Don Basilio), Sally-Anne Russell (Rosina), Brenton Spiteri (Count Almaviva), Phillip Calcagno (Figaro), Roger Howell (Dr Bartolo), and Jodie Debono (Berta) in Melbourne Opera's The Barber of Seville (photograph by Robin Halls)
'Although Rossini was only twenty-four when he composed The Barber, it was his seventeenth opera'
Of course, an outstanding opera experience will fall or rise on the strength of the soloists and chorus. In this regard, Melbourne Opera did not disappoint.
Michael Lampard, in the twin roles of Count Almaviva's assistant, Fiorello, and Doctor Bartolo's servant, Ambrogio, sang and acted well. Jodie Debono as the doctor's housekeeper, Berta, made a great impression with her Act Two aria.
David Gould, in the role of the money-hungry Don Basilio, and Roger Howell as the bad-tempered, ridiculous Doctor Bartolo, produced vivacious comic acting combined with clear and accurate singing.
Brenton Spiteri, a young Sun Aria winner of 2012, provided a fully rounded portrait of the love-struck count. His clear, soaring tenor suited Rossini's demanding score. Spiteri has a finely honed comic talent; his drunken soldier in Act 1 and the pretend music master in the Act 2 lesson scene were delightful. This young man is a talent to watch.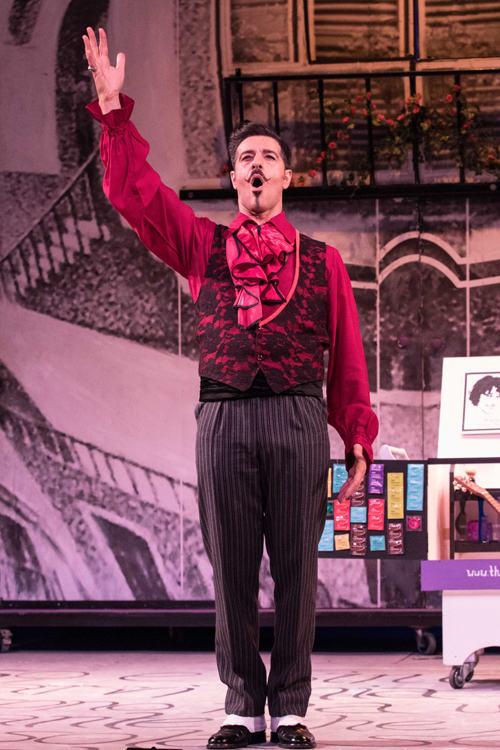 Phillip Calcagno as Figaro (photograph by Robin Halls)
Sally-Anne Russell is one of Australia's current operatic and oratorio stars. She gave the character of Rosina believable determination, and her beautiful mezzo soprano was all that could be desired.
Phillip Calcagno, as Figaro, displayed brilliant comic timing, with a physicality one does not usually find in this role. He used his powerful, penetrating baritone to great effect. Figaro is a chancer, but he also has heart and wants to bring the two lovers together. Calcagno's acting brought out these two aspects of his role to perfection.
For any Barber production to succeed, pace and tautness of plot have to be a prime consideration. The arias of the first act are among the best known in the repertoire, but the insistent sequencing can impede momentum. From the Act One finale onward the action must both engage and carry the audience into the silliness of the plot. The second act is noticeably shorter than the first and emphasises ensembles rather than solos. In Melbourne Opera's production, excitement built in the lesson scene, and the following quintet and quartet, as the cast reached a peak this reviewer has not seen for many a year.
Opera in English has been criticised in recent times, yet opera composers of the nineteenth century expected their works to be performed in the native language of the audience and sometimes arranged these translations themselves. In this production, Melbourne Opera has demonstrated how effective this can be, particularly in comic works.
On opening night, it was pleasing to see many young people in the audience. Judging by their reaction, they clearly enjoyed the experience. If opera is to survive as a vibrant and relevant art form, we must convince the young that they will see and hear stunning, clever performances. Bravo Melbourne Opera! A thoroughly enjoyable night in the theatre.
The Barber of Seville, directed by Hugh Halliday and conducted by Greg Hocking for Melbourne Opera. Performed 25 June, 27 June, and 3 July, at the Athenaeum Theatre, and 10 July at the Alexander Theatre, Monash University. Performance attended 25 June 2015.