Music
War Requiem (Melbourne Symphony Orchestra) and Ian Bostridge (Melbourne Symphony Orchestra)
'Truth uncompromisingly told will always have its ragged edges,' wrote Herman Melville. The truth about war, as Benjamin Britten 'tells' it in his War Requiem, is ragged indeed. A glance at Britten's score is indicative – there on the page are the black skitterings of brass and strings, a motley percussion, a solo soprano voice soaring over Latin choruses that alternate (or intersect) with the tenor and baritone sequences of Wilfred Owen's devastating war poems. Ragged, indeed – but ragged with intent.
The vehemently pacifist Britten rejected any triumphant hymning of patriotism when he composed his Requiem for the 1962 re-opening of the war-ravaged Coventry Cathedral. And his way with the words and traditions of the Missa pro defunctis is neither consolatory nor reconciling – no lark-ascending intimations of paradise. Yet the work is grand; it coheres in the way a great tragedy coheres, and with comparable impact. In Britten's hands (and under Andrew Davis's deft, experienced baton in this performance) the massed resources of orchestra, liturgy, chamber orchestra, poetry, soloists, and fluting boys choir all come together in a mighty, sombre interrogation of what we know and what we believe – or have been led to believe – about war and death. About resurrection? Maybe. Maybe not.
Davis chose to prelude this performance of the War Requiem with a first-ever Melbourne rendering of Australian Frederick Septimus Kelly's Elegy for String Orchestra 'In memoriam Rupert Brooke'. The piece, evocative of an English dusk (Kelly was educated at Eton and Oxford), tightly woven and beautifully played, with haunting viola and violin solos broadened by the harp, was a fine opening, and hardly needed the biographical background to set a reflective mood (Kelly wrote the Elegy after participating in the burial rites for Rupert Brooke in 1915, and was himself killed on the Somme in 1916). But the ironies and echoes – beautiful young men dead in foreign fields 'forever England' – added a layer of complexity to one's appreciation of the Elegy's modal poignancy.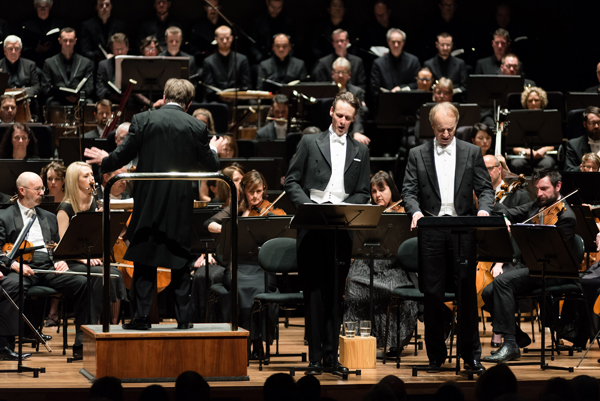 Ian Bostridge, Dietrich Henschel and the Melbourne Symphony Orchestra (photograph by Daniel Aulsebrook)
Then, without (mercifully) a chattering interval, came the War Requiem, with its 'slow, solemn' pianissimo pounding of the orchestra and the choir's interspersed breathing of 'Requiem aeternam'. Ominous, like distant thunder. A combined 200-plus ensemble of players and singers plus soloists, chamber orchestra, and boys choir, could prove unmanageable. But Davis's direction (assisted by Michael Black and Phillip Carmody) was assured, masterful even – this is home territory for a seasoned English conductor (who also professes an attachment to the music of Alban Berg). If I heard moments of raggedness at the Offertorium ('quam olim Abrahae') or during the Libera Me that concludes the work, I was reminded of Britten's instructions given during the rehearsals for the 1963 recording: 'Make it sound like a crowd coming at you.' 'Chaos!') The sound does indeed come at you: it splinters your focus and assaults the senses in a way that is genuinely terrifying, even without an association with artillery bombardment.
'The truth about war, as Benjamin Britten ''tells'' it in his War Requiem, is ragged indeed'
Like Britten before him, Davis used the symbolic pairing of an English tenor and a German baritone to sing Wilfred Owen's challenging poetry and to embody the voices of onetime enemies. Britten's prefatory setting of the Requiem aeternam's familiar Latin is dark – hardly soothing. But Owen's poetry is shocking. Not even the rankling tritone (the devil's interval) of the bells in the opening Requiem aeternam prepares you for the tenor's stark question: 'What passing-bells for these who die as cattle?'
English tenor Ian Bostridge is an intriguing singer. Technically gifted, intelligently acute about phrasing, he is clearly aware of every nuance of meaning in the words he is singing (Britten again, in rehearsal, demanded word colour, not bel canto: 'The words mean an awful lot.'). Bostridge projects an English diffidence in his angled, loose-hipped stance, and a Romantic commitment to meaning in his intense, kinetic delivery. He seems almost to extrude some of his sounds. The words mean an awful lot.
It has been an incidental pleasure to read Bostridge while he has been in Australia on tour, and consequently a little difficult to isolate his Melbourne performances from his now considerable body of collected essays and notes on all aspects of music. To him I am indebted for the quotation from Herman Melville above (the context is his discussion of the opera Billy Budd.) On Britten, Bostridge is informed and illuminating, particularly about what he terms 'the persistent British mistrust of our greatest modern composer'. In a nutshell: 'The highbrows find Britten too lowbrow' (A Singer's Notebook, Faber 2011). Do read him on modernist prejudices and Stravinsky's rivalry with Britten – fascinating.
The Melbourne audience evinced no such prejudices. After the last Amen faded there was a prolonged pause, so prolonged that I had hopes we would adopt Britten's preference and not applaud at all but simply depart in peace. It is easy to understand why the 1963 Decca recording sold 200,000 copies in the first year of release.
'Davis chose to prelude this performance of the War Requiem with a first-ever Melbourne rendering of Australian Frederick Septimus Kelly's Elegy for String Orchestra ''In memoriam Rupert Brooke'''
Bostridge and the German bass-baritone Dietrich Henschel paired compellingly in their solo and combined passages. The Offertorium poem, in which Owen reverses the end of the famous biblical passage about Abraham and Isaac, so that the old man 'slew his son – And half the seed of Europe, one by one', was almost unbearable. A kind of ragged truth.
The Russian soprano, Tatiana Pavlovskaya, singing as Britten ordained, in Latin and back with the chorus, was both dominating where the score demanded and integrated into the unsettling drama of the music. I preferred her dynamic subtlety to the steel of Galina Vishnevskaya's famous performance on the 1963 recording.
The choir of boys' voices, ethereal and distant, was unsettling, as Britten intended. Innocence out of place. One wonders what children over the years have made of what has been asked of them. Britten again: 'Boys, Don't make it sound nice. It's horrid. It's modern music.'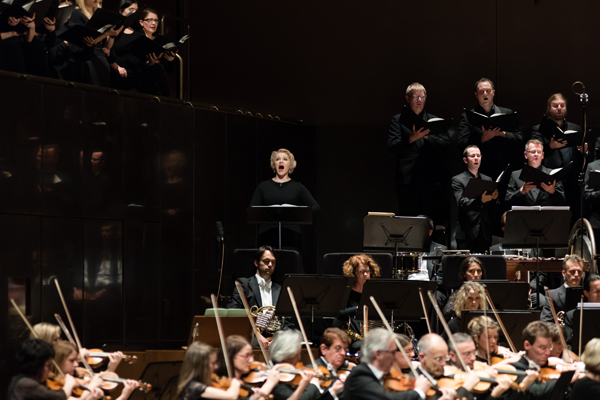 Tatiana Pavlovskaya and the Melbourne Symphony Orchestra (photograph by Daniel Aulsebrook)
The Chamber Orchestra and Melbourne Symphony, augmented for the occasion with piano, organ, extra percussion, brass, and strings, gave us cacophony and transcendence – echoes of the brash vehemence of Kurt Weill's Rise and Fall of the City of Mahagonny (1930) and the restraint of English plainsong – with equal precision and skill. The work is an orchestral marathon, stretching time well beyond the eighty five minutes it takes to perform. One wants to say how expertly Davis marshaled his musicians – but the metaphor betrays the extent to which we are inured to the language of war, a language which Britten understood and could deploy, but would also subvert in ways that linger in the mind and senses. 'Let us sleep now…'
It is fashionable to see Britten's War Requiem as an ironic reworking of the traditional liturgy for the dead, a repudiation of consolation. But death is confounding for us mortals, and death is what all requiems confront; death is what poets sing and tremble before. 'Timor mortis conturbat me' wrote the Scottish poet William Dunbar five hundred years before Britten composed his Requiem. And even in the polyphonic majesty of Tomàs Luis de Victoria's 1605 Requiem Officium Defunctorum there is splendour and terror. Britten, for all the poetic interpolations and innovation of his War Requiem, writes in that profoundly human tradition of vulnerability. That is what gives his extraordinary work its universal and enduring appeal.
After the intensity of his performance in Britten's War Requiem, Ian Bostridge might have chosen to relax into his song recital four days later with a lightsome Austrian riff, or a jolly English folk tune. But no, he's a serious musician (and an engaging occasional musicologist), this English tenor. The performance opened with Einsamkeit (Solitude), Schubert's longest Lied, written in 1818 (words by Mayrhofer), which traverses in music the troubled ambivalence of Schubert's psychological journey:
The youth's longing for solitude
Becomes the old man's portion,
And a life rough and precarious
Has yet led to happiness.
(The MSO's free program very helpfully provided both German text and translation.)
Bostridge was accompanied by Amir Farid (winner of the 2006 Australian National Piano Award), whose dynamic subtlety and sensitivity to the mood of the songs provided a fine foil for Bostridge's disciplined, emotionally charged performance. Bostridge's sustained tones might float over Farid's arpeggios, but both registered to full effect. And in the later songs, some sparkling with Schubertian play and ironies, the combination of Bostridge's resonance, particularly in his malt-rich lower register, and Farid's meaningful dexterity was magical.
Farid gave the instrumental interlude – Schubert's Moments Musicaux, 1–3. He left me wanting to hear more, and looking forward to a full performance.
The third element of the program, Vaughan Williams's song cycle, On Wenlock Edge, brought back Farid and four soloists from the MSO to join Ian Bostridge in a feast of English pastoral, love gained and lost, nature, and mutability, with words from A.E. Houseman's A Shropshire Lad (1896).
It was during this sequence, and in the encores demanded at the end by a grateful, almost importunate, audience, that one felt most strongly the joy of intimate music-making. It was Vaughan Williams' music, with echoes of Ravel, with whom he had studied, but presided over by the benign shadow of Schubert, a ghost at his piano and regaling his gathering with the latest song. Bostridge's angular mannerisms (like a lanky marionette tethered with loose elastic to the piano) grew so familiar as to make one fond. By the end he was toying with gesture and pause, in a beguiling dialogue with audience and his fellow musicians. The four string players were seamless, edgy when required in 'Is my team ploughing?', hazy in 'Bredon Hill', and sombre in 'Clun', their technical accomplishment simply a given, as was Farid's as he rippled and tolled with them and in lyrical contrast.
A perfect evening of music-making.
---
*Benjamin Britten's comments in rehearsal are taken from unauthorised (by Britten) tapes made when producer John Culshaw kept the microphone open during takes for the 1963 Decca recording. The intensely private Britten did not approve. His conductor's notes (witty and illuminating) to orchestra and choruses, plus some exchanges with soloists, are now included in the re-mastered 2006 Decca CD.
Britten's War Requiem, conducted by Sir Andrew Davis for the Melbourne Symphony Orchestra. Performed 11 June and 12 June, the Arts Centre Melbourne, Hamer Hall. Performance attended 11 June 2015.
Ian Bostridge, presented by the Melbourne Symphony Orchestra. Performed at the Elisabeth Murdoch Hall, Melbourne Recital Centre, 15 June 2015.