Opposite the outdoor basketball court, the Karungkarni Arts Centre is selling dot paintings by Gurindji woman Biddy Wavehill. Later at the riverside acoustic stage, Peter Garrett steps unexpectedly from the long grass to sing 'From Little Things Big Things Grow' with Paul Kelly – a song about the Wave Hill walk-offs in the 1960s lead by Gurindji man Vincent Lingiari. At the Barunga Festival in 1988, Aboriginal leaders presented Bob Hawke with a statement of rights. By 1990, responded Hawke, there would be a treaty. There wasn't, but there was a song by Yothu Yindi, co-written by Kelly and Garrett.
Neil Murray and Sammy Butcher of legendary desert act Warumpi Band play an acoustic set that closes with their 1987 track 'My Island Home': 'I come from the saltwater people / We always live by the sea.' Walking to a billabong that morning a Jawoyn boy had told me: 'We're surrounded by freshwater at Barunga – we're freshwater people.'
Held on a remote community an hour's drive from Katherine, Barunga Festival overflows with moments when people and themes, the past and the present come a bittersweet full circle.
It has been a week since I returned to Sydney from the Northern Territory. Since then another Winter festival, Dark Mofo, has begun and stories of a fire-breathing organ and a sub-woofer-powered 'bass bath' have saturated the arts media.
Barunga Festival's three pillars of sport, music, and culture must seem staunch in comparison and, unlike Dark Mofo, it attracted meagre mainstream press coverage. Apples and oranges, a voice says in my head. True, says another, but if the apple is an exhaustively-covered arts event like Dark Mofo, and that coverage implies commensurate cultural significance, where does that leave the orange?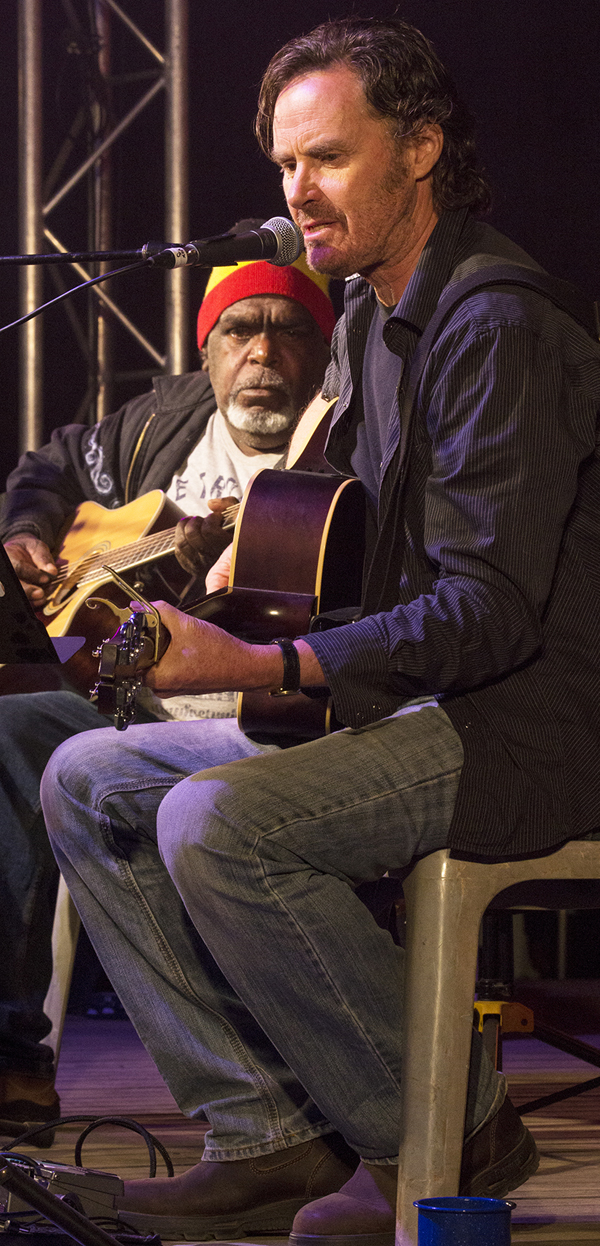 Sammy Butcher and Neil Murray of the Warumpi Band
Barunga Festival's thirtieth anniversary weekend was studded with significant moments, few of which were mediated or stage-managed. In 1989, Nitmiluk National Park (home of Katherine Gorge) was handed back to its traditional Jawoyn owners and a ninety-nine-year lease was signed. Back then, the founder of Barunga Festival, Peter Arpak Miller, wrote a song for 'when the government gave our land back at Nitmiluk' and at Barunga's 2015 opening ceremony he gathered the children of 'those Jawoyn people who were around when it happened' to sing the song again. Standing in a huddle in the dust raised by dancing, the kids' voices were high and reedy with nerves. They needed encouragement to finish but that didn't diminish the power of bearing witness to a song being so purposefully passed on to them.
As an urban white Australian, I'm not the festival's primary audience. That would be indigenous Australians from neighbouring communities as well as towns several days' drive away in Western Australia and Cape York. Who drives for days to reach an urban arts festival? Who would? Barunga drew nearly 4,000 people this year and not one casually bagged a $79 Jetstar flight to get there. The tyranny of distance is still real out here but it doesn't vanquish Barunga's appeal.
'Barunga Festival's thirtieth anniversary weekend was studded with significant moments, few of which were mediated or stage-managed'
Most who come participate in AFL, basketball, music and dance, or barrack loudly for family members. White visitors get hands-on too, often preferring activities like weaving or spear throwing. The relaxed vibe is a veneer; this festival hums with industry. Barunga's participatory feel is something many arts festivals shoot for with interactive installations and roving performers but rarely slam-dunk as Barunga does.
I reflect on works such as the Exxopolis luminarium, an inflatable castle of light that showed at Dark Mofo and Sydney Festival. Transfixing, yes, but ultimately a sensory sugar-rush that leaves visitors with little more than cool selfies on their phones. Helping local Barunga men shove hot rocks into the emptied chest cavity of a kangaroo, trussing its tail near its head and then roasting it whole and wrapped in paper bark? That's a cultural experience to remember: unmediated, uncurated, and unperformed.
I try to retire early on Saturday after a long, sun-blasted day. But a Borroloola act called The Sandridge Band stops me en route to my tent. The frontman is singing in language over a meld of prog rock and reggae. His voice is rough yet it flows like a river over rocks. Is it a chant? An invocation? On Sunday it is the furious guitar shredding of Ngukurr's Lonely Boys that keeps me up late.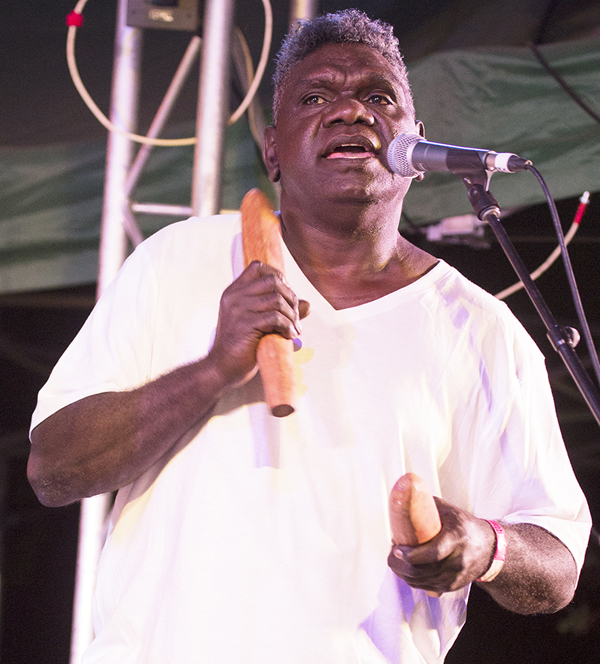 Greg Orsto of B2MBlistering Victorian rapper Briggs is on-site all weekend, popping up sporadically as a pot-stirring MC. The crowd streams inwards when he introduces B2M (Bathurst to Melville) – one of Barunga's favourite acts. B2M are an eight-piece intergenerational R&B band from the Tiwi Islands and their show incites a stream of tweens to leap onstage to briefly gyrate. Wearing matching white t-shirts and savvy to the appeal of goofy onstage banter, B2M play the crowd like the showbiz pros they're fast becoming. They toured Indonesia and East Timor last year and recently packed out Darwin Entertainment Centre. A sprinkle of synchronised dance moves might be all they need to crack it 'down south' and 'over east' too.
Butcher and Murray play a subdued set of Warumpi Band classics like 'Jail' and 'Blackfella/Whitefella' on the main stage too. 'One morning I woke up and the room was spinning around my head,' Butcher tells us, his body slumped around his acoustic guitar. 'It was a stroke but I'm going to play anyway because I love playing.' Butcher's health issues impact his timing but the warmth of the crowd never cools. Live music has many maxims – dexterity is one; another is singing from the heart about what you know. And in the one new song they play, Butcher and Murray show they've still got that base covered. It's called 'Sweet Love' and Butcher explains its genesis: 'We're still struggling with how to look after our wives because of alcohol. We've got to do better.'
The Barunga Festival takes places annually on the Queen's birthday long week in Barunga in the Northern Territory. This year's festival was held from June 5 to June 7, 2015.