Music
2015 Melbourne International Jazz Festival (part two)
Wednesday, 3 June
It is a clear sign of a strong festival program when you find yourself wracked with indecision about what to see. Fact is, on this night, I was spoilt for choice. On offer was the première of Paul Grabowsky's multi-part suite Nyilipidgi, performed by the Monash Art Ensemble, the Australian Art Orchestra, and the Young Wagilak Group from South East Arnhem Land. Previous collaborations, which yielded the Crossing Roper Bar recordings, were milestones in Australian jazz. Then, there was the première performance of pianist Barney McCall's new album Mooroolbark. In the end, however, it was the one-off opportunity to hear American sax player Ellery Eskelin that decided the issue.
This performance at Bennetts Lane saw the welcome return of Melbourne pianist Marc Hannaford after several years in New York, where he is currently a Dean's Fellow in the PhD program at Columbia University. While there, he took the opportunity offered by an MCA/Freedman Fellowship of Jazz to record the album Can You See with Two Sets of Eyes? (2014), featuring trumpeter Scott Tinkler (Aust), saxophonist Ellery Eskelin (US), and drummer Tom Rainey (US). And it was this band – Hannaford, Eskelin, Tinkler, and Rainey – that Hannaford re-assembled for the Festival.
Each of these musicians is known for their adventurous and experimental approach to jazz. And they didn't disappoint. Hannaford's compositions are enormously complex, combining open-ended improvisation with modern classical influences. I can't think of another jazz performer who would drop in a Xenakis piece midway through a set. It was astounding to witness Hannaford's development since his tenure in New York; his solos, played at furious pace, were like blocks of sound, mathematically and rigorously organised. At times I was reminded of Lennie Tristano's use of overdubbing and multi-tracking on his 1950s Atlantic recordings. Ellery Eskelin, by contrast, played with a lean and angular sound, as if thinking out loud with a clear-eyed logic. The absence of a bass player gave this music an immense fluidity, allowing for the tightly organised sound to chop and change at will. Tinkler's solos were like brutal assaults, or sudden interventions, challenging the band to keep pace. At times, the instrumental palette was pared back, allowing for extended piano/drum, trumpet/drum, or sax/drum passages. Tom Rainey's rapid-fire brushwork, subtle and inventive, was a standout. At its best, this music was visceral and intellectual in equal measure, a testament to Hannaford's expansive musical vision.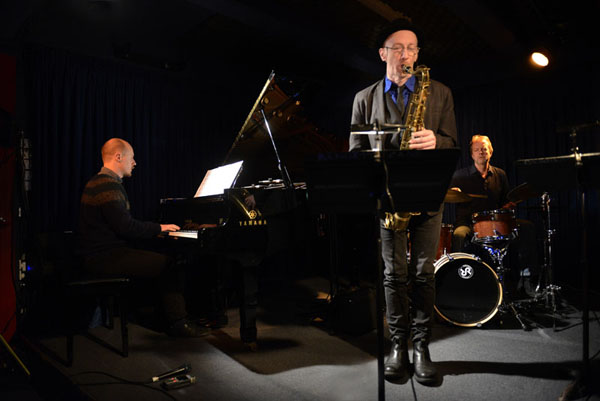 Marc Hannaford, Ellery Eskelin, and Tom Rainey (photograph by Brigitte Brand)
Thursday, 4 June
When Michael Tortoni, the Festival's Artistic Director, introduced Pharoah Sanders at the Melbourne Recital Centre with the words 'jazz royalty', we all knew what he meant. Sanders, along with Sonny Rollins and Ornette Coleman, is one of the last of the titans who helped forge a new saxophone language. More significantly, Sanders is inextricably linked to the music of John Coltrane, having played with him in his final years, prior to Coltrane's premature death in 1967. In many ways, Pharoah Sanders has been the keeper of the flame, playing, for nigh on five decades now, spiritual music forever associated with Coltrane's last exploratory phase.
'When Michael Tortoni, the Festival's Artistic Director, introduced Pharoah Sanders ... with the words ''jazz royalty'', we all knew what he meant'
Nowhere was this more apparent than in the opening numbers of Sanders's set, with their rolling and cascading rivers of sound. Pianist William Henderson laid down a series of strident chords, over which Sanders boomed with his trademark rough, dry tone. Yet the effect was surprisingly gentle, with hints of eastern and exotic rhythms. Sanders, sporting his distinctive white beard, resembled a mystic taking us on a journey, exploring the harmony of the spheres. While he no longer plays the fire music or free jazz of his younger days, his sound remains all his own, and there is a deep and lived maturity at the heart of his music. Halfway through the set, he played several Coltrane compositions, his magnificent rendition of the ballad 'Naima' perhaps the evening's highlight.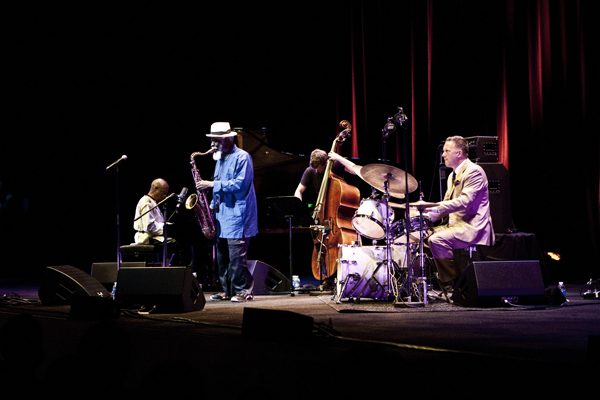 Pharoah Sanders Quartet (photograph by Jim Kyriakidis)
Sanders's quartet, which included Sydney bassist Cameron Undy, provided strong support for their leader. The elegantly attired drummer Joe Farnsworth, who could have stepped out of a biopic on Buddy Rich, was a revelation, almost entirely working with brushes. For the final number, Sanders, much to the delight of the crowd, reprised a section of his most famous work, the spiritual jazz classic 'The Creator has a Masterplan'. Sanders, taking on the vocal duties originally recorded by Leon Thomas, gently chanted the refrain, reminiscent of Coltrane's 'A Love Supreme'. As the music faded to silence, Sanders leant forward to the microphone and ended the concert with a single human breath.
Friday, 5 June
Joe Lovano is without doubt one of the giants of the saxophone, a man possessed of a big burly tone, and a busy career to match, with roughly twenty Blue Note albums to his name. It was an exciting prospect, therefore, to be hearing him in a club setting at Bennetts Lane, sparring with some of Australia's finest players: Paul Grabowsky, Philip Rex, and Dave Beck.
This turned out to be one of those rare, high energy performances that whipped the audience into a frenzy. The opener, 'Folk Art', was played at a furious pace, Lovano's tenor literally screaming in the upper register. Drummer Dave Beck and bassist Philip Rex hammered out a constant rhythm, never faltering. But the evening's standout performance came from Grabowsky, who was in a thunderous mood, attacking the piano throughout.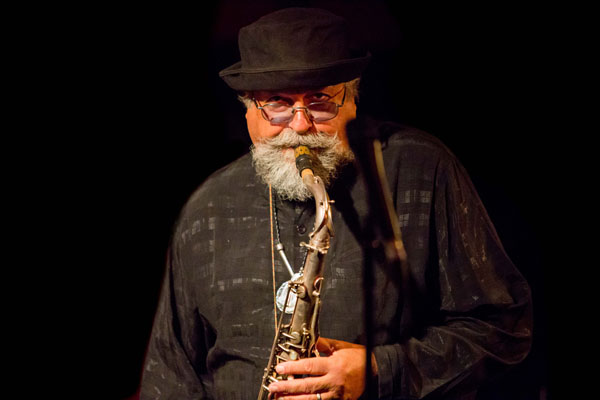 Joe Lovano (photograph by Kevin Peterson)
Lovano is a master of playing inside and outside the melody. His composition 'Our Daily Bread' elicited some beautiful soulful playing; while on Coltrane's 'Spiritual', he switched to the tarogato, an instrument with a strikingly woody tone. But, as the set developed, the band ratcheted up the intensity, hitting one peak after another, driving the audience to spontaneous shouts and cries. Lovano's big-toned sound filled the space, bounced off the walls. The quartet's performance was organic and free-flowing from beginning to end, the manifestation of musicians playing at the peak of their powers. If I had to pick one standout gig of the Festival, this would undoubtedly be it.
Saturday, 6 June
The pairing of Italian pianist Stephano Bollani with Brazilian Hamilton de Holanda at Hamer Hall grew out of the duo's acclaimed recording O que será for the ECM label. That album proved to be a joyful exploration of the musical heritage of South America. Bollani, a notoriously prodigious music-maker, has recorded in a variety of settings, from classical and avant-garde through to pop and rock. His jazz credentials have been cemented in recent years with a series of recordings, again for the ECM label, that have included collaborations with Chick Corea, Enrico Rava, Bill Frisell and others. De Holanda, who plays the bandolim, a Brazilian form of mandolin, similarly straddles musical genres, in his case traditional Brazilian music and jazz.
Bollani and de Holanda delivered a spirited performance, clearly relishing their finely tuned dialogue. So beautifully did their instruments mesh that, on occasion, they looked as astonished by their feats as the audience. Bollani, ever the extrovert, danced at his piano, stooped to his knees, banged on the instrument's wood to produce alternative textures and rhythms. They played tangos and love songs, even managing to make the Bee Gees' 'How Deep is Your Love' sound like a Brazilian classic.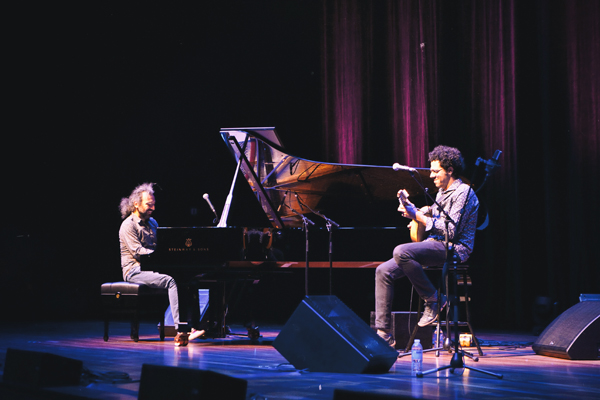 Stefano Bollani and Hamilton de Holanda (photograph by Jim Kyriakidis)
Midway through the set, the duo were joined by Italian sax player Mirko Guerrini, currently residing in Melbourne and teaching jazz at Monash University. Guerrini's tenor gently skated across this music, recalling the classic sixties work of Stan Getz and Antonio Carlos Jobim. It was crowd-pleasing stuff. Bollani and de Holanda weren't out to ruffle any feathers, or push any boundaries, with this music. Instead, they were content to show off impeccable craftsmanship, and a deeply rooted love of South American music. The duo ended the concert with a piece by Tango maestro Astor Piazzolla, demonstrating how old traditions and new can work hand in hand. In the end, it was what this music was all about.
Sunday, 7 June
The closing concert of this year's festival was unabashedly nostalgic; and why not, given what had gone before. It was a reminder of where jazz came from, over a century ago; and it paid homage to a city that had the stuffing knocked out of it by hurricane Katrina in 2005. Irvin Mayfield's New Orleans Jazz Orchestra (NOJO), which he founded in 2002, was teamed with vocalist Dee Dee Bridgewater to present a celebration of New Orleans' music, and in particular, its greatest son, Louis Armstrong.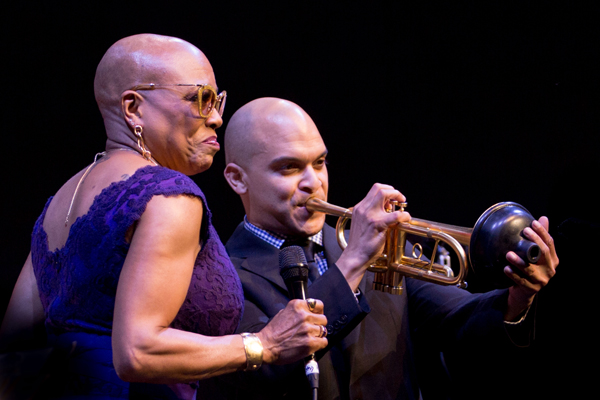 Dee Dee Bridgewater and Irvin Mayfield (photograph by Kevin Peterson)
It turned out to be a rowdy affair, with trumpeter Mayfield incessantly urging the audience to pump up the volume. The Orchestra performed the first few numbers, all syncopated beats and growling trumpets, before Dee Dee strutted her way on to the stage. From that moment on, familiar hits and ol' time entertainment were the order of the day: 'Do You Know What It Means to Miss New Orleans', 'I've Got the World on a String', 'Saint James Infirmary', 'What a Wonderful World'. Dee Dee's tribute to Mahalia Jackson showcased her broad vocal range, from gospel to jazz scatting to horn-like riffs. Of course, not everything came off – Earl King's New Orleans' classic 'Big Chief' failed to evince the down-and-dirty funk of Professor Longhair's original, and, as an orchestra NOJO lacked the precision of Wynton Marsalis's Lincoln Center Orchestra, which performed here some years back. Yet, by the time NOJO launched into John Boutté's 'Treme Song', used for the opening credits to the television series, the audience was on its feet. As the musicians descended from the stage, forging a second line parade through the auditorium, the delighted crowd whooped and hollered. It seemed like a suitable way to bring this year's Melbourne International Jazz Festival to a close.
The Melbourne International Jazz Festival ran from May 28 to June 7 2015. Des Cowley wrote about the first half of the festival here.