Music
2015 Melbourne International Jazz Festival (part one)
Thursday, 28 May
It was certainly a canny move to snare Herbie Hancock and Chick Corea for the opening night concert of the 2015 Melbourne International Jazz Festival. Few people interested in music, let alone jazz, would be unfamiliar with these names. Now in their mid-seventies – though both looking sprightly for their age – they have, between them, clocked up more than a century of music-making. More significantly, both have remained creative forces throughout that time, producing an endless stream of new compositions and recordings.
Nowhere was this creative spirit more evident than in their opening piece. Standing onstage at Hamer Hall before a cheering and ecstatic crowd, Chick Corea began with an announcement: 'We are going to start with nothing, and see if we can turn it into something.' The two pianists, seated facing each other at their grand pianos, then led off with a long and daring improvisation. It was immediately clear how closely they listened and responded to one another, swiftly following leads and developing ideas in such a way that the end result could have been mistaken for a notated composition.
Hancock and Corea first played together in duo format in 1978. At the time, those performances were hailed by many as a welcome return to acoustic jazz, given both men had spent much of the seventies leading electronic and fusion ensembles. Thankfully, in 2015, such ructions in the jazz community are old hat, and for this performance both pianists added electric keyboards and a synthesiser to their set-up. As the concert progressed, Hancock increasingly broadened his musical palette with otherworldly sounds, and both men moved seamlessly between acoustic and electronic keyboards throughout.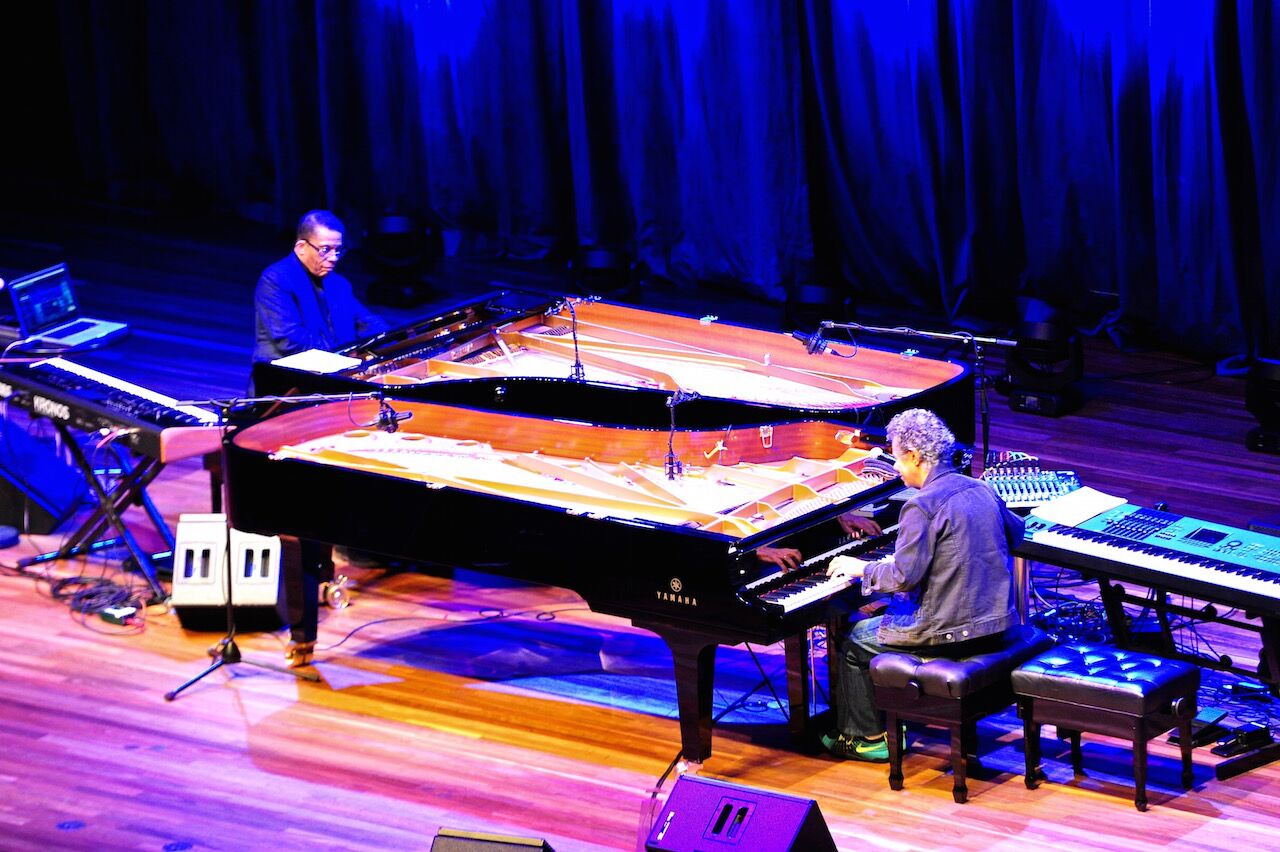 Herbie Hancock and Chick Corea (photograph by Kim Densham)
While much of the first half of the concert was improvised, there were echoes of familiar compositions woven into the musical fabric, in particular Hancock's classic composition 'Maiden Voyage' from his 1965 Blue Note album of the same name. The duo's beautiful rendition of the Miles Davis tune 'Solar' was a fitting tribute to the musician who had been a mentor to them both; and Hancock's 'Watermelon Man' was a pure delight, veering wildly between the original 1962 recording, and the funky makeover it received on the 1973 album Head Hunters. For their final piece, the pair played an extended version of Corea's 'Spain', his 1971 homage to the Miles Davis/Gil Evans collaboration Sketches of Spain.
'The duo's beautiful rendition of the Miles Davis tune 'Solar' was a fitting tribute to the musician who had been a mentor to them both'
Not surprisingly, Hancock and Corea received a long and warm standing ovation. Waving back to the crowd, both men appeared genuinely humbled by the rapturous response. It was as if we were thanking them for so much music, not just for what we had heard that evening, but for the pleasure they have given us throughout their half-a-century creative journeys. In fact, that is exactly what we were doing, perhaps aware that, for many of us, this farewell might be our last opportunity to do so.
Friday, 29 May
I was pleased to be heading, on day two, to Bennetts Lane, intent on soaking up as much of the club's atmosphere as possible before it closes its doors forever at the end of the Festival. For many of us, Bennetts has been like a second home, a club synonymous with the development of jazz in Australia over the past quarter century. Absurd as it sounds, it is difficult to imagine life without it. Given Melbourne's skyrocketing rents, it is unlikely we will soon see another such jazz venue right in the heart of the city.
Vocalist Gian Slater's extended composition Māyā was slated as a world première, an outcome of her being awarded the 2015 PBS Young Elder of Jazz Commission. Māyā is a Sanskrit word for a trick of perception, and Slater's intentional sleight of hand was aimed at fusing several distinct musical personalities into an indivisible entity. The work was written with two of Australia's finest improvisers in mind: pianist Andrea Keller and drummer Simon Barker. The central trio of voice, piano and drums was augmented by a stripped down version of Slater's vocal ensemble Invenio.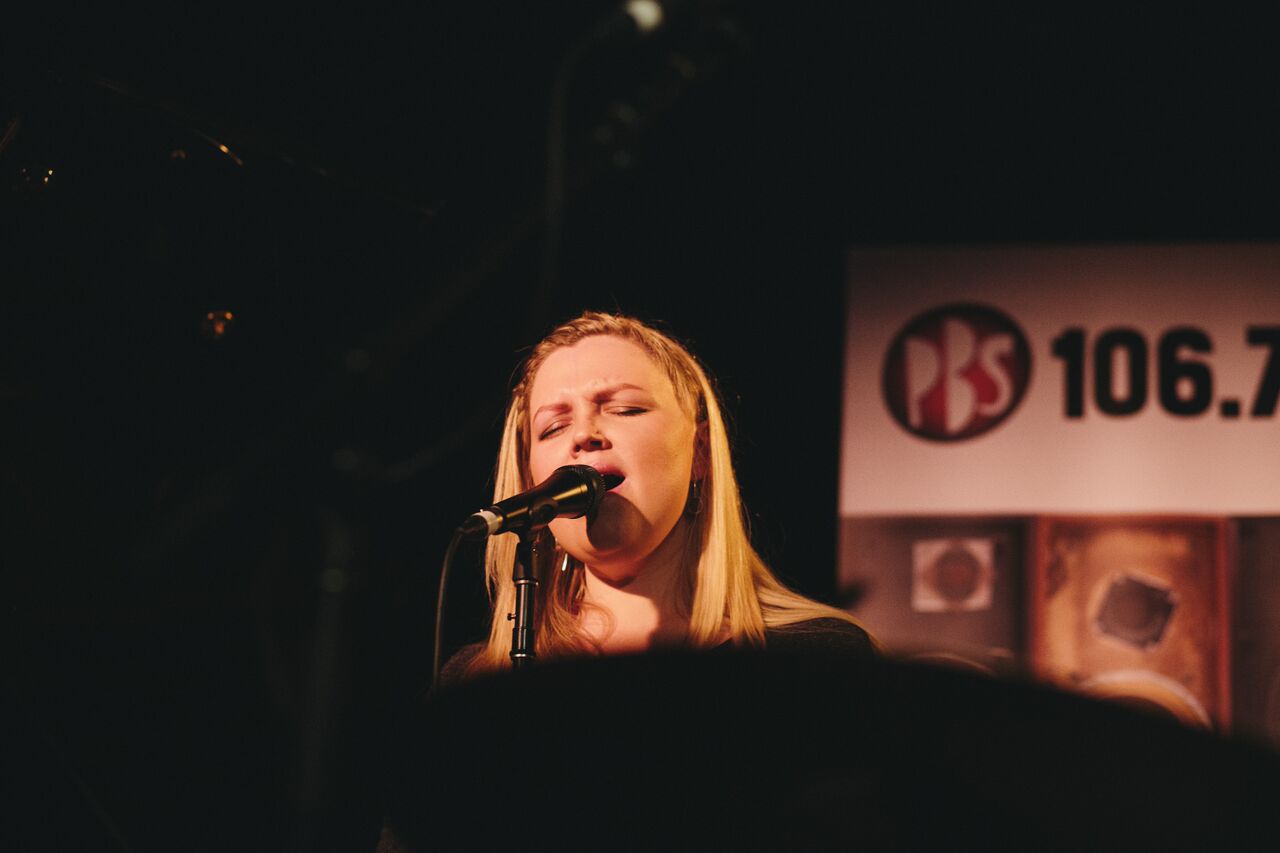 Gian Slater (photograph by Laki Sideris)
From the outset, Slater's extended composition was utterly mesmerising. The wordless vocalising, enacting the role of instrument rather than song, meshed beautifully with Keller's minimalist piano to produce a steady, rhythmic pulse. It could almost have been the human heart, that most primal of sounds. Barker, centre-stage, was the dominant voice throughout, his skittering improvisations chopping up time, heading off any predictability in the music. While the vocal textures, at times, reminded me of the extended techniques of US musician Meredith Monk, there was a warmth and humanity at its core that is sometimes absent from Monk's more rigid compositions. The overall effect was like a series of delicate soundscapes, classically oriented, that rippled through the space. By the composition's end, I felt I'd witnessed a genuine tour de force, an undoubted highlight of this year's Festival. Hopefully, Gian Slater will be provided with plenty more opportunities to showcase this stunning new work.
Saturday, 30 May
I was looking forward to US piano trio The Bad Plus, playing in the Merlyn Theatre at the Coopers Malthouse. Hailing from the mid-West, the band are a long-running entity, having played and recorded since 2000. With nearly a dozen albums under their belt, they are best known for their radical jazz re-workings of songs by Blondie, the Flaming Lips, Aphex Twin, The Pixies, Nirvana, David Bowie, Tears for Fears, and others. They even recorded a piano trio version of Stravinsky's The Rite of Spring in 2014. It was surprising, then, that the trio eschewed covers entirely, instead offering up a steady diet of original compositions throughout their set, a number drawn from their recent album Inevitable Westerns (2014).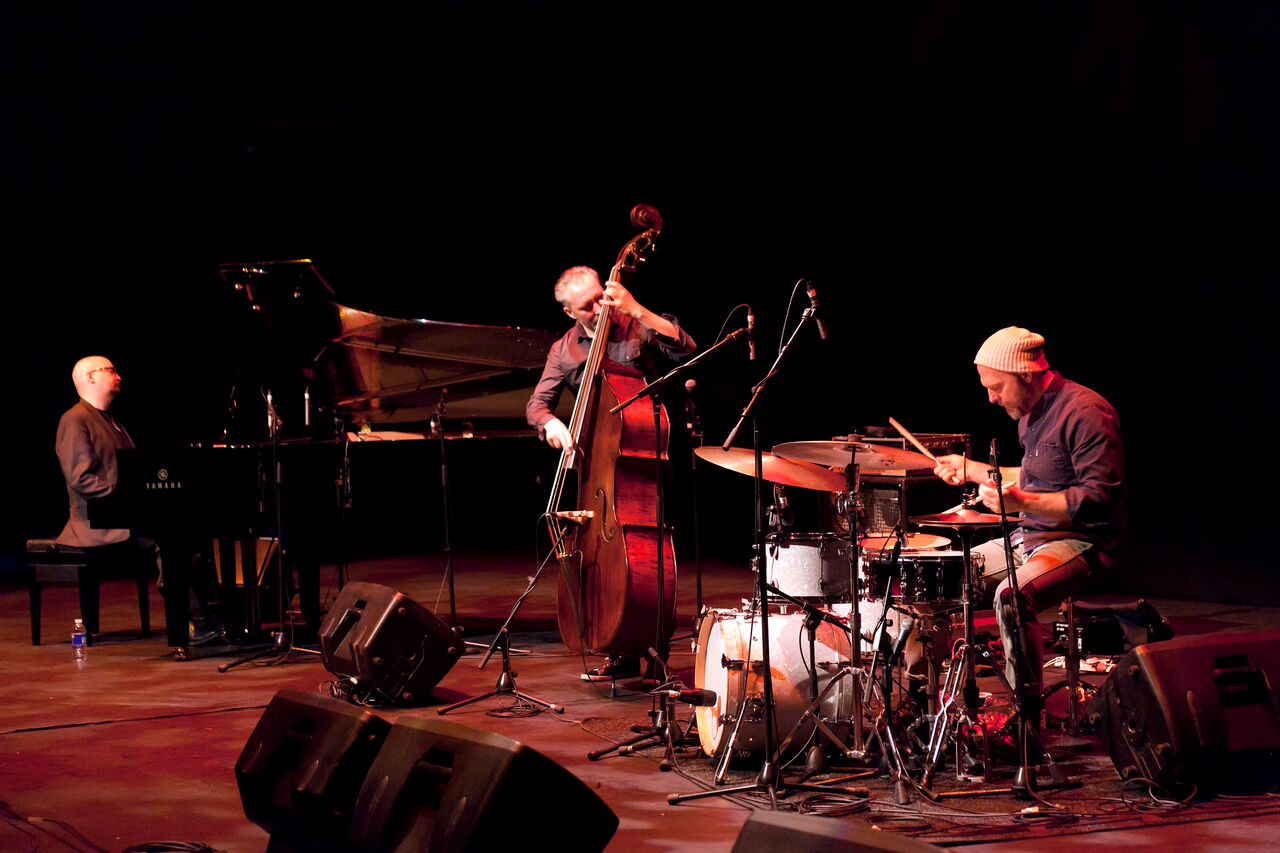 The Bad Plus (photograph by Michael Findlay)
Though the trio turned in an enjoyable performance, it was far from the adventurous music I had been hoping for. Almost all of the songs were relatively brief, around the five- to six-minute mark, leaving the band little room to stretch out. David King's drumming seemed a shade loud, in comparison to the recorded versions of these songs, and Ethan Iverson's piano, a key element of The Bad Plus's music, was often buried in the mix. There were standout pieces, the whimsical '1972 Bronze Medalist', from the band's eponymous first album, and bassist Reid Anderson's 'Do it Again'. On the whole, however, there was a lack of excitement about this performance; it never gained momentum. If anything, it brought home to me how many talented pianists and piano trios we have here in Australia – the Necks, Sam Keevers, Mike Nock, Alister Spence, Andrea Keller, Paul Grabowsky, Barney McAll, Matt McMahon – and the extent to which this plethora of talent might have dulled me to an internationally lauded band like The Bad Plus.
Sunday, 31 May
It was a wet, cold and blustery night that saw a crowd of us huddled in Bennetts Lane for Eric Harland's first evening performance. The drummer was familiar to many of us, having performed with the great Charles Lloyd at both the 2010 and 2014 Melbourne Jazz festivals; those majestic concerts were among the most memorable I have witnessed in recent years.
Harland, this time round, brought his own band, Voyager, who have recorded two albums to date, neither of which I had heard. I turned up, therefore, with modest expectations, only to be dazzled by the brilliance of this ensemble. Harland, who has been voted Rising Star drummer in several consecutive DownBeat magazine Annual Critics Polls, has been the go-to guy for many artists, including Lloyd, Terence Blanchard, Dave Holland, Joshua Redman, Chris Potter, McCoy Tyner, and many others. Watching his performance, it is not hard to see why. His quintet Voyager is similarly chock-full of talented up and coming players, including guitarist Julian Lage, and Walter Smith III, whose own band played Bennetts a few nights earlier as part of the Festival.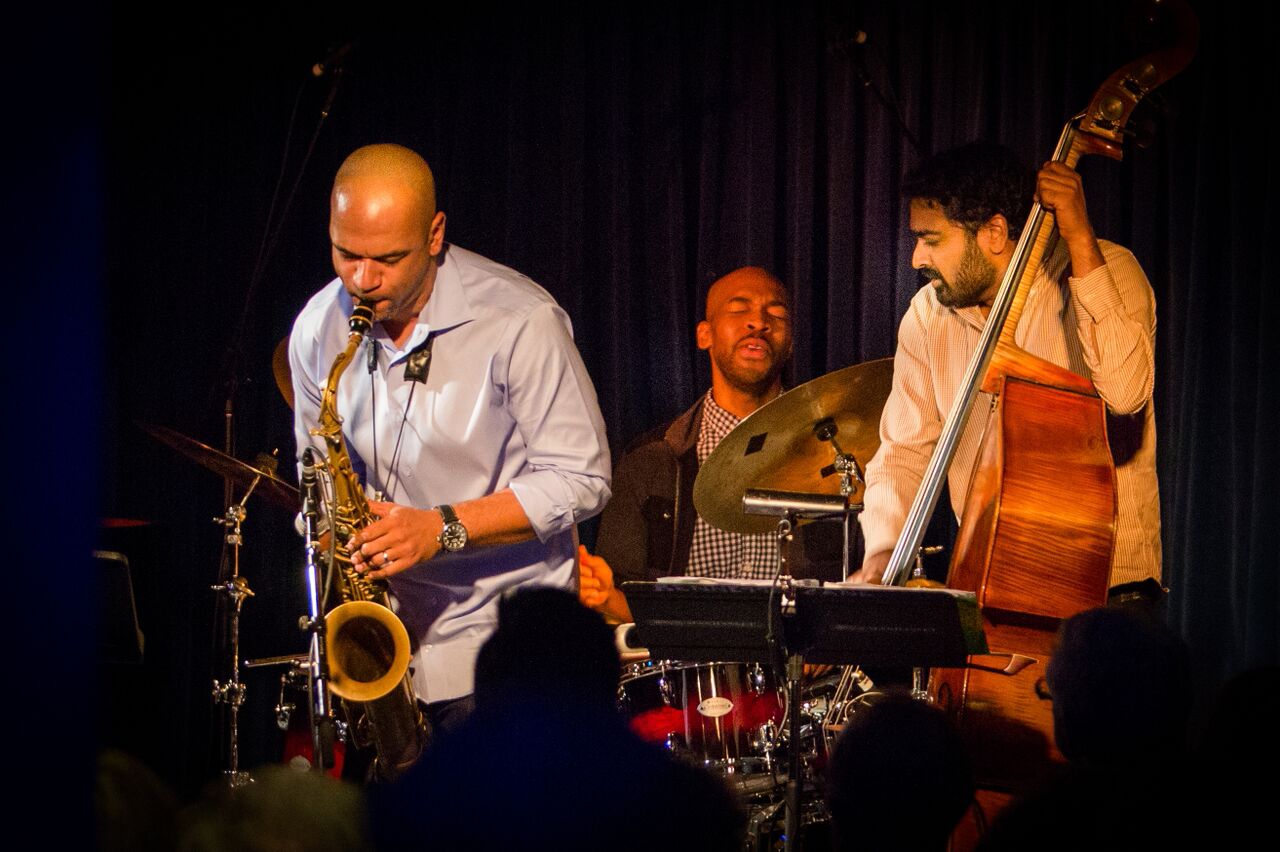 Eric Harland and Voyager (photograph by Kevin Peterson)
Voyager played one long suite of unbroken music, around seventy minutes' worth, stitched together from a number of tunes from their albums, including 'Treachery', 'Eclipse', 'Anjou' and 'Singularis'. There was no real way of knowing when one piece started or another finished, the music flowed together seamlessly, rising and falling in great crashing waves. For the first half, there were few solos, the quintet instead operating as a single entity of sound, slowly building tension. Lage's guitar playing was a standout, his flurries locking tightly with Smith's tenor, or with Taylor Eigsti's piano. As the performance progressed, Smith began to unleash a series of intense, muscular solos, swinging his frame like a boxer. In jazz parlance, it would be fair to say this band was smokin'.
'In jazz parlance, it would be fair to say this band was smokin''
Voyager demonstrated an incredible elasticity in their approach to performance. The quintet, operating at all times as a cohesive unit, seemed able to shift direction at will, generating tremendous intensity and excitement. This cohesiveness was in large part due to Eric Harland's extraordinary timekeeping, which melded the music together without overtly drawing attention to itself. When the performance ended, the crowd spontaneously rose to its feet, a rare thing in a jazz club. For an encore, Voyager played a restrained version of Herbie Hancock's 'Maiden Voyage', which seemed apt given the composer was in town.
Four days in, the Festival had delivered plenty. Crowds were out in force; and every concert I attended was a sold-out affair. Not even at the halfway point, I sensed there was plenty more to look forward to in the week ahead.
The Melbourne International Jazz Festival runs from May 28 to June 7 2015. Des Cowley will be writing about the second half of the festival in a forthcoming review.