'I'm sorry for all of my insecurities, but they're just a part of me', sings Courtney Barnett in her song 'Debbie Downer'. Those insecurities are not just part of her, but key to the heady spike in her global profile over the past two years. Since her mid-2013 single 'Avant Gardener', which detailed the twenty-seven-year-old songwriter's panic attack and anaphylaxis while gardening one day, Barnett has become renowned for off-the-cuff songs about her private worries and perceived failings.
She is now one of the most talked-about artists. Playing the first of a three-night stand at a roomy theatre in her base of Melbourne, Barnett was able to bring the diary-esque entries from her début album, Sometimes I Sit and Think, and Sometimes I Just Sit, back to the city of their birth. After much touring and promotion overseas, including a March performance of the Melbourne-set 'Depreston' on Ellen DeGeneres's hit US talk show Ellen, Barnett sang about a series of locations all too familiar to the audience, from the Hume Highway on the current single, 'Dead Fox', and the Great Barrier Reef on the dirge 'Kim's Caravan' to nearby Swanston Street and a great many others on 'Elevator Operator'.
Barnett cites Weet-Bix in at least two of her songs, and Vegemite in at least one. This hasn't stopped them from resonating around the world as universal vignettes of youthful anxiety. Back at home, more and more fans have come on board for unlikely favourites about pondering the merits of organic vegetables ('Dead Fox') and being prepared to 'look out further' when considering which Melbourne suburb to relocate to ('Depreston').
Opening the night was folky guitar-and-cello duo The Finks, who release music through Barnett's own 'micro-label' Milk! and included an affecting cover of the Duke Ellington composition 'In My Solitude', popularised by Billie Holiday. In the middle sat Teeth & Tongue, a proven outlet for New Zealand native Jess Cornelius to display her chameleonic streak. With a five-member line-up, the band bulked up her slinky, smoky songs for the larger-than-usual audience.
Conversely, Barnett's own band was down to a trio following the recent departure of second guitarist Dan Luscombe, also of The Drones. She was backed simply by her long-running rhythm section of bassist 'Bones' Sloane and drummer Dave Mudie. They seemed as comfortable with each other as family members, with Sloan and Barnett even exchanging jokes about being related.
'Barnett cites Weet-Bix in at least two of her songs, and Vegemite in at least one'
Perhaps because it was the first night of several in a larger space than Barnett usually graces in her hometown, there was a stiffness to their initial set that only completely lifted toward the end, after a low-slung cover of The Breeders' 1993 single 'Cannonball' let Barnett and band tap their more volcanic grunge potential. That explosive energy carried over into the set-capping (and extra loud) 'Pedestrian at Best' – with its memorably bristling refrain 'Put me on a pedestal and I'll only disappoint you' – and into the encore, waking up their hour-plus performance after a long run of songs that can sound overly similar, especially without a second guitar to flesh them out with more distinguishing nuances.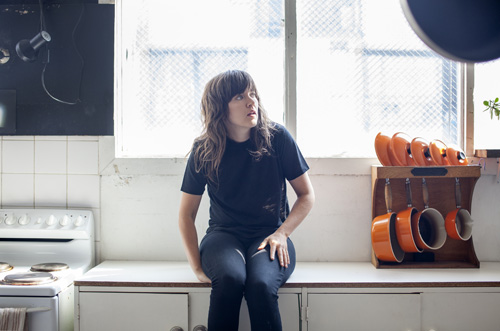 Courtney Barnett
Still, even when her songs feel somewhat interchangeable in their jangling guitar hooks and the parched nonchalance of her deadpan vocals, Barnett's lyrics are consistently rewarding in both their honesty and layered piling of emotions. From her fine ear for unconventional rhymes (see 'vegetables' and 'sceptical') and a casual line about masturbating to someone else's songwriting, to recurring allusions to depression ('I used to hate myself but now I think I'm alright', goes 'Small Poppies', while 'Elevator Operator' is partly about attempted suicide), Barnett packs a lot of dense scenery and personal history into songs that roll off her lips as freely as a memorised shopping list. The encore's 'Pickles From the Jar' lists, with shades of the Gershwins' chestnut 'Let's Call the Whole Thing Off', all the ways in which she and her partner, singer-songwriter Jen Cloher, are different from each other: 'I say Hugh, you say Grant / I say pot, you say plant'.
'Barnett's lyrics are consistently rewarding in both their honesty and layered piling of emotions'
Such punchline-friendly levity allows Barnett to sing about a deceptively wide range of feelings while still resembling the breeziest of confidantes. Doing a solo cover of the Lemonheads song 'Being Around' (also from 1993) during the encore, Barnett openly advertised its influence on her work. Consider the song's smuggling of pressing romantic questions into a cutely unassuming package: 'If I was the grass, would you mow your lawn?'
Finishing the encore with the happily surreal 'History Eraser', Barnett seemed to enjoy cutting loose and rocking out after other songs chronicling so much so close to her heart. For all their witty casualness, her songs reliably alchemise weakness into resilience, those nagging insecurities into liberating choruses.
Courtney Barnett is currently touring with Teeth & Tongue in support of her début album, Sometimes I Sit and Think, and Sometimes I Just Sit (out through Milk!/Remote Control). Performance attended 14 May 2015 at the Forum Theatre, Melbourne.