Opera
Madama Butterfly (Opera Australia)
Opera Australia's autumn season in Melbourne with two revivals – one very familiar; the other in its second season, and its first on the bigger Melbourne stage. Each, responsibly, is on a Monday, not always guaranteed to draw a large audience, but the capacious State Theatre was well attended for the first offering, Madama Butterfly.
Moffatt Oxenbould's production of Giacomo Puccini's opera (first heard at La Scala in 1904) has often been seen in Melbourne, originally with Cheryl Barker in the title role. This revival follows a long run in Sydney, with alternating casts. Arts Update saw it in Sydney a month ago: a memorable night with Diego Torre opposite Hiromi Omura – dream casting, as they say.
The tiny Sydney stage suits this intense production – it is, after all, a domestic drama, in a 'collapsible house' – but the State Theatre's wide stage, accentuating the elegant sets and costumes, is a more accommodating place for Oxenbould's stylised stage direction, with its references to Ukiyo-e prints.
Guillaume Tourniaire took over from Anthony Legge in the pit – another fine performance from this lyrical, galvanising conductor. To keep us on our toes, the tempi were different – brisk at times, as during the love duet, then spacious, languid, almost teasing, giving Omura ample time to introduce new touches. She is a true singing actress: each performance brings fresh nuances and feels inhabited, not studied. Her endless fussing and fluttering during the scene with Sharpless reminded us of a saké-fied Mary Tyrone or Blanche DuBois. In the final scene, Cio-Cio-San struggled with the prostrated Suzuki on seeing Kate Pinkerton, only to hiss at her (Vespa! voglio / Che tu risponda). At the end, fate sealed, deed done, a half-smile of something like triumph played over her face as she heard Pinkerton terrifiedly climbing that fateful collina.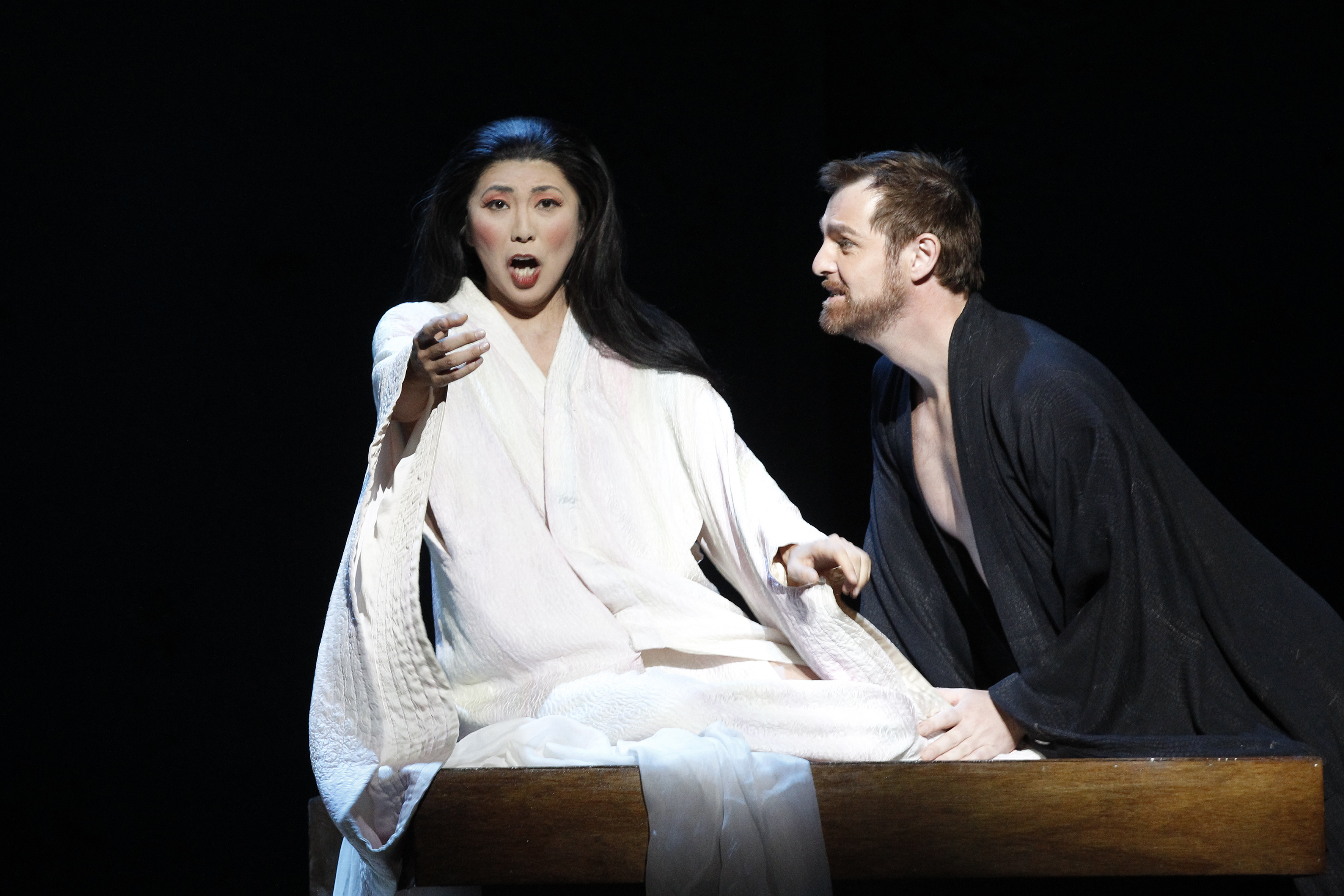 Hiromi Omura as Cio-Cio-San and James Egglestone as Pinkerton (photograph by Jeff Busby)
Back in November 2012 James Egglestone was a fine Pinkerton opposite Omura, but the voice has changed since then, as we heard during Eugene Onegin in last year's autumn season. There is much less volume, and the high notes are pinched, almost squeezed out, and often insecure.
'She is a true singing actress: each performance brings fresh nuances and feels inhabited, not studied'
Michael Honeyman replaced Barry Ryan and was himself a sturdy, resonant Sharpless. Honeyman, so good as Ford last year in Falstaff, brought pathos to this conflicted role. His disdain for Pinkerton at the end added real dramatic bite and balance.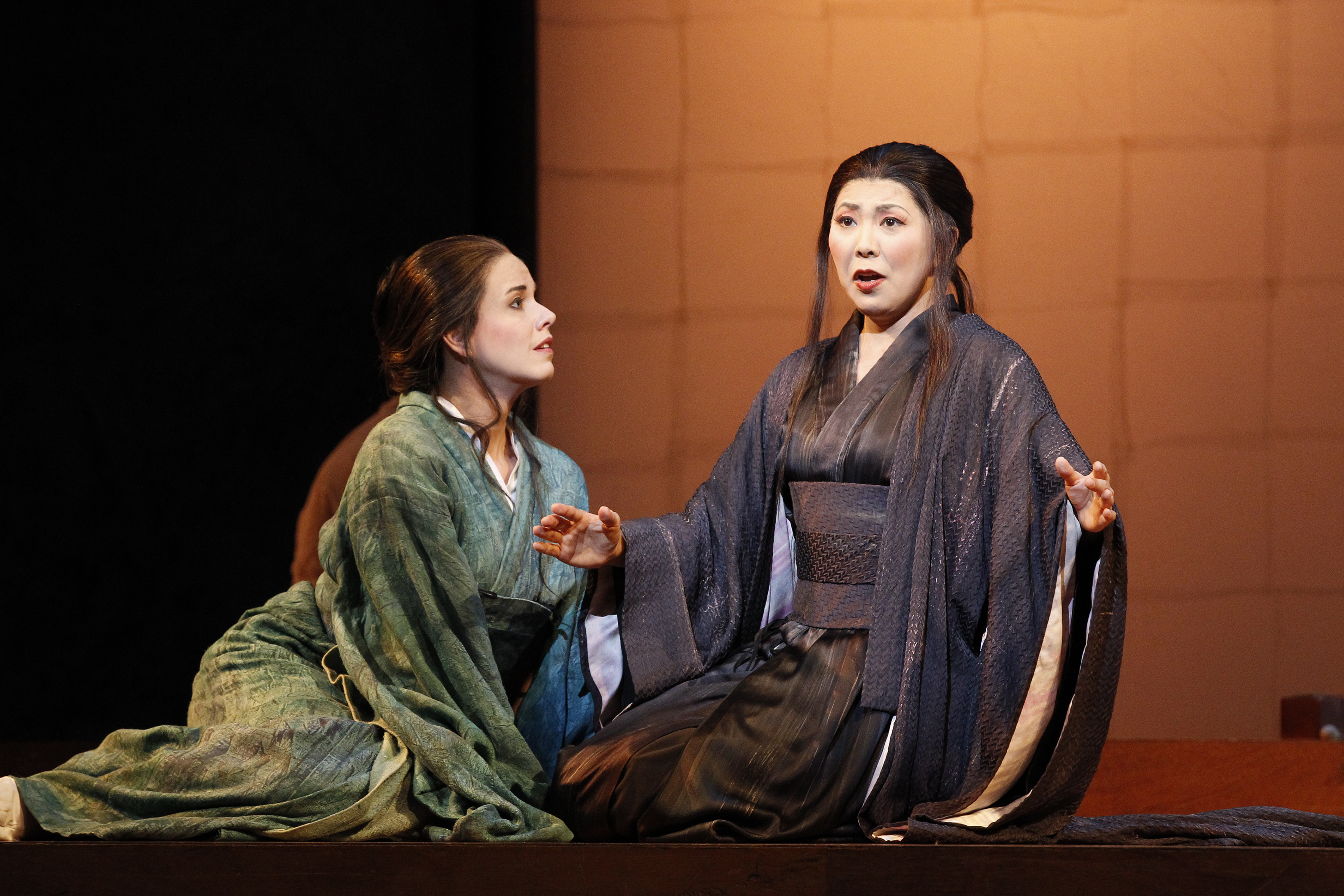 Sian Pendry as Suzuki and Hiromi Omura (photograph by Jeff Busby)
Overall, with fine support from Sian Pendry (Suzuki) and Samuel Dundas (Yamadori), the singing got better and better all night, with a series of excellent trios and fine, carrying singing from our Butterfly.
At the end of the opera, one half of the stalls (the eastern side, as it happened) was immediately on its feet, while the other half stayed comfortably seated; but after the curtain calls nearly everyone stood up to acknowledge this remarkable performance. Omura is a commanding performer; her Cio-Cio-San sets the standard against which all Australian Butterflys will surely be measured for years to come.
Butterfly remains Omura's only role in Australia. Opera-goers being ravenous creatures, let us hope we hear her Violetta or Micaela or Countess before too long.
Madama Butterfly, directed by Moffatt Oxenbould for Opera Australia. This season at the State Theatre, Arts Centre Melbourne, runs until 30 May 2015. Performance attended 4 May.