For every transcendental moment live music delivers, there are keenly felt disappointments. Like loving an album down to its last breath, then finding the lyrics inaudible at a gig – muddied by bad sound or over-loud strumming. It seems a churlish reason to feel deflated but who hasn't felt it?
Being able to hear the words is especially important for the folk music of Melbourne's Laura Jean – in Sydney as part of a national tour. Jean's storytelling is honest and personal; insightful yet raw. On record her voice seems extraordinarily close, as though she's sitting beside you. Since her 2006 début, Our Swan Song, Jean has released three albums and worked with musicians including Paul Kelly, Paddy Mann (Grand Salvo) and Gareth Liddiard (The Drones). Producer John Parish, of PJ Harvey fame, recorded last year's wonderful self-titled release, which made the Australian Music Prize shortlist. Still, she is no household name.
On Saturday, Jean appeared on Sydney's FBi Radio with her sister and father in tow. When the hostasked how her family felt being subjects in her songs, her sister dissolved into tears. A reaction that was easy to understand when Jean later performed the threadbare supplication of 'Sister, All I Have Are My Arms' live on air. Her father addressed the song 'Mirror On The Earth', in which Jean sings with stunning immediacy about her parents' divorce from her perspective as a young girl: 'I went outside and sat on my swing / I remember the grass I remember the wind / I looked out over Brisbane Water / And wondered how I could be a better daughter.'
'That song was a real revelation for me,' her father said. 'It really let me go into the world of our child … I didn't feel betrayed, I just felt it was a heartfelt honest thing from her.' At other times on the show, everyone was laughing and laughing hard, often at something Jean said. Though brief, the segment captured her essence: honest, present, disarming, dear to her family, and very often funny.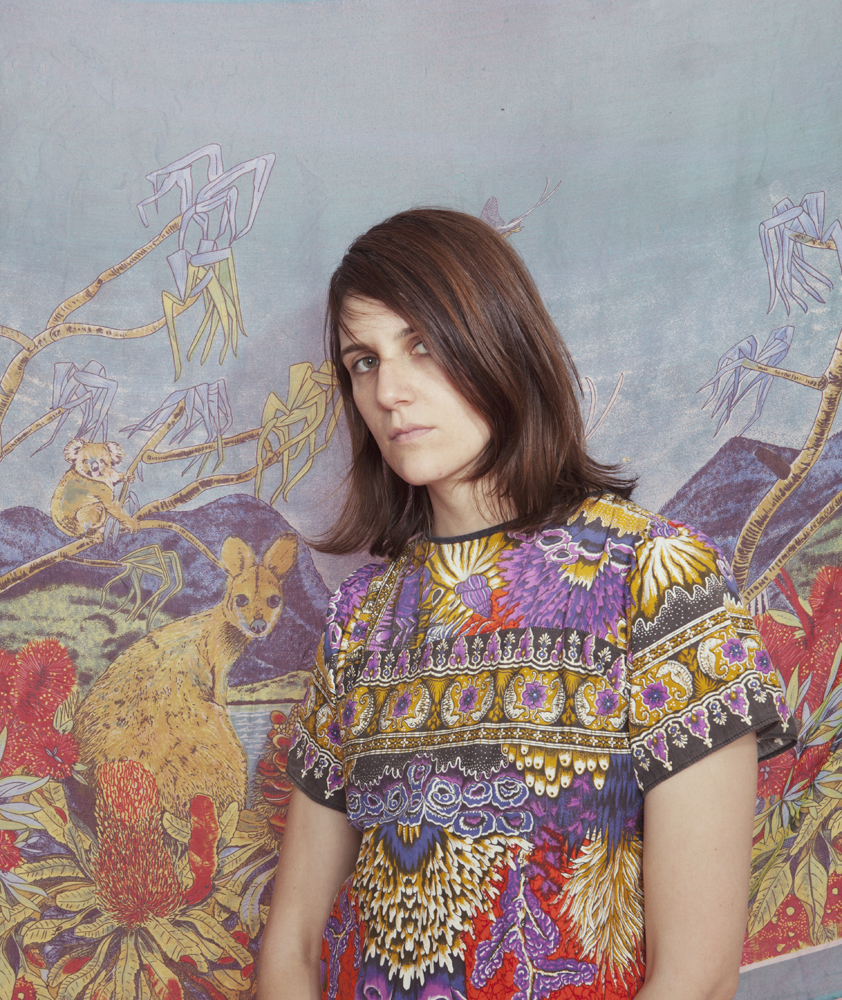 Laura Jean (photograph by Darren Sylvester)
Onstage that evening at Django Bar, a cabaret-style venue in Marrickville's industrial area, Jean lays out her plan: 'I'm going to play the album and a couple of other songs at the end and that's that.' Outside, ice is still melting after a freak hailstorm hours before. Earlier that week, a storm had raged for three days and turned roads into rivers. There have been enough capricious turns of late and it is comforting to those who'd braved the weather that no wild surprises are in store.
With a couple of omissions, Jean and her band play Laura Jean in order, beginning with the brisk and plucky 'June': 'In Melbourne when the days start to turn cold / They cover up the strip and put up the goals.' Jean's enunciation is impeccable; every word is distinct and each consonant is resolved. No lyrics are lost in any of the evening's songs and that rarity alone makes it a deeply satisfying show.
A big part of the clarity is thanks to Jean's band, which is subdued yet alert to the spaces, pauses, and hushes into which Jean's voice draws us. Drummer David Williams (who is also in Augie March) replicates the album's sounds with mallets, brushes, and a lot of restraint. Calm and proficient on keyboards and melodica is Evelyn Morris who is Jean's Chapter Music label-mate under the stage name Pikelet. Long-time collaborator Biddy O'Connor, meanwhile, is invaluable at Jean's side, switching between mandolin, violin and bass; clearly a talented musician but never a show-stealer.
'Jean sings with stunning immediacy'
Like Gareth Liddiard's solo shows, Jean's banter is brazen and mischievous, countering the sadness and reflective lull left after the songs. When 'June' closes in a lovely diminuendo of harmonies, Jean intuits the crowd's bliss and blurts out: 'There's something about harmonies that just get people, don't ya reckon? It's about the animals we are, we can't help it. Two people sing a note together and we go "ahhhh".'
'Here Comes The Miner' ends with Jean mimicking the abject whimpers of a dog sent down a shaft to rescue a man 'but all he brought back was some dirt on his snout'. In the aftermath, the stage wobbles and blurs, yet a moment later she is cracking John Farnham jokes, my tears are dry and a guy nearby says: 'These chicks are hilarious!'
After telling us there would be no encore, Jean plays 'Australia' from her 2011 album A Fool Who'll in honour of Anzac Day. The song is a tear-streaked tirade so tense and powerful that even the recorded version will make you hold your breath: 'We come from people who risked it all / We come from people that broke the law / Now I need a stamped piece of paper to take a piss / Like we're still a gaol for the English.' Only now, at night's end, does Jean let her voice crack apart and take whatever form it must to channel her anger. Electrifying.
Laura Jean is currently touring nationally with Aldous Harding in support of her new self-titled album (out through Chapter Music). Remaining tour dates can be found on her website. Performance attended 25 April at the Django Bar in Sydney.