Augie March's Melbourne Recital Centre (MRC) show is a home-town Gatorade-and-oranges stop on their 'lap of luxury', a national tour that has taken in velvet-lined theatres in Sydney, Adelaide, Perth, and, as singer–songwriter Glenn Richards wryly put it during their set, Bendigo. The MRC was purportedly designed to resemble a piece of polystyrene packaging, the idea being that the ephemeral cultural artefacts propagated within would be nurtured and protected by the white wedges and footings of the exterior. The venue's 1000-seat Elisabeth Murdoch Hall is based on the classic 'shoe-box' of Vienna's Musikvereinssaal, the shape that is said to be most conducive to acoustic perfection.
Support act Fraser A. Gorman, straight off the plane from a US/UK tour with Courtney Barnett, said it felt as though he and his band were 'a movie and you're all watching it'. Some of us are old enough to be the bee-sting in the honey of one of Gorman's songs – 'I see you've brought your mother along – oh no' ('Book of Love') but that didn't lessen our enjoyment of his charming songs about kebabs and broken hands, late nights at the Old Bar, and people you want to go make a family with. The sound was not wonderful in the dress circle, but when I tried to nick down to the stalls the usher directed me back to my seat. Luckily, Gorman's guitar imploded and we were treated to an impromptu display worthy of radical 1970s British performance group The Theatre of Mistakes. My most recent rebellious act was to go to bed without brushing my teeth, but Gorman makes you feel there may still be hope for rock and roll in this well-behaved town.
Augie March's subversions take a less cheeky form and reside partly in the insistence on what Richards has called 'a chronic earnestness', as well as the rigorous reworking of Celtic and Australian musical and mythological constructions. As Megan Washington has remarked, they sound 'familiar and twisted-traditional and somehow sinister at the same time'. Central to this is Richards' voice – warm, eerie, intimate, laconic, as if an extinct native animal has loped into your lounge room and sprawled on your rug.
'Augie March's subversions take a less cheeky form and reside partly in the insistence on what Richards has called ''a chronic earnestness'''
Word was that fans should 'expect a set that has been tailored to suit the surrounds'. Fittingly, it began with 'Definitive History' – '"Stranger welcome …" just not here, just not here'. The band was briefly joined by composer and multi-instrumentalist Biddy Connor on violin for 'Men Who Follow Spring the Planet 'round', a Celtic anti-Empire ballad with a lyrical attack against all that has been endeavored 'for the love of thee'. 'Hobart Obit', from the new album, Havens Dumb, began with what I had thought was one of the most erotic song lyrics of all time – 'when should I wash the smell of you from my hands'. Then I discovered it was about the loss of a beloved dog. That's fine, I'm nothing if not flexible. The song – with its 1950s harmonies, languid horn section, rolling piano, and the crepuscular rays of Adam Donovan's guitar work artfully mirrored onto the walls by the extraordinary lighting – is glorious.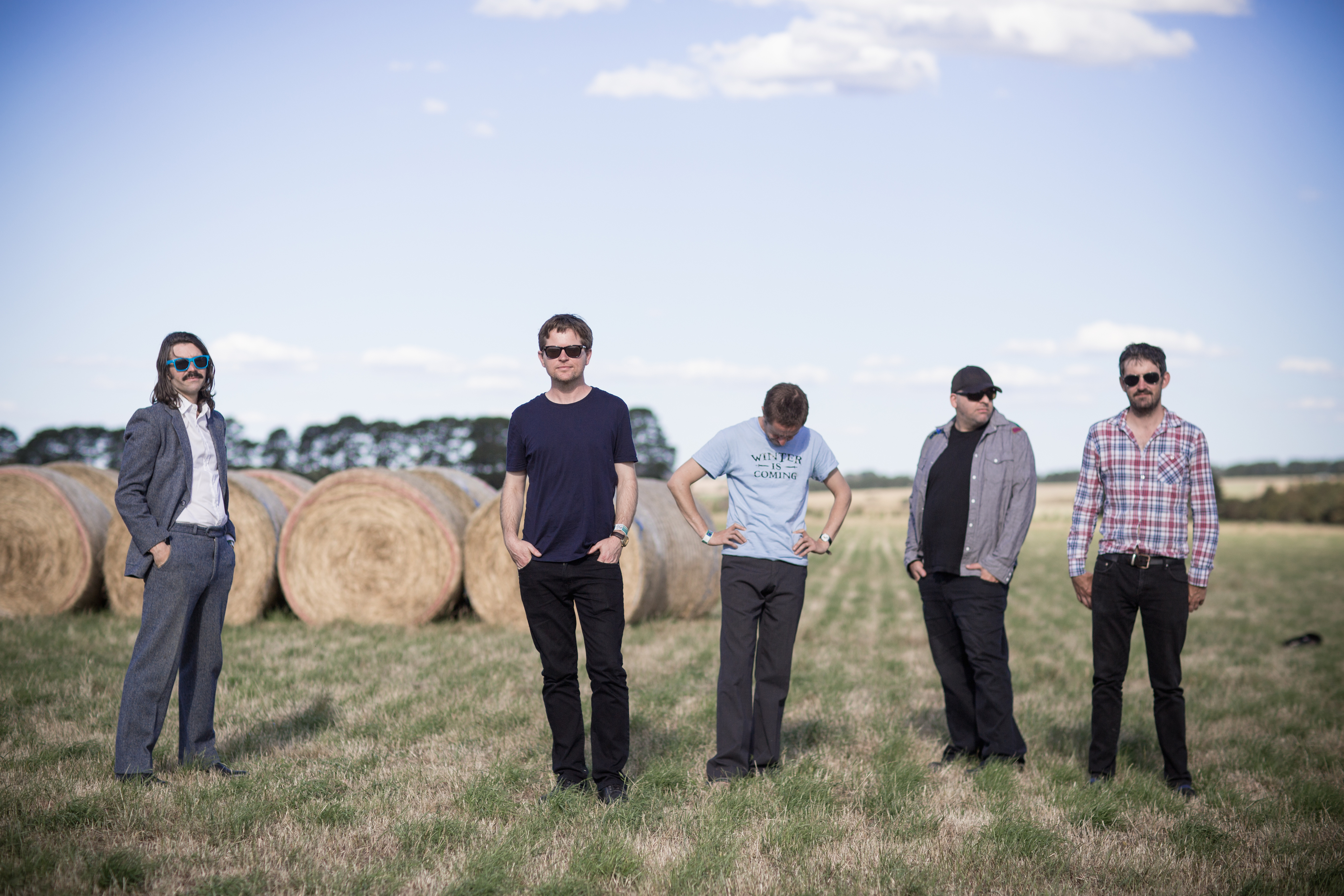 Augie March
The album takes its title from Gerald Manley Hopkins's 'Heaven–Haven', a poem that begins with the inscription 'A nun takes the veil'. The rigours of silence versus the passions of speech, the struggle between devotion and abandonment structure the songs: 'O to touch / the dedication, Impossible love, I am nothing' and 'O I wonder how to live / how to live with patience' are lines from 'Villa Adriana', a song I have relied on to propel me down to the lap pool when all else has failed. I was excited by the prospect of what sounded like an alternative arrangement, but the song was abandoned due to technical difficulties. Almost unbelievably, Augie March finished the set without giving it another go. Fortunately, they had given us 'Here Comes the Night', 'The Good Gardener', 'Stranger Strange', 'The Honey Month', and 'A Dog Starved'. There was plenty more to come, including 'Owen's Lament' and a scatty, dissembling version of 'One Crowded Hour'.
The waltz is surely the bourgeois Euro-colonialist vehicle par excellence, the rabidly inscribed dance card of royal fundraising dinners, territorial invasions, and debutante balls. Augie March's 1999 EP titled Waltz included the song 'Asleep in Perfection'. Like 'the indecent whirling-dance of the Germans … that broke all the bounds of good breeding', there is a scandal at the centre of its wind-up heart. Poetically, you might call it an aubade – 'a song from a door or window to a sleeping woman' – though it has a stalkerish edge ('a soul's misdirection / directed at you'). There is also a subtle critique levelled at the idea of the deathly love object and, in this context, at the deathly quiet audience. 'Geez, I wish you'd all talk a bit,' muttered Richards affectionately. As the band launched into 'Asleep in Perfection', a wave of amorous disorder if not quite rebellion rippled through the hall. My tinny heart, for one, was revving like an outboard motor, and I suddenly felt very much awake.
Augie March are currently touring nationally to support their new album Havens Dumb. Remaining dates can be found via their website. Performance attended 17 April.